I'm pretty used to seeing photos pop up on my Facebook page, shared by friends who have participated in everything from racquetball tournaments to obstacle races. The most interesting album of late was posted by a friend who had been involved in something called the Color Run.
The photo showed a happy group wearing running attire that was splattered - and by this I mean covered - with neon-colored paint. It looked, to paraphrase Burt Reynolds in "The End," like Walt Disney had thrown up on them.
The Color Run, I learned from my friend, is a 5K. Participants are encouraged to wear white T-shirts or tanks, and shorts or pants they don't mind getting, well, painty. As you run the course, people along the route splatter you with what are known as "color bombs." You finish the race messy and happy. The course is set up so you can run in the center of the road if you'd rather take the "less mess" option - but in my opinion, that begs the question as to why you'd even bother to run this race at all.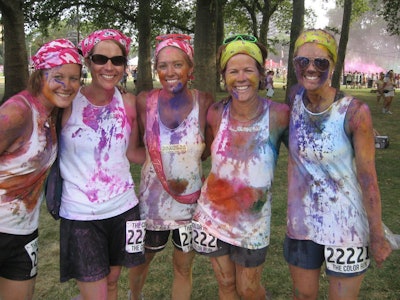 By now you know I'm sort of a junkie for any athletic event that has a hook. I went to the race website and learned this is actually a nationwide series of races. They even have a widget you can use to find a race near you.
The Color Run is untimed and noncompetitive. Each race benefits a different charity in that location. A recent one in Philadelphia benefited Back On My Feet. One in San Francisco benefits San Francisco Recreation and Parks. Omaha's beneficiary is Habitat for Humanity of Omaha. And if you don't see a race near you, you can cast a vote for your city to host one.
Before anyone asks, the paint is nontoxic and water-soluble. According to the website, the main ingredient is corn starch "and no teenagers with paint guns are involved." People can wear sunglasses, goggles, bandannas, dust masks or whatever else they want if they're concerned about where the paint goes. For those who are proud of their post-race dye jobs, the site provides directions on things runners can do to try to make the color last before they dump their clothes and shoes into the wash.
As might be expected of a novelty race, this one is popular. Many sell out in advance and have waiting lists. Some cities appear to have anticipated this, and are offering the race on more than one date.
Going through the site is entertaining, particularly the FAQs. A sample:
How strict is the "white clothing dress code" for the start of the event? We will have white clothing police inspectors located throughout the event. You will be arrested and put in Color Run jail if more than 11.8% of your person is a hue other than white.
Were you kidding about the question above? Yes we were. As long as runners wear shirts that are mostly white, you are totally good. They can include team logos and any other image you see fit. Shorts/pants don't need to be white unless it is after Labor Day. To the point, it is really just more fun to "Color Run" starting in white and ending, well, colorific.
What if I have more questions? Good grief. You are making this webpage tired.
How is the color administered? Will I be hurt, maimed, or killed?Ha ha ha! We love this one. No, it doesn't hurt at all. It is like getting into a powdered sugar food fight.
A food fight for grownups? Okay, I officially love this race. As soon as I find one in my area, I'm signing up and bringing everyone I know. Getting a workout, getting color bombed and getting the morale boost because you've helped a good cause - let's hear it for coloring outside the lines.