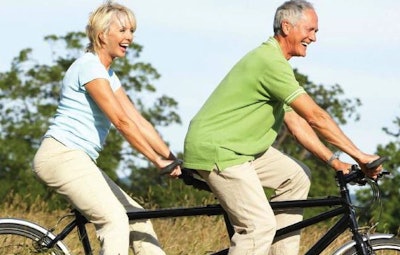 Baby boomers were the first American generation to wholly embrace regular exercise, and as reported in a recently published study in the International Journal of Wellbeing, they're still at it today.
But according to James Gavin, a professor at Concordia University in Montreal and the head researcher in the study, the boomers aren't necessarily exercising because they enjoy it, but rather because they feel they have to.
Gavin surveyed 1,885 participants across Montreal YMCAs in an effort to uncover the reasons people exercise. Though he split responses by age groups ranging from teenagers to baby boomers, the top two motivating factor responses he received were consistently "toned and fit" and "stress reduction."
Yet surprisingly, as the age groups increased, the number of times "mental toughness" and "fun and friends" popped up as responses declined. "Exercise is often perceived as a necessary evil," Gavin said. "When I go to a gym and look around, I don't see a lot of excitement or laughter — people are putting in their time almost as prisoners on their solitary workout stations."
Seeing exercise as a "necessary evil" concerns Gavin. He's worried that being satisfied by the effects of a workout isn't enough motivation to keep exercisers at it. "What stunned me was when we think of boomers — healthy ambulatory individuals who are reasonably robust and who theoretically have more time on their hands — one might imagine they would want to continue having fun and experiencing personal challenge and growth in what they're doing," he said.
RELATED: Study: Five Minutes of Daily Running Could Add Years to Your Life

Gavin hopes his findings will help the fitness industry shift their focus towards more social forms of exercise for baby boomers. Activities like martial arts, tennis and team sports just may be what the boomers need to infuse more passion into their workouts, and help them view the physical benefits as a wonderful, secondary outcome.
"The marketing needs to be about passion, around finding deep personal meaning in physical activity," says Gavin. "If you watch people playing tennis or slaloming down a hill, they're not counting calories."

---
Andrew Brandt is an editorial intern with Athletic Business.