Editor's note: This story originally appeared in Parks & Playgrounds, a new supplement to Athletic Business. View the entire digital issue here.
If you close your eyes, you can conjure up all the awesome sounds of outdoor play: kids laughing, balls bouncing, swings squeaking and seesaws thumping. From kickball matches at school recess to summer days spent at the community playground, playing outside seems to be just another aspect of childhood we all take for granted. But according to the Alliance for Childhood, children now spend 50 percent less time in unstructured outdoor activities compared to the 1970s, and it seems there's a new report each week about our nation's sedentary lifestyle epidemic or the rising incidence of childhood obesity. Sadly, outdoor play is endangered, and unless we start thinking about it in a fresh way, generations of kids will miss out on this key ingredient of a healthy childhood.
WHY PLAY?
There is plenty of evidence that demonstrates just how vital play is to an individual, specifically in three key areas of development: physical, cognitive and social. The physical benefits are obvious; regular physical activity is one of the best ways to combat obesity, a problem the Centers for Disease Control and Prevention says affects 17 percent of our nation's young people between the ages of two and 19.
But the benefits of outdoor play go far beyond physical fitness. Numerous studies demonstrate the positive effect interactive play and exercise can have on many more aspects of a person's wellbeing. For example, play is linked to greater creativity and problem-solving, improved reading levels, and higher IQ scores.
Kids who play with others also gain an invaluable social advantage. Research shows that children who develop stable relationships with others through early play experiences become more capable over time and have fewer difficulties than children who don't. Yes, horsing around as kids helps us get along better as adults.
Outdoor playtime seems to be particularly beneficial. The rough-and-tumble nature of outdoor play has been found to be necessary for the development of social awareness, cooperation, fairness and altruism. In fact, a 2007 study found five-year-olds who didn't play much outside had poorer social, behavioral and motor skills and fewer playmates than other kids.
---
By developing a sense of equality, connectedness and concern for others, play in a diverse natural environment can even help reduce or eliminate bullying. That's because free outdoor play benefits all children equally. There are no team pressures, less tendency for physical preferences, and less singling out that would develop with more structured activities.

FIERCE COMPETITION
In 2014, outdoor play must compete with all the indoor play options that tether kids to their computers, mobile devices and video games. While no one advocates eliminating technology from kids' lives, we as an industry have to make a concerted effort to encourage outdoor play and create experiences to rival those offered by indoor play.
So how do we move kids away from their screens and out onto the slide?
The key is to create unstructured and meaningful outdoor play experiences that connect every person — regardless of age and ability — to the natural world. We can start by taking a cue from the virtual world itself; people love the escape from reality video games offer. By bringing technology onto the playground, we can make play experiences relevant to today's tech-savvy kids. Many playground manufacturers are blending aspects of the digital world with the physical world through products. Such products offer the same sensory engagement as video games, but in a natural and more active environment.
At the other end of the spectrum is the playground basics today's adults grew up with — timeless elements essential to encouraging play. How can we re-imagine yesterday's playground elements to be more enticing to today's kids? Now more than ever, playground equipment needs to be meaningful and relevant — meaningful to a child's developmental stage and relevant to the world they live in today. Such was the inspiration behind equipment like Playworld's Unity Dome, which re-imagines the classic domed play structure in a way that appeals to today's kids.
Finally, there is the need to balance safety and risk. People of all ages and abilities seek a thrilling experience, but safety must be a consideration. Adding elements of perceived risk will especially attract older youths jaded by the "boring kiddie stuff," much the same way we loved swinging as high as we could or jumping off the highest spot we could find when we were kids.

SAVING PLAY
Everyone has a role in saving play. For me, being in the playground business is about more than just making equipment. It's about creating outdoor play environments where children can experience important life lessons. It's about continually working to better understand what happens when people play outdoors — whether they're embarking on an imaginary adventure or playing "king of the hill" — and then designing equipment that embraces and encourages creativity and community building.
We hope you'll join us in our effort to save play. In the past, outdoor areas for recreation and play were a vital part of the community. For outdoor play spaces to once again be viewed that way, they must meet the needs of today's kids. Only then can we begin to reinvent the traditional playground to make play essential to everyday life once again.
---
Greg Harrison is creative director for Playworld Systems Inc. This article originally appeared in September's Parks & Playgrounds with the headline, "Return to Play."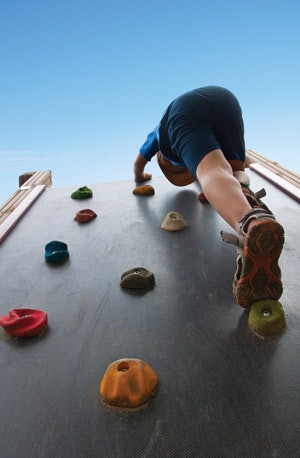 Risk & Reward
Only after years of removing anything that could pose a danger to playground users has the importance of risk in development become understood. According to Ellen Sandseter, a professor at Queen Maud University in Trondheim, Norway, six elements of risky play contribute to a child's development (and also entice them to play in the first place):
• Exploring heights
• Experiencing high speed
• Handling dangerous tools
• Being near dangerous elements
• Rough-and-tumble play
• Wandering alone, away from adult supervision
— Emily Attwood


RELATED: Playgrounds Need More Elements of Risk, Experts Say
MORE PARKS & PLAYGROUNDS: Inclusive Playground Design Leaves No Child Out