Editor's note: This story originally appeared in Parks & Playgrounds, a new supplement to Athletic Business. View the entire digital issue here.

Unless you've been at a playground where a child is left sitting out because the play environment was designed with too narrow a skill set in mind, you might not understand the heartbreak that being left out can cause. Though the topic of inclusion is a popular one, situations like this are still happening — often by accident — in new play spaces all around the world.
We hear many terms being used to describe a play space for people of all abilities, including "accessible" and "inclusive." It is important to understand that these terms are not interchangeable and that designing for access does not necessarily mean the play space will be inclusive. "Accessible" generally refers to following guidelines set by the Americans with Disabilities Act and directed toward users of mobility devices. Accessible design aims at minimum requirements to achieve usability.
"Inclusion" at a play space means, in its simplest term, that everyone can play there — children (and family members) with or without disabilities — in the way that is comfortable for them. This is the mission of universal design, which suggests that all people, to the greatest extent possible, can use the play environment without the need to adapt to the environment in order to do so.
According to the design best-practice guide me2: The 7 Principles of Inclusive Playground Design, for every 1,000 people under the age of 21, there will be 85 with a disability, and one of those 85 will be in a wheelchair. This confirms that while accessible design is a great start, if you are designing a play space and only considering the needs of people who use mobility devices, you are leaving a lot of people with other disabilities out of play. Keith Christenson from the Utah State Center for Persons with Disabilities put it best when he stated in me2, "Through no fault of their own, opportunities for independent play may be less available to children with disabilities as a result of physical barriers to access or social barriers to participation in the play environment."
---
The me2 program was developed to serve as an educational resource for communities that are planning, creating or revitalizing outdoor play environments. Originally created by the Center for Universal Design at North Carolina State University, the 7 Principles of Inclusive Playground Design™ offer guidelines to create universally designed play environments that increase the "playability" for people of diverse ages and abilities and help communities create usable play environments that recognize everyone's right to play, expose them to new stimuli, and align to the needs of the whole child. The principles focus on the usage of individual play elements as well as the overall playground environmental design. Implementation of these best-practice principles helps create a unique and meaningful play environment that is usable by more people, to the greatest extent possible.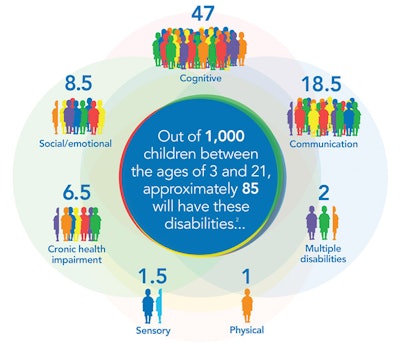 BALANCED EQUATION
What does inclusive play look like? A good inclusive play space can be compared to an electrical conduit; if one small part of the connectivity is broken, the entire thing doesn't work. A fully ramped play space on a sand surface will not work, as sand is completely inaccessible to mobility devices. A well-designed play space without an accessible curb in the surfacing containment barrier will not work, as some people may be unable to step over the barrier.
A playground with no cozy spaces, auditory play components or comfort amenities may work for some, but not for all. Planning for true inclusion must start at the parking lot, follow the path to the play area and continue into and throughout the play area. Inclusion doesn't mean there is a piece of equipment added to appeal to kids with this disability or that disability, it means the entire space was designed so kids of all abilities can go everywhere. Inclusion means that people get to the play space, move into the play area and immediately find something that engages them. Inclusive playgrounds make a fundamental statement about how communities value meaningful play experiences for people of all ages and abilities.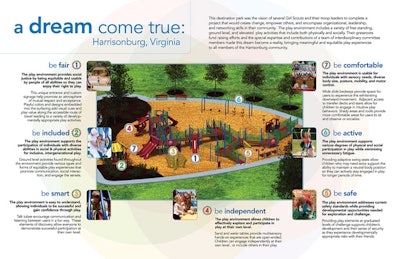 This growing awareness is driving more thoughtful design of the play environment, addressing all of the challenges people face when accessing a play area. A truly inclusive and embracing play experience addresses the developmental needs of the whole child by intentionally providing opportunities for physical, cognitive, communicative, social/emotional and sensory development. By considering the needs of the whole child, we can help to ensure the play space offers a variety of ways to address each part of the play experience. The physical aspect is the one we think of most commonly; providing developmentally appropriate activities to offer challenge at all levels gives children the opportunity to actively engage at any level.
Cognitive development occurs when play activities stimulate problem-solving, abstract thinking and awareness regarding cause and effect. Play activities to help stimulate communication — such as talk tubes, musical instruments and interactive games — can encourage children to engage with each other. Children who are included socially learn to cooperate, take turns and engage in meaningful play experiences together.
Additionally, providing under-deck spaces or seating areas set aside for children who would benefit from the emotional security allows them to choose how and when to engage in play and gives them access to sensory-rich experiences that provide tactile, auditory, visual, vestibular and proprioceptive experiences. Sensory considerations should work both ways, so children who need sensory relief will appreciate spaces away from the main play stage, while activities like swinging, rocking and spinning can provide heightened sensory input for those who seek it.
No two universally designed play environment projects are alike, but in all play environments, children want to "be" and feel included, independent, smart, safe and comfortable during play. Both a physical and social event, inclusive play is not solely about physically accessing an environment, but what happens once an individual gets there.
MORE FROM PARKS & PLAYGROUNDS
---
Anne-Marie Spencer ([email protected]) is the corporate vice president of marketing for PlayCore and actively involved in play and recreation research and programming. This article originally appeared in Parks & Playgrounds with the headline, "Open Minds, Open Parks."

To learn more about creating inclusive play experiences, see model environments created by communities, learn how to apply the 7 Principles of Inclusive Playground Design™ and obtain resources and guides to promote inclusion, interaction and character development among children.