Editor's note: This story originally appeared in Parks & Playgrounds, a new supplement to Athletic Business. View the entire digital issue here.
Playground safety surfacing has come a long way since the asphalt days of the mid-twentieth century. Operators have a variety of surfacing options, from sand, wood fiber and pea gravel to more complex surfaces such as poured-in-place surfacing and even synthetic turf.
As the options have increased, however, so have the number of factors to consider. Keeping users safe from injury after a fall is still foremost, but today's safety surfacing must also be ADA (Americans with Disabilities Act) accessible, as well as meet myriad state and local standards, not to mention be visually appealing.
"There are basically two different types of surfacing — unitary and loose-fill," says Scott Liebelt, lead project engineer at Fond du Lac, Wis.-based BCI Burke LLC. "Unitary surfacing — poured-in-place, rubber tile, synthetic turf — seems to be gaining more in popularity in the last few years because it can be designed with different colors and patterns."
Vibrant colors alone are enough to dress up any playground design, but today's surfacing manufacturers can create elaborate patterns, making the surface as much of an element of play as the equipment it surrounds.
The other category, loose-fill, includes longtime standards such as pea gravel, sand and wood mulch, as well as rubber mulch and engineered wood fiber, basically a higher-quality version of wood mulch. "There is a science to get it to be accessible and not degrade as fast," says Liebelt. "The size and shape of the wood chips is controlled to get them to interconnect correctly."
No one surfacing material is better than any other. The right choice depends on a variety of factors, but the best materials all have one thing in common: safety.
---
ABCs of ASTM
With so many choices, the main tenet of playground surfacing hasn't changed. "The basic purpose of playground surfacing is shock attenuation," says Walt Henderson of Henderson Consulting Services Inc., a play equipment and surfaces consultancy based in Middletown, Pa. "If it doesn't offer shock attenuation, it shouldn't be there."
The standards developed by ASTM International, adopted as law in some states or municipalities, have for years provided an industry-wide benchmark for measuring playground surfacing safety. Those standards are reviewed and revised on a routine basis, and playground professionals should ensure that they (or their installer) are familiar with the most recent standards when evaluating surfacing options.
The most widely recognized standard, F1292, which covers impact attenuation for playground surfacing, was updated last fall. "The only change from the 2009 revision to the most current was the frequency the accelerometer is calibrated to," says Jeromy Morningstar, managing director with Petrolia, Ont.-based SofSurfaces Inc., which specializes in rubber playground surfacing. "There is still a push to get the HIC (head impact criterion) changed from an average not to exceed 1000, to an average not to exceed 700. This discussion is still ongoing."
Standard or not, Morningstar says the industry is seeing greater demand for surfaces that offer an HIC below the maximum allowed. The change is due in part to a better understanding of head injuries, but also to a greater awareness of ASTM standards and how they relate to surfacing. "The standard indicated that all surfaces must test under 1000 HIC, but more important, the surface must remain under this HIC threshold for the lifetime of the playground," explains Morningstar. "Knowing that all surfaces are dynamic and will deteriorate over time, the smart consumer is increasingly demanding lower initial HIC numbers in order to prolong the useful service life of the surface."
In addition to covering playground surfacing in general, ASTM standards also exist for individual types of surfacing. "A specific safety standard for loose-fill rubber came out earlier this year," says Liebelt. The standard spells out things such as particle size distribution and heavy metal content. "There's already an ASTM standard for engineered wood fiber; now there's one for rubber."
The standard for engineered wood fiber (F2075) is also currently under review, says Morningstar. "There is a current ballot open to change the calibration frequency of the tramp-metals probe used in testing. This standard may be updated by the end of 2014 or the beginning of 2015, if this ballot item is approved."
Other changes on the horizon include the introduction of a standard for poured-in-place surfacing. "There is a current guide for specification, purchase, installation and maintenance," says Morningstar. "The proposed standard includes additional requirements for PIP surfacing, to go along with ASTM F1292 and F1951."
The other major standard — federal law, to be precise — affecting playground surfacing today is ADA. "There's a section in the ADA Accessibility Guidelines specifically for play areas," says Henderson. "Not just equipment, but surfacing — ASTM F1951 compliance, running slope, cross slope, levelness, and width of an accessible route."
Unfortunately, characteristics that earn a product high marks for accessibility are often at odds with shock absorption. "The firmer the surface, the more accessible, but the less shock attenuation," Henderson says. "You're always working with this tradeoff."
RELATED: Playground Designers Face Hard Choices When Specifying Surfacing
There are ways around it, of course, adds Henderson. "There are a number of hybrid products out there that take a loose fill material like rubber and put that down as the base, then put a firmer, more unitary surface over it, like rolled rubber or tile."
Alternatively, playground professionals might consider using a variety of materials throughout the playground. "You might run poured-in-place or tile along the accessible route and around the equipment, and then the rest is surfaced with wood fiber or sand or another type of loose-fill surface system," Henderson says.

MAINTENANCE MEASURES
Once a playground operator has a good handle on the standards at play, then he or she can delve into the real decisions that need to be made. "Shock attenuation and accessibility are the two major guidelines," says Henderson. "Then there's the day-to-day issues with materials. Maintenance is a key one. Certain surfaces require more maintenance than others. Loose-fill material is going to require rigorous maintenance to keep it raked and level and meeting the guidelines."
Loose-fill products are attractive largely because of their low initial cost, but the savings slowly seep away over time in the form of higher maintenance costs and the cost of replenishing material. While the ability to install material using an organization's own crew can also be a selling point, Henderson notes that it isn't as easy as throwing down mulch and raking it out. "You need adequate drainage, and you do have to compact it pretty well to get the accessibility."
Unitary surfaces have a higher up-front cost, though they require less maintenance while holding their appearance. Installation is more complicated, however, says Henderson. "Poured-in-place requires a trained crew. It's basically manufactured onsite."
Unfortunately, there are no sets of standards or regulations to guide the decision-making process for such elements. Issues such as cost, installation and maintenance are dependent on the budget and resources available for each particular project.
---
Playground safety surfacing can be broken down into two major categories: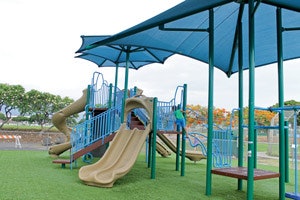 UNITARY
• Consists of material laid in a uniform, continuous layer or interlocking pieces
• Tends to offer BETTER ACCESSBILITY for people with mobility issues but offer LESS SHOCK ABSORPTION
• Most surfaces involve a HIGH INITIAL INVESTMENT but LOWER UPKEEP costs
• MAINTENANCE typically consists of hosing/sweeping/blowing to remove dirt and other particles
Includes:
• Rubber Tile or Mats (manufactured offsite in a more controlled environment, resulting in greater durability; can be installed by experienced playground staff or a professional; damaged tiles are easy to replace; tiles available in a variety of colors)
• Poured-in-Place (installed onsite by a professional; offers superior accessibility; low maintenance; custom design options)
• Synthetic Turf (requires professional installation, customizable colors and patterns)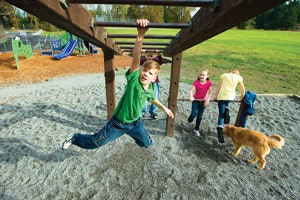 LOOSE-FILL
• Consists of individual pieces of material freely laid
• Tends to offer BETTER SHOCK ABSORBPTION but is LESS ACCESSIBILE for people with mobility issues
• Materials require LOWER INITIAL INVESTMENT than unitary surfaces, but require HIGHER UPKEEP costs to maintain appropriate fill depth
• MAINTENANCE typically consists of regular raking and adding additional fill material to make up for that lost or broken down
Includes:
• Pea Gravel (neither ASTM F1292-certified nor ADA accessible)
• Sand (great as a play material but not ADA accessible)
• Engineered Wood Fiber (differs from wood mulch in that pieces have been scientifically engineered to meet accessibility requirements)
• Rubber Mulch (generally made from recycled rubber and can come in a variety of color options)
• HYBRID SURFACES typically combine a loose-fill base, like rubber mulch, with a unitary cover layer, such as turf or rubber tile, with the aim of providing greater impact absorption without compromising accessibility
---
KNOW YOUR STANDARDS
ASTM F1292: Standard Specification for Impact Attenuation of Surface Systems Under and Around Playground Equipment
ASTM F1951: Standard Specification for Determination of Accessibility of Surface Systems Under and Around Playground Equipment
ASTM F2075: Standard Specification for Engineered Wood Fiber for Use as a Playground Safety Surface Under and Around Playground Equipment
ASTM F3012: Standard Specification for Loose-Fill Rubber for Use as a Playground Safety Surface Under and Around Playground Equipment
ASTM F2479: Standard Guide for Specification, Purchase, Installation and Maintenance of Poured-In-Place Playground Surfacing
ASTM F1487: Standard Consumer Safety Performance Specification for Playground Equipment for Public Use
For more information on playground safety surfacing standards and certification, check out the International Play Equipment Manufacturers Association at ipema.org
---
This article originally appeared in September's Parks & Playgrounds with the headline, "Ground Control."
MORE FROM PARKS & PLAYGROUNDS