When you take a quick look at recent youth and high school football participation numbers, the picture isn't very pretty. Participation in Pop Warner decreased nearly 10 percent from 2010 to 2012, and numerous state high school associations have reported similar declines in their respective football numbers — since 2007, for example, Michigan's numbers have decreased more than 10 percent. According to statistics from the National Federation of State High School Associations, from 2007 to 2012, nationwide participation dipped by 20,000.
While some are quick to assume fear of concussions is the primary reason for the decline on the high school level, as parents, better educated on the short- and long-term effects of head injuries, prevent their children from participating, there is no data supporting that claim, says Bob Colgate, NFHS director of sports and sports medicine. "Pop Warner and USA Football, they're going to tell that concussions probably are the reason for a participation decline," he says. "But in high school, it's a variety of factors."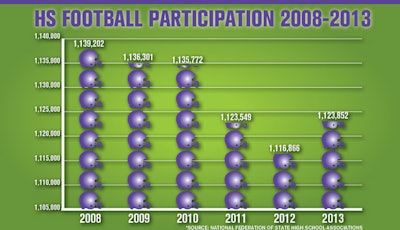 CHALLENGE FLAGS
"The two words we keep hearing from our associations are 'sport specialization,' " says Colgate. Fewer student-athletes are playing separate fall, winter and spring sports, a situation that is impacting all high school sports, not just football, as club sports continue to pull more athletes out of high school athletic programs altogether.
The economy has also played a prominent role in the decline, starting with the economic downturn of 2008‑09. "The recession definitely had an impact," says Dusty Young, associate director for the New Mexico Activities Association. "Football is one of the more expensive sports, especially in New Mexico, where travel expenses are huge. Then you start getting into equipment costs, uniforms — it's definitely a sport that is going to deliver a financial hit to any athletic budget."
Colgate agrees. "From 2010 to 2012, budgets were not good," he says. "There were some schools cutting programs, and that included football because it's expensive." To offset those costs, a lot of schools went to pay-to-play programs in order to save football. While that may have helped the schools, it no doubt hurt some families, forcing them to re-evaluate how to invest in their child's athletic present and future.
"If a student-athlete is not going to be a varsity contributor for a while and the fee is pretty high, and if they don't have the means to pay that or aren't fully committed to football, then a lot of times these kids will give up that sport and focus on another sport," says Tim Stried, director of information services with the Ohio High School Athletic Association. Stried notes that consolidation among Ohio schools has impacted the state's participation numbers. It's a trend Young has witnessed in New Mexico, where 117 schools participate in football, but only 110 teams take the field.
Shrinking enrollment at high schools is another factor, as more families opt for homeschooling their children. Recent data has shown that the number of homeschooled children has doubled to more than 2 million over the past 10 years. That has forced some schools to combine teams, such as the freshman and junior varsity teams.
One other trend impacting participation numbers is schools, particularly those with low numbers, moving away from 11-on-11 football. Says Colgate, "You get in areas in the Midwest like Nebraska, and it has 100 schools playing 8-man football, and we're seeing 6-man options if they don't have enough. So that landscape is something we have to keep a close watch on."
RELATED: Club Sports Pushing Athletes Away From High School


CONCUSSION DISCUSSION
Despite most in the high school football community agreeing that the concussion issue hasn't been the primary reason for a decline in participation, they also agree that concussions have no doubt played a role. "There probably are some parents who will urge their child not to play football or not allow their child to play because of the risk of concussions, but I don't think that's a huge number," Stried says. "There have always been kids who weren't allowed to play football."
"We've had concussions before 2009 [when many states introduced concussion-related legislation]; they just didn't start happening overnight," says Colgate. "The perception is that everything is concussions, and that's been in the spotlight with the NFL and NCAA, so it's had a trickle-down effect. We've ramped up our efforts in terms of education and awareness, and when people ask me how safe is football, I tell them it's probably the safest it's ever been.
"We have more awareness on concussions, the equipment is better, our rules and risk-minimization are better than they've ever been to protect our athletes, our coaching techniques have changed, our officiating has improved. Everyone has to do his or her part, because anything that could be a negative is going to impact participation."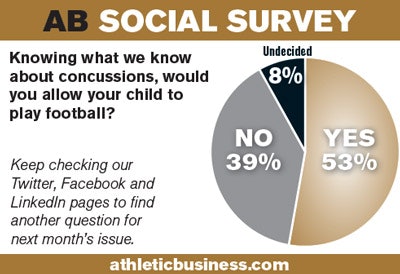 FOOTBALL'S FUTURE
Despite a few ominous clouds, the future of high school football appears bright. After declining for five years, high school football participation saw an uptick in 2013, with total participation reaching 1.123 million, an increase of 6,607 from the previous year, according to NFHS figures. Whether or not this trend is going to continue remains to be seen.
"I'd love to see our participation continue to increase, but it goes back to those various factors," says Colgate. "What's the economy going to do? What are our schools going to do? What about shrinking enrollment in our states? But we're pleased the number is up, and we hope it continues to go back up."


RELATED: Opportunities for Homeschooled Athletes Increasing in High Schools
---
This story originally appeared in the December 2014 issue of Athletic Business with the title, "Numbers Crunch."