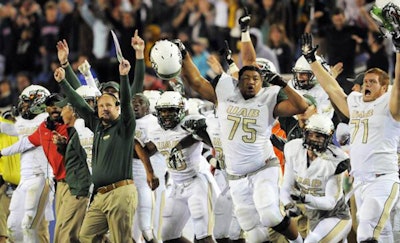 If it's true that "when it rains, it pours," consider UAB's football program drenched in a torrential monsoon.
Tuesday's announcement that the school would shut down the football program was bad enough. Tears were shed, student-athletes were angry. It was an ugly scene. But with a 6-6 record, there was one last glimmer of hope. The Blazers were bowl-eligible for the first time since 2004 when the school appeared in its only bowl game.
It appeared as if these Blazers, winners on the field, but financial losers in the eyes of their own administration would get one last chance to take the field and represent their school. Just look at the excitement after UAB defeated Southern Miss in its final regular season game to earn bowl eligibility.
FINAL: @UAB_Football defeats Southern Miss, 45-24! Blazers are BOWL ELIGIBLE! #GoBlazers pic.twitter.com/n61JNWEcVT

— UAB Football (@UAB_Football) November 30, 2014
This looks like a bunch that's going Bowlin' #UAB #Football #Family #WTD pic.twitter.com/JmkQjnTFlD

— UAB Football (@UAB_Football) November 30, 2014
Now, it appears that chance will be taken away too.
ESPN's Brett McMurphy, a guy who is as plugged in to college football as anybody, is reporting that "UAB's bowl hopes are pretty much dead."
The Blazers play in Conference USA which is affiliated with five bowl games. Despite its 6-6 record, UAB is sixth in the conference standings behind Marshall (11-1), Louisiana Tech (8-4), Western Kentucky (7-5), Rice (7-5) and UTEP (7-5). The league's rules require its affiliated bowls to select the teams with the most victories.
That leaves UAB hoping for an at-large bid to a bowl game. McMurphy, citing an anonymous source, reports that those chances are "basically nonexistent."
"No one will touch them with what's going on with the program since other options exist," the source told McMurphy.
This year there are 76 bowl berths. However, there are currently 79 teams that are bowl-eligible. With 5-6 records, Oklahoma State and Temple could join the bowl-eligible ranks with wins on Saturday. Oklahoma State plays Oklahoma while Temple plays Tulane.
Under first-year head coach Bill Clark, the Blazers achieved their first non-losing season since 2004, the year the team made its only bowl appearance. By dropping its football program, UAB's future in Conference USA is also in jeopardy, an issue we explained more fully in yesterday's recap of the death of the program.
Meanwhile, the city of Birmingham is now wondering what to do with Legion field, the 87-year-old stadium that served as the football team's home. Without the Blazers, the facility will be without a regular tenant.
Once considered the "Football Capital of the South," the stadium reduced its capacity to 71,594 in 2004 by removing an upper deck. The venue still hosts the "Magic City Classic," a football game between Alabama A&M and Alabama State, and the Birmingham Bowl, formerly known as the BBVA Compass Bowl.
The city has called for a special Park and Recreation Board meeting Monday afternoon, where board members and the city administration will discuss the status of the stadium and its future options.
"The city of Birmingham has invested several millions in the program, so we're disappointed," mayor William Bell said of UAB's decision to shut down the football program. "We're going to have to find other ways to create activity at Legion Field with this being taken away from us."

UAB's average attendance was 21,841 at its six home games at Legion Field in 2014.

RELATED: UAB Kills Football Program, Fallout Immediate
OPINION: UAB Move Suspicious, Not Shortsighted