Healthcare. Health club. The two sound like they should go hand in hand, but for decades, there has been a large disconnect between them. While anyone working in the fitness industry recognizes the impact exercise and activity has on health, the specific medical connection hasn't been a point of emphasis. And in the healthcare industry, the focus for too long was geared more toward treating illness than encouraging holistic wellness.
"The system we have in place today is not sustainable," says Robert Boone, president and CEO of the Medical Fitness Association, which since 1991 has encouraged greater communication between fitness facilities, physicians and other essential players in the healthcare community. "Payment systems are driving the change from episodic care to value-based care, from fee-for-service to an outcome-based system. Physicians are becoming incentivized to take responsibility for the health and lifestyle choices of their patients."
---
RELATED: Video: Inside a Successful Medical Fitness Program
---
As the healthcare industry repositions itself, the fitness industry is doing more to assert its role in disease prevention and wellness, with initiatives such as the American College of Sports Medicine's Exercise is Medicine® program and medical-based fitness programs. "Medical fitness facilities are positioning themselves as a part of the local healthcare continuum," Boone says. "From providing services in support of primary care physicians using exercise to just providing lifestyle choice education and support for members, medical fitness facilities are evolving to play a critical role in the healthcare system of the future."
Hospitals are now opening wellness centers, and commercial fitness facilities are partnering with local healthcare networks to serve a new population of exercisers. What impact does the programming model have on a commercial facility? Representatives from three different facilities share their experiences.
---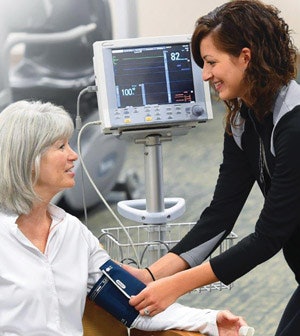 Inspira Fitness Connection | Vineland, N.J.
Medical Fitness Association-certified since 2009
For the Fitness Connection, the transition from consumer gym to medical fitness facility was a natural choice. The health club already had strong ties to Inspira and its local healthcare network, and many members of its staff held degrees and certifications that assisted them in working with special populations and health issues. "We are able to offer a variety of programs and services that traditional commercial gyms are not equipped to offer," says personal training supervisor Amanda Meschi. Those synergies by themselves provided a good starting point for implementation of a program, though there was much more work to be done.
"If a facility is considering medical fitness integration, the first step is to establish a medical director, or develop a medical advisory board," Meschi says. This first step opens the lines of communication between a fitness business and its local physicians and healthcare providers, who will be essential not only in developing a medical fitness program but promoting it to their patients.
"Visit the physicians' offices to educate the office administrators on the programs and services your facility has to offer their patients," Meschi says. "Once a patient has been referred into your medical fitness facility, it is vital to the success of your program that you communicate pertinent outcome information on the patient back to the physician."
Tracking metrics such as waist/hip ratio, blood pressure, resting heart rate and total activity minutes, as well as changes in those markers, and then sharing the information with the medical provider is an essential piece of any medical program, Meschi says. "This kind of evidenced-based information goes a long way in developing the support from the local medical community."
For Inspira, the partnership has resulted in cost savings by keeping patients healthier and lowering readmission rates. For the Fitness Connection, it meant an opportunity to reach beyond the traditional base of gym members to establish a new source of membership. "From a financial standpoint, we created a new revenue stream by servicing members who would not have joined a gym had it not been for their physician's recommendation," Meschi says. "Statistics show that only about 15 percent of the population has gym memberships, and commercial gyms are all vying for the business of that 15 percent. As a certified medical fitness facility we are able to service the needs of an additional 50 percent of the population by providing appropriate exercise and nutrition consultation for their specific health needs."
---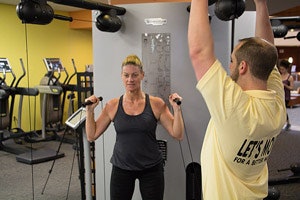 THE ATLANTIC Club | Manasquan, N.J.
Medical Fitness Association member since 2011
A talk by Dr. Edward Phillips, director of The Institute of Lifestyle Medicine, sparked The Atlantic Club's interest in medical fitness in 2010. "Throughout his presentation, he provided an initial roadmap for commercial clubs to successfully enter this sector of the business no longer limited to hospitals," says The Atlantic Club owner Patricia Laus. "It was even more exciting to me, since my initial education was as a registered nurse."
Laus saw an opportunity for her club to differentiate itself in the fitness marketplace and to open doors to a new population while increasing service for traditional members.
"After joining the Medical Fitness Association in 2011, I challenged our entire team to pursue Medical Fitness Certification," Laus says. "This required a total team effort and was one of the best projects we've ever conducted."
What it didn't require was a lot of space. Though The Atlantic Club spans some 44 acres, Laus emphasizes that a medical fitness program can fit into any facility willing to put in the time and effort to make it successful. "You just need to find a room and you can make this happen," she says. "It's about building community, and you can do that on any fitness floor."
The final outcome is a safer and more efficient and effective environment for all of the club's members and guests, as well as a stronger team dynamic among its 700 employees. "I strongly recommend that every club consider exploring the possibilities that a medical fitness approach can provide," she says, cautioning that the model may not be right for every club. There is a financial investment, and the facility needs to be committed to long-term results. Lifestyle changes aren't achieved overnight, nor are relationships established. Says Laus, "The new model is allowing our team to earn the trust of the medical community, where we are working daily to be viewed as providing health and wellness solutions to a new population of individuals."
---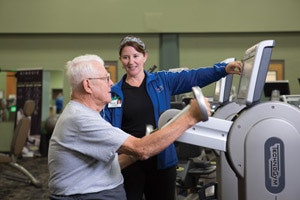 Hancock Wellness Center | Greenfield, Ind.
Medical Fitness Model launched in 2012
Purchased by local healthcare system Hancock Health in 1997, Hancock Wellness Center's operations were more akin to those of a typical health club until 2011, operating almost independently from the hospital. "In 2011, the board of trustees for Hancock Health decided that they did not want to simply be in the fitness business, but instead they felt that the facility should become an integrated component of the healthcare system's operations," says director David Flench. In 2012, the health club ceased its independent operation and became a branch of the hospital, and its employees became associates of Hancock Health. A medical fitness model was implemented under the direction of a new management team.
"Nearly everything about the operations changed, and the results to the bottom line have been significantly positive," Flench says. "Revenue, retention, total membership, non-dues revenue, and net income all have improved each year since the change."
The new direction has been so successful that Hancock Health is in the process of incorporating a second medical fitness facility, scheduled to open in January 2016. Fueling the success of the model is constant and consistent communication between the facility staff and medical personnel. "We use a paid medical director and a volunteer physician advisory group to facilitate our efforts, plus lots of formal and informal meetings with doctors and their staff."
Flench cites the MFA's Facility Standards and Guidelines as a key resource in Hancock Wellness Center's success, and, like Meschi, says strong relationships with healthcare providers are essential. "Our relationships with other hospital services and local doctors are developed every day, and are always a focus for us to stay an important piece of the healthcare system and its plans for the future.
"The clinical services in our building, such as physical therapy, cardiac rehab and diabetes education are tremendous supporters of our center and allow for effective two-way referring between departments," he adds.
His team recently presented the results of its 60-days-for-$60 physician-referral program to the hospital's medical staff, a move that was met with great interest and a significant uptick in referrals. "We have been able to show improvements in all clinical measurements that are tracked throughout the program," Flench says. "All of this is critical in implementing the medical fitness difference."
---
This article originally appeared in the November | December 2015 issue of Athletic Business with the title "Prescriptions for Fitness"