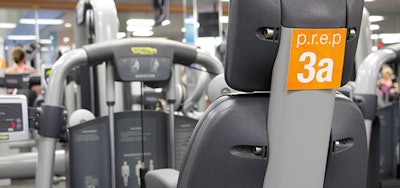 Set foot onto The Atlantic Club's sprawling 44-acre campus in Manasquan, N.J., and you'll realize it's not the average health club.

Sure, the typical health club basics are covered: state-of-the-art fitness equipment, an indoor pool, a spa, racquetball and basketball courts, a restaurant and meeting rooms. And then there are the other buildings: an indoor tennis center, an outdoor pool and cafe, baseball fields, a dome for indoor performance training complete with synthetic turf and even a kindergarten and first grade prep school.

Despite the vast array of facilities and the programs that keep them filled all day long, it's what's happening in a small corner of the gym that could have the biggest impact on the surrounding community.

"This has actually been one of my lifelong passions or dreams, to do something of this caliber," says Dr. Anthony DeLuca, an internal medicine doctor in New Jersey.

DeLuca is referring to The Atlantic Club's medical fitness program, called PREP (Physician Referred Exercise Program).

Nearly every club sets out to "change lives." But outside of fitness buffs, clubs have struggled to attract what Kevin McHugh, The Atlantic Club's chief operating officer, calls the "60 percent."

According to the Atlantic Medical Fitness Institute, about 20 percent of the population will always exercise regularly, no matter what. Another 20 percent will never exercise, regardless of gym costs, programming or any other factor.

The challenge for clubs is to make headway with the remaining 60 percent.

"We as an industry, including The Atlantic Club, we're not very successful in addressing the people that are called the 'deconditioned interested'," says McHugh. "These people are the people that want to get well, but they don't look at [health clubs] as the solution."

For The Atlantic Club, the path to becoming a solution started about a year ago, when club owner Pat Laus decided to start a medical fitness program.

She picked up the phone and called DeLuca.

"When Pat had called and said 'Hey, I'm looking into starting a wellness program at The Atlantic Club,' I literally almost jumped through the phone," DeLuca recalls.


How It Works
The Atlantic Club's PREP follows a successful template started by Phil Wendel and The Atlantic Coast Athletic Club in Charlottesville, Va. DeLuca and other local internal medicine doctors refer deconditioned patients to the club's program. The referral is more than just a doctor advising a patient to get some exercise or encouraging them to join a gym. The patient is actually being prescribed PREP.

To gain credibility with the medical community, The Atlantic Club had its program certified by the Medical Fitness Association. Being referred to PREP does not require the patient become a member, but they are instead directed specifically to PREP at The Atlantic Club.

Once enrolled in PREP, patients meet with a full-time employee at the club who is devoted strictly to PREP patients. They discuss the health and fitness goals and objectives the patient would like to achieve. The participant is then matched with a PREP coach who works with them one-on-one. This way the patient is gradually introduced to the health club, the equipment and all it has to offer.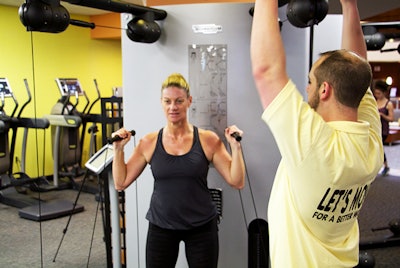 The patient pays just $60 for a 60-day program.

At the end of the 60-day program, it is up to them if they'd like to join the club as a regular member. About 60 percent of patients continue exercising after the program.

PREP follows what McHugh calls an "outcomes-based approach." He knows, and warns other clubs, this isn't about making money right away or gaining a surge of new members.

"It's not about membership," says McHugh. "Wherein the past a lot of health and fitness people were thinking 'Oh, I can get a membership, membership, membership,' we're saying we'll get outcomes, outcomes, outcomes and from outcomes we'll get memberships."

Those "outcomes" vary by participant.

"We're talking about people that aren't thinking about running a marathon, they're thinking about walking up a flight of stairs," says McHugh. "And they're having trouble with that. So it creates a whole different dialogue, a whole different language, and a whole different way of doing business."

The typical PREP participant "possibly hasn't been exercising in 20 years," says Kathy Guibord, the club's senior director of health and fitness. "So they're very, very intimidated to walk into a [fitness] facility because they have all kinds of concepts in their head about what that might be like."

PREP aims to change that.

"It's amazing," Guibord says of the program's results. "When they start out we ask them some questions like rate their sleep level, rate their energy level. They may start at a level of two or three and by the end of the program, they're up in the eight or nine area. They just can't believe the difference that [exercise] makes."


Making it Happen at Your Club
Implementing a medical fitness program at your club requires two keys to success according to McHugh.

"One is passion and one is facility," he says.

The Atlantic Club may be known for its large campus, the PREP program operates in a 500-square foot area of its existing strength and conditioning area.

"Many people say 'Oh you have 44 acres,'" says Laus. "The response is no, we're doing it a room. You just need to find a room and you can make this happen. There is no reason why a club of any size cannot integrate medical fitness into their environment," says Laus. "None."

However, it's a club's staff — the "passion" — not its facility that is most important, according to McHugh.

"What PREP's about is having a passionate team that cares about the outcomes of the people who are involved in the program," he says.

Club owners should be warned that a passionate team comes at a cost. At The Atlantic Club, several employees are devoted exclusively to PREP including specific trainers who are trained in dealing with deconditioned people.

Then there's one final factor for medical fitness success: dedication.

"It can become a flavor of the month type of thing where it works for one months or two months and then you get tired of it," says McHugh. "The commitment is you're trying to change the health and wellness of your community."

Once your club is ready to get started, get local doctors on board.

"I'd say reach out to some of your local internal medicine doctors and talk about a wellness program," advises DeLuca. "I can't see how a medical doctor wouldn't want to do something like this."


Lasting Legacy
While The Atlantic Club's PREP is still in its infancy, Laus and McHugh have high expectations. Preliminary statistics show that 60 percent of patients continue exercising after completing PREP.

"In 10 years, you can reverse, prevent and transform how many people's lives?" Laus wonders aloud.

"I think we'll see that patients will get better, they won't be as sick and we'll prevent disease from getting any worse," says DeLuca.

"It's a shift actually from being in the fitness industry," says Laus. "Not giving up the fitness industry, but taking it to a new level."

"I would like to think that over the next 10 years, we'll be impacting more than 30,000 people in the Manasquan and Red Bank markets who normally would never have looked at us as a solution," says McHugh.

And that ties in perfectly to the mission of The Atlantic Club (and health clubs everywhere):

"Expanding wellness and extending lives," says Laus, reciting her club's mission. "And that is really what is very appropriate for the PREP program."
---
This video was sponsored by Technogym. For more on Technogym's wellness solutions, visit their website.