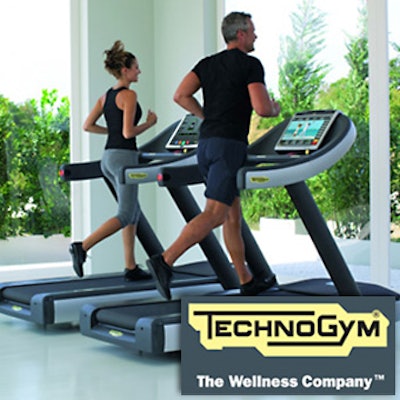 This sponsored content is brought to you by Technogym. What is sponsored content?
Connected cloud-based fitness equipment is a win-win for exercisers and facilities alike. Cloud-connected equipment uses individual data to offer unique challenges to exercisers, allowing them to compete with themselves, among each other, or even with other facilities across the globe. These challenges keep users engaged, and encourage them to become active members of the facility community. Athletic Business has more in the video and story below:
Fitness is known to change people's lives. But for Bob Scott, fitness saved his life.
"If wouldn't be for [exercise] I probably wouldn't be alive at this point," he told Athletic Business when we visited with him before a workout this fall. "I truly believe that."
Scott is a member of Watertown Regional Medical Center's Fitness Facility, located near Madison, Wis. It's a facility that has drastically improved in recent years.
"When I started my career here, we had a very small space, very old hand-me-down equipment and we made do with it," says Shane Brown, the facility's wellness works manager. "We had a lot of really good outcomes with patients based off the systems we had in place. But then we said well we want to take what we're doing to the next level."
That's when the facility enlisted Technogym for some help. The facility revamped its equipment with all new strength and cardio equipment. The Technogym equipment — and most notably the cloud-based technology aspect of it — is changing the way this community thinks about fitness.
"I kind of live here," says facility member Bill Schassler with a laugh.
Like Scott, it wasn't too long ago Schassler was dealing with severe health issues of his own. However, since triple bypass surgery in 2008, Schassler has lost more than 70 pounds, committed to exercising at the facility five days a week and even participates in local 5Ks.
The Watertown facility keeps members like Schassler and Scott engaged by offering challenges for exerciser's to compete against themselves, each other, or even other facilities around the world — all made possible by Technogym's open-platform UNITY Ecosystem.
"The challenges really keep people coming back," says Brown. "It gives them a reason to be part of our community and what we're doing here."
Among its own internal challenges, the facility has participated in Technogym's Let's Move for a Better World challenge, which records the number of "MOVEs" occurring at different facilities worldwide. Despite its modest size, the Watertown facility has ranked among the top in the United States in number of MOVEs.
"I mean I was down here doing 12 miles on the treadmill because I needed those MOVEs and of course, if it wasn't for that challenge, that never would have happened," says Scott.
For exercisers like Scott and Schassler, workout data is recorded and stored in Technogym's mywellness cloud, which tracks workouts whether they take place at the facility or elsewhere.
"If it wouldn't be for the key where I can put everything in to record everything, I probably wouldn't be [exercising]" says Scott. "I'd be still laying in bed taking my nap. But that's the type of motivation [data provides]."
The data fosters a fun environment for members and helps the facility reach more people.
"You're all friends and you're all challenging each other, but it's, I don't know, I don't want to say it's a competition because challenge is such a more friendly word, but it keeps a lot of people going," says Scott. "Unbelievable."
"We have people who utilize our programs and utilize our facility, but we have the ability through Technogym's platforms to be able to take that almost anywhere because it's so connected through the Internet, cloud-based technology, we can deliver the same product to people who never set foot in our facility," Brown explains.
And if all of the technology sounds intimidating, think again.
I figure if I can use the technology and the equipment than anyone can," says facility member Karen Kundinger with a laugh.
Thanks to the equipment's technology and a dedicated staff, the result is a win-win for the facility and its members. And for Bob Scott, a new lease on life.