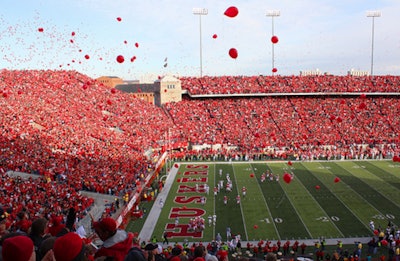 A man has filed a lawsuit against the Board of Regents of the University of Nebraska in an attempt to ban balloon releases after the Husker football team's first touchdown at home games.
Randall Krause of Omaha, Neb., filed the lawsuit on May 11 in U.S. District Court. According to court documents, Krause sent a notice of intent to sue to University of Nebraska President Hank Bounds on Feb. 24, then followed up with a supplemental notice on March 5.
Krause claims the release of the balloons results in the "open dumping of solid waste" and violates a section of the Resource Conservation and Recovery Act, the federal environmental law enacted in 1976 governing the disposal of solid and hazardous waste.
Fans receive red balloons with the Nebraska logo on them upon entering Memorial Stadium. The Husker football game tradition dates back to the 1940s. However, Krause claims the material of the helium-filled balloons pose an environmental hazard.
"Husker balloons are made from latex rubber that retains its elasticity for 8-10 weeks when exposed to air and beyond five months when submerged in water," Krause wrote in his lawsuit. "The poly ribbons tied to Husker balloons are petroleum-based and are not biodegradable. Balloon ribbons represent a serious threat to wildlife through entanglement. Birds, turtles, and other wildlife have become entangled in balloon ribbons, and have been strangled, incapacitated, or lost limbs."
Krause's lawsuit contains photos of a turtle and birds entangled in balloon ribbons, although it appears the ribbons are not from Husker balloons.
Read the full details of the lawsuit
University spokesman Steve Smith declined to comment on the lawsuit to The Wall Street Journal, but he told the newspaper: "It is, however, worth noting that every balloon released in Memorial Stadium is natural latex biodegradable, and they are tied off with 100 percent cotton strings."
According to an ESPN report, a Nebraska environmentalist started an online petition in 2014 opposing the release of balloons at football games. The petition fell short of its 1,000-signature goal by 413 signatures.