The last time AB spoke with former assistant collegiate strength coach David Geslak about his work with children and adults with autism, he was asked if the painstaking nature of introducing exercise to this population ever made him think seriously about quitting. It's a good thing he hasn't. Since that 2011 interview, Geslak's Exercise Connection has grown to a staff of six, developed an app (ExerciseBuddy), published a book (The Autism Handbook), produced an Autism Channel show ("Coach Dave") and launched a program (Autism Workforce) that uses exercise to prepare individuals with autism for employment. In all, he has made more than 400 presentations on exercise and autism to parents, paraprofessionals and other educators in the U.S., Barbados, Canada, Dubai, Egypt and Russia (twice). Nine universities are currently incorporating the app in their physical education curricula or in research, and the American College of Sports Medicine is looking at creating a certificate based on his efforts. His work has been profiled in the Chicago Tribune and The New York Times, and a piece authored by Geslak will appear in the March/April edition of ACSM's Health & Fitness Journal. AB senior editor Paul Steinbach recently reconnected with Geslak for an update.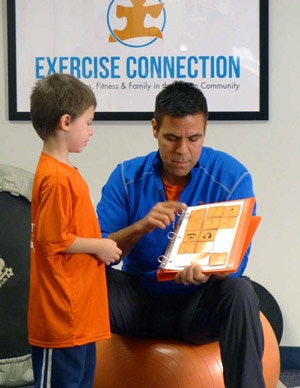 How does the ExerciseBuddy app work?
Research has shown that visuals can better help these children and adults understand what we want them to do. For the longest time there were only general exercise visuals but nothing specific. For example, to show a soccer activity, the visual was a picture of a soccer ball and half of a leg. For you and me, it makes total sense, but for a kid with autism, they may be looking around the room not just for the soccer ball, but for that half of a leg. What I did is create visuals that were exercise-based — a plank position, a hip extension — as well as broken-down sports skills, so now other P.E. teachers, other fitness professionals and parents could show them the activity.
What prompted your crossover into employment preparation?
We had a unique opportunity based on helping one of my clients with a job. He asked me to be his job coach because I had been his exercise coach. So while I was working to support him and his job, I found myself educating and working with managers and coworkers to better understand him. This was written up in The New York Times, and the CEO of Hart Schaffner Marx, the legendary men's suit maker in Chicago, read about it, called me and said, "Can you do what you're talking about in my company?" His son has autism, so that was his connection. I toured the company and said to him, "Can we build an exercise facility in here?" He said, "Do what you want." So we created the jobs, educated the company, retrofitted the business to be autism-ready and, in addition, built an exercise facility. The individuals with autism who are now working there get paid to exercise before they go to work. They've hired five individuals in four different departments, and two of the first hires just completed a year of employment. From an autism and special-needs perspective, that's pretty unheard of.
Are you encouraged by the interest of ACSM and others in your efforts?
Some days I have to pinch myself. These kids need this. These adults need this. But some families don't fully understand that exercise is a vital piece of these kids' development. And while occupational therapy and physical therapy are covered by insurance and part of their early intervention plan — as they should be — those things eventually end. So now I get the calls from parents whose kids are 13, 14 and on, "Hey, my kid's not moving anymore. What do we do?" The answer is exercise, but there's a lack of exercise even in school. Unfortunately, even some of these adapted P.E. teachers don't understand how to best work with these kids because they were never taught. We have to educate the professionals so they can help this population. There are a lot of children, adults, families and professionals who need our help, and with opportunities from ACSM and others, it will only further bring exercise to the forefront. I honestly believe this is what I was put here to do.
Has becoming a parent changed your perspective?
When I'm talking directly to families, I remind them, "While I've been in this field and I've been in your homes, I'm not in your shoes." I'm only a month in, and maybe this will change, but I'm the parent of a healthy boy. When you're a parent of a child with autism, it doesn't compare.
What have you seen parents deal with?
Lack of sleep. Kids who are picky eaters. If you detour from their schedule, their structure, it could cause a meltdown — at home, the grocery store, school or a family events. Many people are used to a two-year-old melting down, and it will eventually stop, but an 18-year-old who melts down like a two-year-old is bigger, and he can kick and punch. He doesn't know how to communicate, and you may not know why he's melting down, why he breaks a window or eats the paint off the wall. These are stories I can't make up. But even more important, I have witnessed many of these children reduce their maladaptive behaviors, improve their communication and physical abilities, be mainstreamed into a regular classroom and become loyal and dedicated employees.
Do you have a parental success story?
A teenager I first started working with at 16 was pretty much non-verbal — he could mumble a few words — and he had rods in his back. His mother was a single mother, not only raising him, but also a younger son on the autism spectrum. She was able to do this while also running own business. I was in her home, watching her balance all of this, and never fully understood how she could do it. People tell me, "Hey, Dave. What you're doing is so amazing." Honestly, the miracle workers are the parents, and watching them keeps me motivated.
How about a child's success story?
This shows how — just like any other individual — it takes someone with autism a while to process and really understand why exercise is important or how it can be beneficial. There was one boy, Roan, who was three and a half when I started with him. He exhibited classic autism characteristic. His parents had him involved in a lot of things developmentally. If it was autism-related, he was in it. But they also saw the need for exercise and understood that if they could make this a part of his schedule now, the likelihood is that he'll make exercise a part of his schedule throughout his life. Long story short, he just turned nine, and last year he would get off the bus, go to mom and say, "I want to run around the block." He would run with me during our exercise sessions, but now not only did he want to do it himself, but he wanted his mom to go with him. He made this choice independently.
Any thoughts of quitting these days?
It's not working with the children that I've thought about giving up. It's more the business — some days it becomes so overwhelming. There is no business model to follow in exercise and autism, and aside from trying to figure it out for myself, I would like to be able to one day share it with others who want to do the same. It's not only about taking care of myself and my family, but now I have staff, and the staff are helping to spread the mission. I want to make sure they're taken care of. Everyone gets paid before I do. Yeah, it crosses my mind, but then the next day I read an email that says, "Hey, thanks for what you're doing," and they're over in Philadelphia or they're in Australia. Or I'm getting ones from Greece, like, "We love what you're doing. Your videos have helped." So the minute that thought pops in, there's something externally happening that reminds me to keep going.
---
This article originally appeared in the January | February 2017 issue of Athletic Business with the title "Exercise-propelled progress for people with autism" Athletic Business is a free magazine for professionals in the athletic, fitness and recreation industry. Click here to subscribe.