Intramural sports are a fluid game in which hard work, keen instincts and quick reactions are keys to success. If participants tire of volleyball, give them blacklight volleyball, sand volleyball or seated volleyball. Take dodgeball to the next level with extreme dodgeball or giant dodgeball. There's broomball, goalball, speedball, knockerball, flickerball, pickleball, wallyball, Wiffle Ball, arena football and two-ball soccer. Ball sports not your students' bag? How about log rolling?
Campus recreation professionals have tried them all — and many more activities — when seeking to meet the interests of their student constituents. AB received input from 107 campus recreation professionals regarding their intramural program offerings in the hopes of uncovering a few industry trends. Here's what we learned.
Nearly half of all respondents (52) represent campuses with 10,000 or fewer undergraduate students, with nearly as many (47) falling within the 10,000-to-40,000 range. Eight come from campuses with undergraduate enrollments greater than 40,000. Respondents serve IM populations ranging from 150 to 46,283 unique participants, with an average of 5,808. Most programs welcome the IM participation of their schools' faculty and staff, as well.

BASKETBALLS AND BATTLESHIPS
Basketball still rules the IM universe, with 69 respondents ranking it either first or second on their list of most-popular sports. In fact, basketball, soccer and flag football (in some order) comprise every single respondent's top three. Then there's volleyball, and a substantial drop off to everything else. The most-popular sport on any given campus can command as much as 72 percent of the overall IM participant population, or as little as eight percent, according to the survey, which indicates 22 percent participation among the most-popular sport on average.
Most programs are adding sports, led by the globally popular soccer (indoor and outdoor). Battleship, in which teams of combatants board canoes in indoor or outdoor pools, has jockeyed for a share of second place alongside flag football on the list of sports added within the past five years. Conversely, nearly as many schools have dropped IM flag football as have added it over that time span, with softball and racquetball leading the way among survey respondents in terms of sports they've discontinued. Sorry, "Harry Potter" fans, three programs have closeted their Quidditch brooms.
Not surprisingly, voiced interest is the leading reason IM programs add sports, with 40 respondents claiming student feedback as the main driver of their expansion decisions, followed by a general sense of nationwide trends (30 respondents). Thirteen respondents report basing expansion decisions on their own active research. As for sports on schools' expansion radar, floor hockey leads the way, but nontraditional activities such as bubble soccer (in which each participant is outfitted roughly from the knees up in an inflatable sphere), spikeball (a ball is spiked off a mini-trampoline by players surrounding it), and inner tube water polo (you get the picture) made the list. Also emerging at the IM level: eSports.
AB asked rec professionals what sport they consider to be the most non-traditional among those they already offer, and battleship led the charge (11 respondents), followed by inner tube water polo (8) and cricket (7). (Lone-vote outliers on this list of outliers include paper airplane, trivia and chess.)
With few exceptions, campus IM leaders rely on students to officiate their competitions, an unfortunate reality given that officiating is by far the topic that draws the most program complaints among IM participants — 57 percent to second-place scheduling's 28 percent. Only seven percent of respondents report that facilities are a primary focus of complaints regarding their IM program, but when asked what rec administrators themselves would improve (beyond a larger budget) to maximize their program's effectiveness, a solid plurality of 26 respondents identified facilities — more, newer or improved. Officiating ranked fourth on directors' collective wish list, behind staffing and field improvements (space, lighting, time).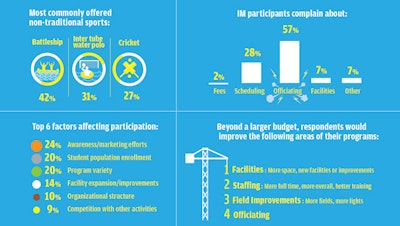 BUDGET DISPARITY
The disparity in annual operating budgets among our sample is significant, ranging from no budget at all to $1.2 million. The average came to be $110,219. Staffing claims the lion's share of resources, with 71 respondents ranking personnel number-one on their list of expenditures, and another 14 placing it second. Game officials garner the top line item in the budgets of 12 respondents. Also receiving major outlays: equipment, which landed in everyone's top three, and clothing (championship T-shirts, staff shirts, officials uniforms, etc.), which ranked either second or third for 36 IM programs.
Where does the money come from? On most campuses, IM fees are charged on a per-team basis. Roughly half as many schools charge fees per participant, and about half as many again charge both teams and participants.
Intramural sports remain a vital part of student life. A roughly even number of AB survey respondents report that IM participation has increased either slightly or significantly over the past 10 years, and combined those reporting an increase make up more than half of the respondent pool. Another 16 percent report steady numbers, and fewer than 8 percent claim significant participation decreases. Leading factors for fluctuation were identified as awareness/marketing efforts (20 respondents), student enrollment (16), program variety (16) and facility expansion/improvements (11).
Overall, the field of IM sports is growing and ever-evolving. Inspiration may come from an existing sport, military combat maneuvers or a major motion picture. The rules in this programming game seem to be that there are no rules.
---
This article originally appeared in the January | February 2017 issue of Athletic Business with the title "AB's Intramural Survey: What's driving growth in today's college rec programming?" Athletic Business is a free magazine for professionals in the athletic, fitness and recreation industry. Click here to subscribe.