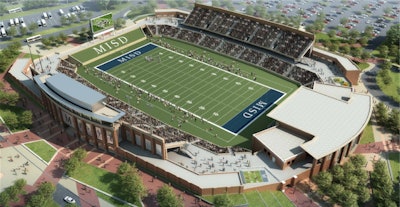 Editor's note: In May 2016, voters approved a bond package that allowed the McKinney (Texas) Independent School District to construct a multi-million-dollar high school football stadium. Construction on the project began in December 2016, and is expected to be complete in late 2017. Valerie Little, Associate AD for McKinney ISD, will be providing an exclusive inside look at coordinating the effort.
Well, the stadium is finally making progress. We can see an aerial view of the outline of the building from our drone, and this week construction crews will drill the large piers, which will form the base of our athletic building.
Excitement continues to grow and, once the physical parts of the stadium become visible for the public, the buzz will intensify. Thankfully, for the most part, the buzz has continued to be positive.
As I mentioned in a previous blog, it is vital to the success of any project that you get community buy-in prior to building. The key is to maintain this buy-in as the project moves along because setbacks and controversies are inevitable. You want to keep the stakeholders on your side throughout the entire process.
Related: Blog: Creating Buy-In for $70M McKinney ISD Stadium
Buy-in is achieved when you educate your community about how important the venue is. A key is to find a way to connect each person to the stadium. Every chance I get, I take the opportunity to educate anyone that will listen about how important the stadium is to our future.
Even though our stadium has already been approved, we will still need everyone's support over the next year of construction to maintain the positive image of our stadium and event center.
Last week at my 8-year-old son's basketball practice, a group of parents were visiting and the topic of the stadium came up. It only took a few anecdotes to get them excited about the idea that in four short years our sons and daughters could be competing there.
One fellow mother brought up a nightmarish experience she had trying to watch her daughter play soccer at our current stadium, where there is an infamous lack of parking. I smiled and gently reminded her that at this time next year, she will be able to watch that soccer game in our new stadium!
Most people don't take a step back to look at the big picture and realize the personal impact the stadium may have on them and their families, even if it's not an immediate impact. Simple, every day conversations can help educate our community about the importance of a new first-class stadium for the community.
At the beginning of our bond project, our cabinet decided to construct a large bond committee of over 100 community members and stakeholders. At each meeting, our cabinet made sure to educate this group on the specifics of the bond, since the committee was going to decide what would go on the bond. Educating a group this large, who then becomes your voice out in the community, is a great way to build positive support around the project early on.
Our entire bond was about much more than just our stadium. As those bond projects have been completed, we try to remind and educate all student-athletes and coaches of the process for approving and funding upgrades. For example, we were able to refresh the 16-year-old weight room at McKinney North (see images below) with our bond money. We want to share this news with as many parents, student-athletes and supporters we can. As a matter of fact, we just had a board presentation last week and we will continue with our daily ongoing education as to the positive effects the bond dollars have on our community and how they are impacting ALL McKinney ISD student-athletes.
Ongoing communication and education of all stakeholders we encounter will aid us in fostering the positive attitude our McKinney citizens have regarding the stadium project.