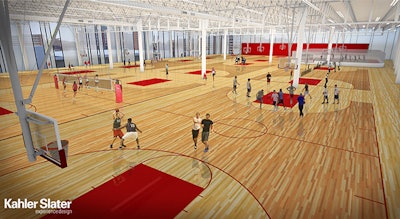 For this blog post, I felt it was time to showcase the student involvement in the Rec Sports Master Plan. After all, the entire reason the plan even exists is due to our students. They requested the initial master plan and later voted to fund it. They suggested we take that plan to referendum, and ultimately the plan as you see it has been driven by the student voice.
Two students that have been a part of this plan since its inception are Emily Ott and John Pape. Their role as core team design members has been critical in the designs of the Near West Playfield upgrades, the new Southeast Recreation Center, and the new natatorium pre-design studies.
From AB: Blog: Engaging Stakeholders Early Step to Rec Success
Emily and John share their Rec Sports stories in the space below:
Emily Ott:
My time at UW-Madison and involvement with Rec Sports has opened me up to incredible opportunities and experiences that I will take along with me for the rest of my life. I have been employed with Rec Sports ever since I started at UW, and over six semesters have transitioned within the Member Services and Operations department from ID Checker to Office Clerk to Facility Supervisor, and currently work as a Member Services Student Lead. As a current third-year student, I plan to graduate in December with degrees in BBA-Information Systems and BBA-Operations & Technology Management.
The Rec Sports Master Plan was a part of my life well before I arrived on campus. As a senior in high school, I wrote a letter providing a future Badger's perspective on the need for new rec facilities prior to the April 2014 referendum. Once a student at UW and an employee at Rec Sports, I became involved with various groups with an initiative to support the projects outlined in the Master Plan.
Two groups I was a part of, Badgers for Recreational Reform (BRR) and the Student Recreational Leadership Council (SRLC), both aimed to keep students and our affiliate users informed about the Master Plan and obtain input about amenities in the future facilities that were desired by the members. Additionally, part of the purpose of the SRLC is to provide feedback to the designs for the new facilities that are presented at our meetings. This group has been an important resource for the architects and design team to ensure students' needs are being met in the new facilities. Being a part of these groups meant continuously keeping our student users and staff members engaged, learning about and providing input on the upcoming changes.
I was fortunate to be selected to serve as a student consultant on the SERF Core Design Team in May 2016. This involved attending meetings with architects, representatives from various departments in the University and leadership of the Rec Sports professional staff. Being involved with this group exposed me to the inner workings of the project, which constantly left me in awe of the detail and precision that must go into every aspect of a building, from electric and water lines outlining the site to the configuration of the front desk to the number of treadmills needed on the third level. Involvement with the Core Team also included attending budget meetings. I was exposed to the incredibly determined efforts put forth by team members to value-engineer and cut down on cost while still producing a facility that meets the needs of the campus. As a student consultant for this Design Team, I attended a few meetings in which approvals were needed for the continuation of the project. These were meetings of the Board of Regents and the State Building Commission. My attendance allowed for members on the various committees and councils to obtain a student's perspective on the need for this project. Being able to provide that perspective has been an incredible experience for me.
These opportunities have not only increased my knowledge about the Master Plan, but also have made me passionate in ensuring that these projects are known about and supported by the students and by the larger UW-Madison community. This campus cannot continue any longer with our current recreational facilities. Other rec centers on campuses similar in size to ours simply blow us out of the water — our students and members deserve better. Additionally, this project is a vital component of student life. Campus recreational facilities are not just places to work out in. They are places where students come to relieve stress, meet new people, try a new intramural sport or group fitness class and find a passion for instilling wellness within their lives. The projects completed through the Master Plan will have a resounding impact on the students, staff and community of the UW. The Master Plan is not only important for the sake of building a functioning and well designed facility, but also for the sake of the well-being of hundreds of thousands of students who attend this campus in the following decades. Our new recreational facilities will be a beacon for student life on campus to thrive and flourish, and I cannot wait to see the success that follows in the years to come.
John Pape:
I am a graduating senior here at the University of Wisconsin-Madison, majoring in Economics and History. While here at UW, I have worked for the Division of Recreational Sports for all eight semesters, in one capacity or another. Starting first as a basketball referee and working my way up to Student Lead in the Competitive Sports Department, Rec Sports has truly defined my college career.
When I first arrived on campus, I was struck by the recreational facilities this leading institution had to offer their students. Not only were the buildings old, they were small, cramped, breaking down and just unpleasant to be in. When I first heard about the "Master Plan" — the overall plan for the construction of new recreational facilities on campus — I was fully in support of the effort, and immediately looked for a way to get involved. Since that moment, I have been very blessed to be a part of the process in delivering these facilities to the student population at Wisconsin.
Now finishing my second year of helping out as one of the student representatives on the Master Plan, it has been a phenomenal experience. I have been very fortunate to be able to sit in the core design team meetings with the architects, interior designers, project managers and engineers while representing a student voice about the new Southeast Recreational Facility (SERF) in particular. Being a part of these meetings also means getting approval for the project to move forward — and in an organization as complex as a public university, that is no easy task. Presenting and getting approval from the UW System Board of Regents, the Wisconsin State Building Commission, Student Segregated Finance Committee, Associated Students of Madison, and of course university administration has been an incredible experience, and I have been fortunate enough to attend almost all of the presentations and make a small impact.
Throughout the entire process, the student engagement has been fantastic. Having two students on the Core Design Team to represent student priorities in the new facility to the actual designers, is — to my knowledge — rare. After these meetings, in an attempt to further engage students and in my role as the Student Recreational Leadership Council President, we have showed that group (a group of 15 student employees from all five departments of Recreational Sports) our progress and brought more feedback to the Core Team. Engaging the students has been the priority from the get-go, as these facilities are paid for by them, used by them and dedicated to serving their needs.
Campus recreation is an incredibly important part of university life. Attending college is an important part of growing up, and earning a degree is not the sole objective of attending school. Discovering who you are, what you value, who you want to become and growing up is just as important, if not more so, than earning a degree. From 18 to 22 years old, as young, impressionable adults, there are so many things that compete to shape students. Campus recreation is a place for some molding, some time away from the stress of the world, a place to grow and learn, a haven of home. Without campus recreation, I would not have met people that I will never lose touch with, life-long friends in the truest form of the phrase. Campus recreation has molded me into the individual I am today, and just thinking about these new facilities and what they can provide — expanded services, a place where people want to come and hang out, and so much more — gets me more excited than ever about the Master Plan. These facilities are important, the haven of working out and participating in intramural or club sports is important, the space for people to come and destress with all the pressure of classes, student organizations, work and relationships is important. These facilities matter. Recreation on college campuses provides one of the most valuable services for students at a university. Theodore Roosevelt once said, "Far and away the best prize that life has to offer is the chance to work hard at work worth doing." This quote has never applied more to my life than while serving on this project.
John Horn is the director of the Division of Recreational Sports at the University of Wisconsin - Madison. See more UW-Madison Rec Sports blog posts here.
Editors' note: In March 2014, students at the University of Wisconsin-Madison approved a $223 million referendum to overhaul the campus recreation facilities, badly in need of improvement. Since then, the recreation program has been busy planning, fundraising, vetting architects and much more. As the project progresses, UW-Madison Rec Sports will be offering an inside look at the process of coordinating such a monumental planning effort.