The U.S. Army has high standards for fitness — and no one knows that better than the individuals tasked with treating soldiers' injuries. Rachel Brown is an instructor/ROTC athletic trainer at the University of Central Missouri, where a flourishing ROTC program prepares a battalion of roughly 125 cadets annually. Her ultimate goal: to ensure that every cadet passes a monthly regimented Army Physical Fitness Test (APFT) without incurring a debilitating or chronic injury.
UCM's ROTC cadets undergo a rigorous daily Physical Readiness Training (PRT) comprised of an Army-standard warm-up, followed by a series of workouts designed to help maximize their scores on the APFT — including push-ups, sit-ups, burpees and endurance running — and a cool-down. These daily 6 a.m. workouts and monthly timed tests provide the framework for a continuous athletic season — one that leaves many cadets open to injury from overuse.
"Most sports go through periodization training," says Brown. "They have a regular season, an off-season and a preseason; they circulate through different levels of exertion. For example, volleyball regular-season work is going to be comprised of short-duration, high-intensity workouts, whereas in your off-season you might be doing a lot of weights and conditioning. That's not the case with the Army. They never have a true off-season. They're always going."
These strenuous routine tests are compounded by field work, where the cadets train in full uniform, covering long distances in heavy boots and often with a full pack weighing a minimum of 35 pounds. Field challenges include functional training that simulates a battle situation, such as carrying logs overhead, completing "litter carries" with a 200-pound dummy on a stretcher, or running while carrying large bladders of water in each hand.
According to Brown, these activities teach the body how to adjust to uneven terrain and lopsided weight. "They train the way that they need to be able to perform when they go on deployment," she says. "They need to be able to maintain fitness over a long period of time. That's why the Army conducts PRT."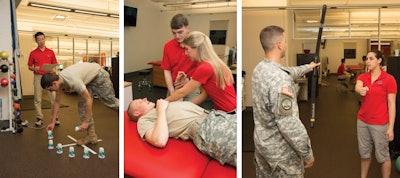 Army Strong mentality
Because of the unpredictability of this method of training, ROTC athletic trainers see a wide variety of injuries — everything from burns and smashed fingers to poison ivy and snakebites. But, the most concerning trends come in the form of overuse injuries: IT band issues, hip inflexibility and weakness, plantar fasciitis, shin splints, stress fractures, lower back pain, and overall tightness and inflexibility. Left untreated, many of these injuries can become chronic.
Unfortunately, there is an ingrained (reluctance) among Army cadets to seek help. Says Brown, "If you think about sports psychology — each sport has its own sport culture. When you talk about the Army — their theme is Army Strong, and part of the problem is that they don't go when they need help because of the stigma. They don't want to appear weak. Even when it's something that could easily prevent other things from happening, they don't want to lose training. They don't want to leave the field."
According to Brown, orthopedic problems and musculoskeletal pain is the number one cause of duty loss in the Army — and much of that could be prevented if treated correctly. "And that's where I come in," she says. "I've spent a lot of time and effort integrating myself into the program to try to change that culture — to convince people to use the free care that's available to them."

---
More from AB: Army Implements First Combat-Specific Fitness Test
---
Trust among cadets
Here's where the program at UCM differs from the norm. Brown has been an inspiration in the creation of an embedded athletic trainer position with ROTC. "I restructured my schedule and how I work to be integrated into all of their activities," says Brown. "If you're going to be here, I'm going to be here." While many ROTC programs have access to AT services on campus, that availability alone doesn't build the level of trust that ensures cadets will report injuries in the early stages.
Since Brown began attending the daily PRT — in addition to participating in labs, sitting in on cadre meetings, tagging along on field trips and keeping open clinic hours — injury reporting has doubled. "It took me at least a full semester to get to know them and for them to trust me and see me as a resource," says Brown. "Now, they trust me and they will tell me when they're hurt. I'm catching things and am able to treat them. If the AT isn't out there 'doing life' with the cadets and exemplifying the principles of Army Strong, you aren't going to get the prevention you're after."
From a monetary standpoint, it only makes sense to have a dedicated ROTC AT. ROTC training is precisely formatted to fit a four-year degree program, and contracted cadets are required to complete additional training camps during the summer months, leaving little room for setbacks due to an injury. Says Brown, "We want them to graduate in four years and get through their training quickly so the Army doesn't lose money. If they get injured their junior year and can't pass a fitness test, that puts them way behind."
"Having athletic training for the cadets on campus is a huge benefit for a lot of reasons," she continues. "One, they stay safer, so we can prevent injuries from happening and they can still participate. Two, if an injury happens, it can be taken care of right away. Three, the cadre don't have the burden of trying to make medical decisions that they aren't qualified to make. And four, if more people complete the course and don't drop out because of injury, the program gets more money. They have to graduate and commission a certain number of cadets each year in order not to go on probation."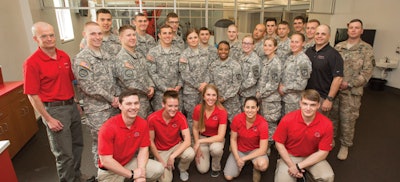 Recruiting tool
Along with helping to decrease the drop-out rate, Brown has been instrumental in recruitment. "Since I started our battalion has doubled," she says. "They use me. I am a huge marketing tool." Having an AT present on campus during ROTC training reassures parents that their students will be taken care of. "Why should you come to UCM over a larger school?" asks Brown. "This is why."
However, as much as the university might hold a competitive advantage by having one of the few ROTC programs with an embedded AT, Brown is eager for more schools to follow suit. "One of my major goals for the next 10 to 15 years is to start getting athletic trainers into the ROTC programs at major colleges," she says. "In many cases, the ATs are already there. In others, a new position would have to be created and funded through the university."
Why should schools put up money for a new position? To answer that question, Brown is involved in a national research project to collect data that shows the amount of money saved by having an AT dedicated to the program. Early injury reporting means cadets don't miss training and they get the treatment they need — often preventing a debilitating injury and saving the overall program the costs of a higher dropout rate.
"These cadets are preparing to do a job, and how their training works basically sets them up for injury," says Brown. "It's important to have someone there to take care of those injuries."
---
This article originally appeared in the November|December 2017 issue of Athletic Business with the title "The case for embedded ROTC athletic trainers." Athletic Business is a free magazine for professionals in the athletic, fitness and recreation industry. Click here to subscribe.