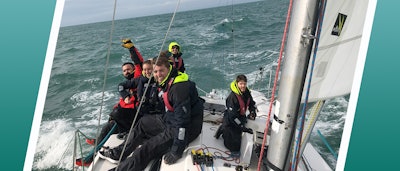 When our Club Sailing President, Nick Piasecki, came to me in early December to speak about the prospects of international travel, I was a bit skeptical. We were fewer than six months out from the event he was pitching, and I had no knowledge of the entry process or direction to share with the club sport leadership at Drexel University. At that point, fundraising hadn't even started, and certainly logistical planning was still a long way off. But, what I came to realize in the months leading up to our trip is that Nick was not only prepared to do the hard work of making this a reality for him and his club teammates, he was also prepared to push me out of my comfort zone.
This past April, I had the opportunity to travel with eight members of the Drexel Club Sailing team to Les Sables- d'Olonne, France to compete in the 51st Annual EDHEC Sailing Cup. The 2019 event involved over 3,000 athletes from 23 countries competing for the land, sea and sand trophies. The event is entirely student-organized; from the food to the sponsorships to the layout of the sailing course, students at the EDHEC Business School have organized an outstanding experience for students from around the world.
The Drexel Sailing Club was tasked with raising all the money required for the trip in just a three-week window. Through alumni donations, dues, and sponsorships, the club was able to secure enough funding to cover all expenses and none of the costs needed to be underwritten by the Club Sport Department or University.
This was my first excursion to a foreign country and it offered just as much of an experiential learning opportunity for me as it did for our students. Before embarking on the trip, I was eager to connect my experiences working with NIRSA—I served as the Region I Men Divisional Coordinator for the 2018 NIRSA National Soccer Championships—to the opportunity to travel abroad with our students. The NIRSA strategic values guide our profession and I was able to see the value of a global perspective in person.
After securing flights less than two weeks before the event and paying for the registration (in Euros) just days before the event, we were ready to embark on an 11-day journey.
It's the journey, not the destination
We landed in Paris on April 5 and immediately began our adventure. In the beginning, we were all a little hesitant to speak (or attempt to speak) in French. We wrongly assumed everyone in Paris spoke English and wanted to speak English. But we quickly learned that it was up to us to adjust to the French culture and customs, not for them to accommodate us.
We learned that bonjour is not just good morning over there; it's a sign of goodwill that's exchanged with every person's eyes you meet. These common interactions were intimidating at first but became second nature over the course of our 11 days in the country.
While walking nearly five kilometers through Paris to secure our belongings, we were able to see some iconic Paris landmarks, such as the Eiffel Tower and the Arc de Triumph, before making our way to the Porte Maillot bus terminal to catch a red-eye bus to Les Sables-d'Olonne on the Atlantic coast of France.
Our ten days in Les Sables were filled with offshore sailing for the team and the challenges of ordering food, finding directions, and asking for help. As the only American team competing, we sometimes felt isolated by a language barrier. "Throughout the trip, there were interactions that left me pondering the differences between the French and American culture," Nick says after reflecting on our experiences. "These interactions weren't necessarily negative, and the most difficult barrier for me to overcome personally was probably the communication barrier. I learned that even when the correct words are used, understanding can sometimes still be harder to find," he adds.
A common misconception about the French people is that they do not like Americans. My experience was quite different. The French people we all met are proud of their culture and country just as much as we are as Americans. They were helpful, and we found them to be more than hospitable when we made an effort to speak in French and respect cultural differences.
It wasn't all smooth sailing, but it was so worth it
Our team finished the competition ranked 16 out of 31 teams in the same boat class, a great showing considering the challenges that our team faced: jetlag, language barriers, and limited experience in offshore sailing as a team were all significant tests of their characters and their ability to work as a team.
As we made our way back to Paris, the team soaked in the experience. Through the lows (taking an overnight shuttle 475 kilometers across France after a red eye flight comes to mind) to the highs (working in sync as a team and leading for a period the final race won't soon be forgotten), the benefits of this trip were apparent immediately. Equipped with limited knowledge of the language and customs, these eight students took advantage of an amazing opportunity to immerse themselves in a foreign country and compete against some of the best sailing teams in Europe. They were humbled when they ordered the wrong things at a restaurant but learned that even missteps were chances to grow and discover not only new cultures but new truths about themselves. Above all, they found a way to seize an opportunity that most people would have given up on by leveraging their ingenuity, passion, and capacity for hard work.
As a young professional, I was reminded that true growth only occurs when we step out of our comfort zones. To any NIRSA colleagues and campus recreation professionals who have had clubs or individual students express an interest in travelling abroad, I challenge you to explore the resources on your campus and in your community to find the means. Collaboration is key: Our trip was made possible through the amazing connections of the Office of Global Engagement, Procurement, Athletics, and Institutional Advancement. Encourage your students to seek out these opportunities and to get creative with fundraising.
While support from those many campus departments was crucial, ultimately this trip would never have happened without the persistence and dedication of Nick and the other students on the team. They pushed me out of my comfort zone and now I am a better professional for it.
For more information about Drexel Club Sports, contact Club Sport Coordinator Adam Shanley
---
This article was published with permission from our partners at NIRSA — Leaders in Collegiate Recreation. Read the original here.