Sponsored by Matrix Fitness
Everyone can agree, bringing students (and staff) together and surrounding them with the spaces and tools to live healthier lives is what collegiate recreation is all about. But how does your operation square with national trends?
Earlier this year, AB conducted an inaugural survey of college recreation professionals in the hopes of establishing baseline data against which future — ideally annual — results can be compared. Here are a few key takeaways:
Reflecting on 2019, 53 percent of respondents saw student engagement increase, while 14 percent reported a decrease and 33 percent saw no change. Moving forward, 54 percent of respondents rank increasing student engagement as their number-one priority. Another 32 percent plan to prioritize renovation, and 11 percent are focused on buying new equipment.
As for the number of activity spaces offered in our respondents' facilities, dry courts dominate over the next-closest amenity (pools) by a 5-to-1 ratio. Treadmills roll in as the most-widely offered type of cardio equipment, with survey participants reporting an average of 17 treadmills in their respective facilities. Elliptical trainers take runner-up position at an average of 12 units, followed closely by upright stationary bikes at 11.
Weight rooms under the purview of our survey respondents are loaded across the categorical spectrum. We presented 13 specific pieces of traditional weight training equipment, and each of those boxes was checked by at least 86 percent of respondents. Same goes for all nine selections presented in terms of functional strength training equipment, with medicine balls checked by 100 percent of survey participants as something they offer, followed closely by suspension training (97 percent).
Most facilities in our sample (55 percent) have a climbing wall.
A majority of respondents indicated that they're taking full advantage of their vendors' offerings, with 58 percent saying they use programming provided by equipment manufacturers.
Outdoor activity is accommodated on fields at 80 percent of our responding campuses, with 48 percent offering basketball courts, 43 percent offering tennis/pickleball courts, and 40 percent offering sand courts.
Most popular among group classes is yoga (88 percent of respondents offer it), followed by aerobics/cardio (81 percent) and indoor cycling (79 percent). An impressive 79 percent of respondents report opening up group exercise training to non-students (faculty, staff and community members), with 55 percent of that subgroup reporting revenue-generation as a result of that policy.
Not surprisingly, given all of the above, every responding institution reported having automated external defibrillators in their facilities, and nearly all (96 percent) have an emergency action plan in place. Likewise, nearly every responding institution (95 percent) reported offering locker rooms in their rec facilities, and of those, 62 percent include family or unisex locker rooms in the mix. Towel service is hands down the most popular service amenity among our sample, with three out of every four institutions offering it.
There's a lot to be proud of among college recreation providers, and the future looks bright to them. Seventy-six percent of survey participants indicate they are optimistic about the health of the fitness market.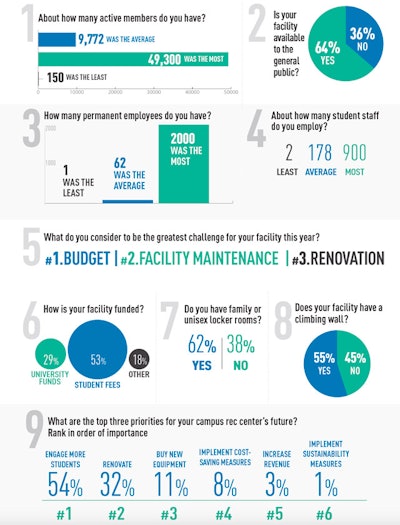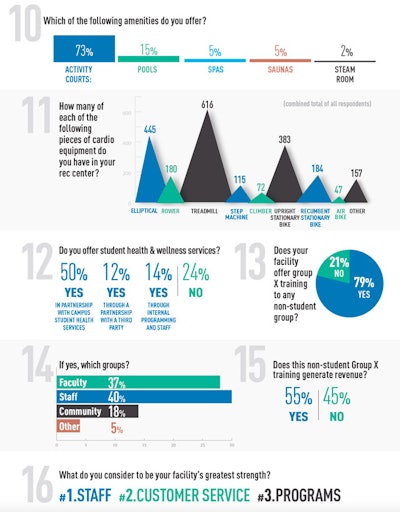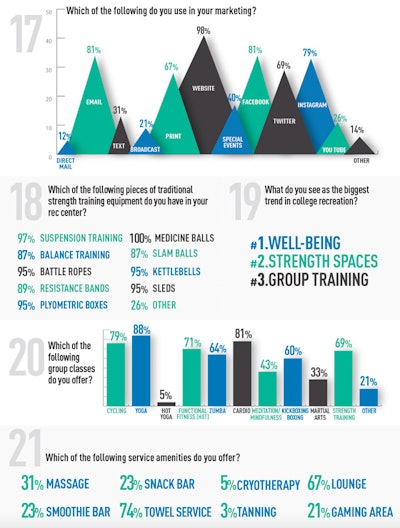 Navigating the road ahead for college rec
Sponsored by Matrix Fitness
As the vibrant college recreation space continues to evolve, Athletic Business sat down with Marc Loomer and Rebecca Peoples, representatives from Matrix, to glean insights on how a prominent equipment manufacturer that's been involved in a lot of college rec facilities envisions the road ahead.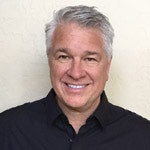 Are there any trends you're seeing in the college rec facilities you're working with?
Marc Loomer: We've seen large open spaces gain popularity, specifically for body weight and functional training purposes. More rec facilities are getting creative with converting underutilized space into fitness space, such as group or leg training areas. Esports is another emerging trend. More value is being put into structured high-intensity interval training with low-impact movements for the proven benefits of HIIT with reduced chance of injury.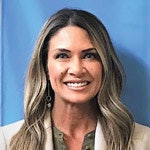 Rebecca Peoples: There's a definite trend in using combination power racks to maximize space and offer exercise versatility. Rec facilities are making easily created niche areas that are tucked away and pique interest. Neighborhood-style layout design where at least one section becomes a one-stop shop within a small distance of cardio, strength and core equipment is becoming popular. Refreshingly, adaptive equipment planned within the mainstream layout is becoming more common. Inclusive marketing with models of all shapes and sizes is gaining more prevalence in order to promote wellness for all campus community members. Most importantly, health coaching and behavior-change programming is becoming a more structured offering. We are seeing kitchens with full-time nutritionists, financial wellness coaches on site, more and more crossover on campus with other departments. It is all very exciting.
Have you worked with any facilities in particular that you think are really forward-looking or innovative? What about those places stood out?
ML: We've worked with some college recreation departments that spread their messaging through marketing their offerings in facilities all over campus. Some rec centers are charging students for small group training each semester, but then refund the entire amount if the student doesn't miss any classes. We've seen campus rec using other campus events like freshman orientation to advertise the opportunities and benefits of using the rec facility. For example, some campuses have tremendous success when they use flashy handouts to entice students to revisit the rec center for a free T-shirt.
RP: Repurpose projects are always my favorite. Wofford took their old basketball arena and reworked it into an amazing center, converting the two mezzanines, lower courts, concessions into all things rec — strength, cardio, studios, classrooms, offices — awesome! Showy architectural facilities speak for themselves, but the introduction of graphics to any space can convey values, inject energy, establish mission, et cetera. I love the creativeness of college rec staff, finding unexpected small spaces for core, functional movement, fascia release — under stairways, along a hallway, in front of unused cubbies. Mississippi State is adding an entire cardio section overlooking the lake in the foyer. The University of Tennessee at Chattanooga has plans to use a stairwell section leading to a back hallway for a new boxing studio with a retractable bag rail system.
What advice would you give college rec directors looking to make their facilities more attractive to the student population?
ML: Keep the fitness area clean, bright and welcoming. Use marketing tactics that encourage rec center use for quality of life, as opposed to weight loss goals, as this will prove more inviting to students curious about campus recreation.
RP: Research sustainable power sources. Implement a health coaching program for holistic offerings at your rec center. Seek Outdoor Rec for advice and strategize on coordinating mindfulness-specific offerings that can easily and dramatically market each to the other. Have vendors host a student training no less than annually to re-educate. Examine programming opportunities to enhance streamlining instruction. Consider creating Group X opportunities for faculty, staff and alumni. Install turf and keep it clear of all but a few accessories; turf is a student magnet. My top advice would be to be data-driven in decision-making. Use technology to gain information on swipes, consoles, popularity, equipment usage diagnostics, demographics, engagement and peak times.
For what one area of college rec do you see dramatic change on the horizon in the next five to 10 years?
ML: I see much more collaboration between recreation and health/wellness departments, and rec centers starting to bring them all under one roof. I also see health and wellness and PE classes becoming mandatory accredited courses for graduation, with curriculum geared toward educating students on the exercise and mental wellness correlation. I see more relaxation opportunities, including sleep pods, restorative yoga, quiet zones and meditation. Esports will have their own dedicated space and equipment. Strength training is rising in popularity for both men and women, creating an increase in demand for power racks.
RP: The one area I see dramatic change on the horizon is in the understanding of exercise as medicine and how that plays into mental health integration and initiatives.
---
This article originally appeared in the April 2020 issue of Athletic Business with the title "AB's 2020: College recreation Survey." Athletic Business is a free magazine for professionals in the athletic, fitness and recreation industry. Click here to subscribe.