Getting members into a gym on a regular basis has always been a challenge that requires a clean facility, the right equipment, talented instructors and engaging programming. The current pandemic has only complicated that equation, as clubs look to welcome back members that have for months been cobbling together ad-hoc at-home workouts, using everything from YouTube videos to on-demand content provided via their gym's dedicated mobile application.
The temporary closing of gyms across the country has shifted member behavior, catalyzing a nascent hybrid programming model. While some members might have come to enjoy their home workouts, others might prefer the social aspects of a gym environment. However, what club operators are beginning to realize is that quarantine has their members wanting both the brick-and-mortar experience, as well as a robust on-demand content offering. Here's a look at how a programming provider and an equipment manufacturer are helping their customers change with these extraordinary times.

Anytime, anywhere
In an effort to re-engage its members and supplement its virtual program, while also boosting revenue, 24 Hour Fitness struck up a collaboration with group fitness programming provider Les Mills. As part of the partnership, 24 Hour Fitness members now have access to more than 1,000 Less Mills workouts via the company's 24GO® app. 24 Hour Fitness members get a free trial of Les Mills content and can then pay for a premium subscription, which is sold as a 24 Hour Fitness membership tier. When a member does subscribe, 24 Hour Fitness then gets a commission in return.
"Traditionally, clubs have been focused on brick and mortar and getting someone to walk through their doors, and they talk about ensuring that people visit the club X amount of times per week," says Ashley St. Jules, vice president of marketing for Les Mills. "But what they're working with us on now is the realization that that can't be the only thing you're doing. Because there are really so many ways that you could be involved in your members' lives outside of just having them come into your club a couple times a week."
St. Jules says that the last few months have only amplified for club owners that looking beyond the four walls of the club for business is no longer a competitive edge — but necessary for survival.
"They're really having to stop thinking of the digital apps as a competitor, but rather as a complement to what they already offer," she says.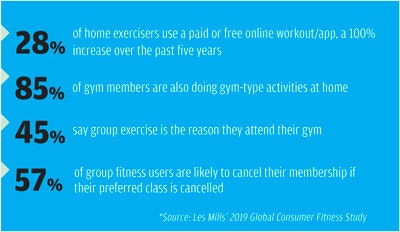 As a global business, Les Mills had the benefit of seeing what its partners in China were doing early on, as that country was one of the first to shut down businesses. As a result, Les Mills was able to share that experience with clubs in the United States.
"We were able to share with our clubs here in this country how our partners in China were implementing not just on-demand programming but also personal coaching, including things like six-week virtual programs that incorporate workouts and nutrition," St. Jules says. "Live streaming has also been huge, which gives instructors the ability to teach and engage with members even from home."
Aside from the content itself, COVID-19 has likely also shifted how clubs think about scheduling their programming. Prior to the pandemic, clubs would build their schedule around peak hours and their most popular classes. Now, schedules have been turned upside down — people are working from home, kids are no longer going to school, and some people might stay away from a gym if they think it will be crowded.
"What we're talking with clubs about now is how we can build a schedule that includes live, virtual and live-streaming," St. Jules says. "So, you can still have a couple live classes per week where people can take a class in person with an instructor and have good distancing in place because of smaller class sizes. But then you can also have a screen at the gym where you can put virtual classes that don't require an instructor and get more flexibility throughout the day. The final option is you have other virtual content that's available through the app for those who maybe don't yet feel comfortable enough to come into the club."

A safe and comfortable return
While virtual and on-demand programming have become more popular, there will always be a significant population that craves the social aspects of a gym environment and group programming with friends and acquaintances — not to mention in-person access to a capable instructor.
Rebecca Cofod, group training solutions director for Matrix Fitness, says the immediate needs of her customers back in March centered around how they could engage customers during lockdown. Now, they're wondering how they can relaunch a group training program in the current environment.
"Most of the conversations that I'm having are around how do we relaunch a group training program and do it in such a way that we can meet all of the requirements for cleaning and sanitizing, and making sure that the equipment they shared is sanitized," she says. "And at the same time, there's the emotional side of it — just making their members feel comfortable. Not surprisingly, there are a lot of members who are excited to get back and are not very nervous, and then there's those who may not be coming back."
Cofod says that one of the easiest ways to make fitness programming safer is to reduce class sizes in order to increase distance during exercise. A major component in reducing class sizes lies in ensuring that the gym has a robust and reliable reservation system in place. Cofod suggests that an efficient preregistration system for all group programming is essential for participants to know before they arrive that their class will allow for ample space. Any preregistration system, she says, will also need to build in extra time for check-in, so that participants can be introduced to any new protocols or procedures related to the facility's virus mitigation efforts.
Cofod says another option popular among her customers is taking group fitness outdoors, but such a strategy depends in many cases about the type of equipment needed and whether it's suited for use in the elements.
"Running a cycle class outside, as opposed to running it inside, is going to give you the ability to spread out more and give people more peace of mind," Cofod explains. "But some of the rigging and things for TRX or a Slam Ball wall — those aren't going to be outside and might require some simple modifications. It's just really taking a look at what we're planning to do so we still have a solid structure."
While the outdoor option does have its appeal, Cofod says it's not a silver bullet for obvious reasons.
"We're getting to the end of July and August right now, and in much of the country outdoor fitness is really a challenge," she says. "In most cases, we're doing these things in a climate-controlled environment, where it's around 65 degrees, not 90 degrees and in direct sunlight. So there's a safety concern with something like high-intensity interval training in that kind of environment."

A massive shift
While Cofod is trying to help Matrix customers modify and reclaim their facilities as safe places for fitness programming, the equipment manufacturer is also trying to address the need for flexibility.
Andrew Kolman, senior director of technology and business development at Johnson Health Tech, Matrix Fitness' parent company, sees the COVID-19 crisis as an opportunity.
"If you're not limited to bricks and sticks, you could potentially recruit a larger percentage of the population to engage with a commercial facility, and the pandemic has accelerated that and really made the hybridization of commercial fitness relevant now, as opposed to where we were 100 days ago," Kolman says.
Matrix is now working on expanding the content available through its mobile app and making that accessible to all of its customers.
"Among other things, we've actually worked with our trainers to create 28 days' worth of bodyweight exercises — things that you could do at home without equipment — and made that available through our app. We actually turned that feature on for more than 400 facilities globally for free."
Kolman says the conversation has moved beyond the current situation, with partners and customers now looking at long-term solutions that can evolve the current model.
"Much like InstaCart has done to the grocery business, or Zoom has done to working, I don't necessarily need to be in my office with the door closed to have meetings," he says. "Technologies enable all of this, and it's just a massive shift in the way people consume whatever it is they're consuming, including exercise."

Whether the consumers are indoors or outdoors, at the gym or home, in front of a screen or following along with a living, breathing instructor (during a pandemic or in more "normal" times), exercise remains an important part of maintaining physical and mental wellbeing. If the pandemic has done one thing, it has hastened the emergence of new ways for everyone to get their workout in, regardless of where they're at.
As people come out of lockdown, they are going to be more health-conscious than ever, but they're also going to be looking to maintain the new, more flexible, schedules they've discovered over the past few months. Home workouts shouldn't replace fitness center visits, but rather work in tandem to reinforce a client's overarching fitness goals.
"I think people have gotten used to having a flexible schedule, and they've definitely started to understand how easy it can be to work out at home," St. Jules says. "I would think if you asked most people, their preference would be to work out at the gym, but these different ways of getting a workout in will continue to be important going forward."
---
This article originally appeared in the September 2020 issue of Athletic Business with the title "Pandemic spurs rise in hybrid fitness programming." Athletic Business is a free magazine for professionals in the athletic, fitness and recreation industry. Click here to subscribe.