Building the airplane in flight. That's the tagline Lori Smith kept hearing when trying to cope with the evolving effects of the coronavirus pandemic. "It really felt like that was what we were doing," says Smith, sports and fitness director at U.S. Army Fort Benning, which straddles the border between Georgia and Alabama. "What was nice was that as we went along, from initially closing facilities to reopening, there were people at all levels of the Army who were willing to try a lot of different things to keep people active and healthy."
While the Army and its civilian-run Family and Morale, Welfare and Recreation facilities implemented many of the same measures as civilian commercial gyms, the military has had to face the pandemic on its own terms. Here's a look at some of the ways the Army has managed to mitigate the spread of COVID-19 at its fitness facilities, while still keeping soldiers combat ready.

Locked down, staying fit
An outbreak at an Army post like Fort Benning, which supports more than 120,000 active-duty military members, family members, reserve component soldiers, retirees and civilian employees, would be an especially difficult situation to manage (see the 1918 influenza pandemic). Many soldiers live in barracks, and they eat, sleep and train together, increasing the potential for spread of the virus.
As was the case across much of the United States, Fort Benning closed all five of its fitness facilities back in March. The base was able to reopen in stages at limited capacity around the middle of June, but the period of time when everything was locked down was a precarious moment for soldiers stationed at large military installations. Unlike civilians who may have slipped into poor eating habits or may have skipped their evening workout in favor of a Netflix binge, soldiers needed to stay battle-ready, while also ensuring they were prepared for the Army Combat Fitness Test.
"Fitness is a large word for our soldiers, and it kind of means a lot of things to a lot of people," says Fort Hood sports and fitness director John Hamilton, who oversees 11 fitness centers. "It means health and fitness and readiness for the mission. It means making sure these young soldiers are lethal and ready to deploy and ready to meet the mission of the Army and beyond."
To that end, Hamilton says that his team tried everything it could to stay in communication with soldiers during lockdown, utilizing social media platforms to keep everyone apprised of the situation, while offering virtual workouts, running programs and other at-home activities to make sure soldiers had at least some tools to help them stay fit.
"When everything was shut down, it was a little bit of a wake-up call," Hamilton says. "We saw the shift to bodyweight exercises and understanding the kinetics of body movements and how that can relate to what their mission is and what their duties are. I mean, functional fitness relates to how functional they are when they operate as soldiers. They're tactical athletes. Ensuring that they have the skillset and the physical mobility to be able to handle their loads in a very intense environment is very challenging for them. Most of them have been successful at maintaining that through the COVID window."
To do so, both Smith and Hamilton say soldiers began doing more training outside. In the absence of facilities and equipment, they started running and engaging in some of the challenges — squats, push-ups, sit-ups — that were posted online.
Smith says she's been heartened by the creativity and adaptability she's seen among soldiers. Even with all of her facilities currently reopened with capacity restrictions in place, some of those solutions developed during lockdown seem to have stuck.
"I think units have gotten very creative in how they do their workouts," Smith says. "I come in in the morning and there will be guys out in the parking lot doing group workouts and running stairs. Just doing everything they can to stay fit, which is nice to see."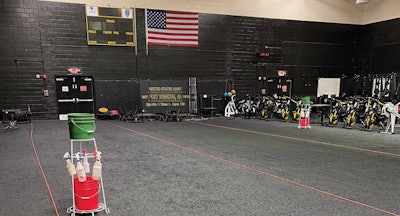 Reopening
By mid-June, most military bases had received word from command that they should start working on a reopening strategy for their facilities. That meant putting into place all the protocols and mitigation measures with which the fitness industry at large has become familiar — distanced equipment, mask mandates, increased signage and in some cases temperature checks and contact tracing measures upon entering.
Sean Lewis, sports director at Fort Bliss in Texas, notes that his plans required consolidation of staff and resources as his team sought to reopen the Soto Physical Fitness Center, a 96,000-square-foot standalone fitness facility that before the emergence of COVID-19 welcomed about 50,000 patrons per month. Since its reopening in June, that number is down to about 15,000 monthly visits.
"We increased our staff at this facility by pulling from our other four gyms, which are closed," Lewis says. "We have triple the amount of wipe stations we'd normally have, so we kind of consolidated some of that cleaning and disinfecting equipment."
Activities at Fort Bliss have also been limited. Lewis says soldiers knew from the time doors reopened that all sports — racquetball, basketball and other group sports — had been put on hold, and they would be limited to weights and cardio, much of which has now been spread out in the facility's two gymnasiums. Lewis says the facility was already fitted with an excellent HVAC system, which gives him peace of mind.
"It's turning over the air in this 96,000-square-foot building once an hour," he says.
It makes sense that reopening fitness facilities on a military base should be focused on what soldiers need, and that's how Smith has approached the process at Fort Benning.
"Anything that a soldier needs to get a full-body workout is available at the gym," Smith says. "One of the things we did is we really looked at the resources we had available in a gym and made sure that a soldier could come in and do anything that they needed to do to be successful during the ACFT."

Leadership matters
All the new policies and protocols in the world remain worthless if they can't be effectively implemented, which requires clear and direct communication, as well as cooperation from patrons. The military has an ace up its sleeve in that department. Smith is generous with her praise for the leadership at her post.
"At Fort Benning, the command here was really good about putting out specific do's and don'ts to mitigate the risk as we reopened," she says, noting that implementing things like a mandatory mask policy was made easier when it had the backing of command.
"The mask-wearing was a huge challenge," she says. "Initially you only had to wear a mask when you were moving about. Well, six feet quickly became about two inches. So we just found you can't give an inch, it has to be all or nothing. On that issue, command was really great. They came in and said everyone's going to wear a mask — they put that in place and really took it out of my hands — and people did."
She notes that individual units also had their own orders.
"I think there were a lot of commanders out there who had just said, 'I'm keeping my force safe, so these are the things you can and can't do,'" she says.
At Fort Hood, Hamilton says constant communication with command was key to managing the crisis, noting that it will be command that will determine his facilities' next steps, as well. But he also says that in a world of uncertainties, all ideas have to be considered, and he hopes his team can be flexible and change with the circumstances.
"I always love to compare notes and look at a university and see what their protocols are and what their results are and how they're mitigating this virus," Hamilton says. "The reality is that just because this is a tactic we're going to use doesn't mean the execution's going to be smooth. It may be the throughput of people is so low that the juice isn't worth the squeeze. So, we just have to look at how applicable it is to our audience and make sure that it's going to have the best impact."

While the past six months have been hard for everyone at Fort Benning, Fort Hood and Fort Bliss, the consensus from Smith, Hamilton and Lewis is that the measures put in place really did keep soldiers and their families safe. Smith says that to her knowledge, Fort Benning hasn't seen a single case originate from one of her gyms. As much as strong leadership, she credits cooperation for that success.
"I think that initially our challenge was how are we going to get people in this facility to do the right thing and keep this facility clean," she says. "But it's almost like they knew the right thing to do. We had cleaning supplies that people needed, and they were right there within reach, and people just tended to do the right thing. Once we put some of these things in place, everyone just kind of started to help out, and it's tended to work so far."
COVID and the ACFT
Marc Augustin is a sergeant first class and tactical strength and conditioning facilitator at Fort Benning Tactical Athlete Performance Center. He's one of the soldiers tasked with administering the Army Combat Fitness Test. He says that the strict rules associated with the lockdown period were helpful in keeping everyone on the base safe and healthy.
"With us having to work so closely together, this has all been a really big concern," Augustin says. "A lot of times what they would do is if you lived on post, there was no going off post. And then anyone coming in had to be tested and then quarantine for 14 days before they were allowed to do anything on post."
Testing has now been modified to account for social distancing and the cleaning of equipment.
"With the ACFT, where they have to use a lot of equipment, everybody keeps their distance," Augustin says. "But after each iteration, before the next group starts, each solider has to clean that equipment before the next soldier can test."
---
This article originally appeared in the November|December 2020 issue of Athletic Business with the title "How the Army is keeping soldiers safe and fit during the pandemic." Athletic Business is a free magazine for professionals in the athletic, fitness and recreation industry. Click here to subscribe.