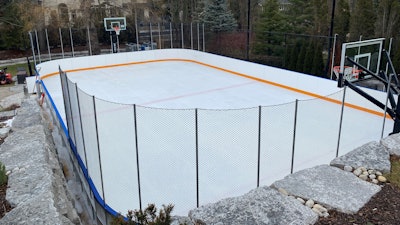 Photo courtesy of Custom Ice
During his busiest time of year, Nick Garofalo is at Danbury Ice Arena in Connecticut six days a week. As arena operations manager, he makes sure the speedskaters who use the facility on weekends have time to warm-up at 6:30 a.m. for their 7 a.m. timeslot — or even an hour earlier, if one of the monthly youth hockey tournaments Garofalo stages needs the ice time. The last adult hockey game on any given day may end around midnight, so Garofalo finally gets to lock up the building shortly thereafter — or not.
"We know how the adult league guys are, and we love them. They're usually trying to stay a little bit later, so we'll push sometimes till like 1:30 a.m.," Garofalo says. "So, it's a long day, right? The building is certainly used a lot — September to March. I don't see much sun, especially with the winter hours being so short. But I love it, and that's why I do it. I do it for the community. And I have the summer to defrost on a beach somewhere."
But even this summer proved busier than most, and in unanticipated ways. Ice sensor replacement and waterproofing, as well as additional arena upkeep, opened an atypically large window for the annual ice melt, leaving five weeks of bare concrete on the facility floor and Garofalo just enough time to get creative.
Log in to view the full article