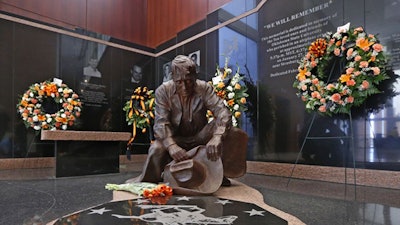 How School Officials Respond to Athlete Fatalities Plays A Major Role in the Healing Process
Kevin Dare died in a Minneapolis hospital Feb. 23. Earlier in the day, at the Big Ten Conference indoor track and field championships, the Penn State University sophomore pole vaulter plummeted headfirst into the metal box that helped launch his flight to clear 15 feet, 7 inches.
Some 750 miles away, and 13 months removed from a plane crash that killed eight members of their men's basketball family and two pilots, Oklahoma State University officials spent that same Saturday dedicating a bronze memorial to the fallen 10 during a somber ceremony on the Stillwater campus.
Days later, in Huntington, W.Va., a Marshall University softball player discovered the body of sophomore shortstop Dana Black, who had taken her own life Feb. 28 in the team locker room.
All three tragedies left officials on each campus asking what could have been done to prevent them. For some, the more immediate question was, "What now?"
Ralph Vernacchia, a physical education professor at Western Washington University and a sports psychology consultant, faced similar uncertainty 10 years ago, following the fatal post-game heart attack of a WWU basketball player. "I said, 'OK, it happened. Now what?' I didn't have anything to go to," says Vernacchia, who co-authored a 1997 article in The Sport Psychologist that applies commonly recognized stages of bereavement to a "sudden death in sport" model. "This is an emotional event. You've got to walk through it emotionally and physically, and come out the other side a better person. That's how it works. There's no easy way."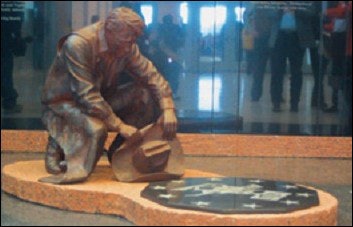 Following receipt of news that the private aircraft carrying Oklahoma State's entourage, including two players, went down over Colorado, athletic officials met well into the night to find answers to difficult emotional and logistical questions.
The next day, athletic director Terry Phillips dispatched a team of university representatives - a campus police officer among them - to the crash site to gather information to share with surviving family members, sparing them the task of dealing directly with local authorities. One athletic department official was assigned to each family, serving as liaison during the entire victim-recovery process and even escorting bodies to hometown funeral homes. "One of the charges of this on-site team was to ensure that every loved one was treated with the respect and dignity that we would want for any member of our families," Phillips says.
Meanwhile, Phillips maintained daily phone contact with the grieving families, and to this day speaks regularly, albeit less frequently, with surviving parents and wives. At times, it's hard. "There's no denying that there's going to be anger, and certainly there has been," Phillips says. "It's understandable."
The anger stems from a belief that not everything was done to ensure the safety of those who left the ground that day last January. Electrical failure played a role in the doomed OSU flight, and subsequent discovery that the plane in question carried a history of electrical problems only fueled the anger. To provide surviving family members a means to channel their emotions, Phillips welcomed their input on a task force of administrators and athletic officials assembled last summer to evaluate the school's team-travel policies. "They're not satisfied that we did everything correctly, and neither am I," Phillips says. "By the same token, I think they know that we never want to see this happen again, and they brought a lot of perspective to the table. I think the meetings have been a fruitful way to talk through the issues and really begin to formalize steps that athletic departments need to take to provide the greatest margin of safety possible for student-athletes." Official recommendations of the OSU task force will be presented at the National Association of Collegiate Directors of Athletics annual conference next month in Dallas.
Sports psychologists have recommendations of their own regarding proper response to sudden student-athlete deaths. Dave Yukelson, one of only a handful of sports psychologists in the country employed full-time by a college athletic department, approached Penn State administrators in 1995 about putting in place a policy to manage death's aftereffects. Little did Yukelson know that his campus would be tested twice within the span of two weeks this past February. First, sophomore golfer Michael Carter was killed in a car accident Feb. 13, nine days shy of his 20th birthday. Dare died in competition 10 days later. The combination proved staggering. "If there was a beauty in all of this, it was to see our student-athletes reach out to one another," Yukelson says. "When the second death occurred, the golf team was already at a different stage of working through it. All of a sudden, they became peer helpers."
According to Yukelson, who also serves as president of the Association for the Advancement of Applied Sports Psychology, a school's policy should identify several key individuals: those on campus who will form a team of responders (coaches, athletic officials, sports medicine staff, student affairs professionals, the university president); those off campus who will need to be contacted (family members, media representatives); and anyone else who may be needed to assist the designated helpers, who are going through the grieving process themselves (academic counselors, campus nurses, clinical psychologists). In addition to making initial contacts, school officials may choose to organize campus memorial services, secure transportation for campus mourners wishing to attend distant funerals, commission construction of permanent monuments and establish honorary scholarship funds.
For his part, Yukelson was there during the sifting through photographs and sharing of memories at team meetings. He lingered long after meetings ended, making himself available to anyone needing to talk. "There's no guidebook where we can turn to page 30 and see that this is the way we're supposed to feel and grieve," he says. "Everybody grieves differently. The key is to express our feelings to people. That's the beauty of team meetings, to talk about this sense of loss. It's a very therapeutic process."
And it's a process that's ongoing, according to Vernacchia. "One of the most important things that needs to be considered is not only what happens immediately, but what happens in the year following, because one of the things that triggers this kind of post-traumatic stress is an anniversary date," he says.
Marshall marks the anniversary of the plane crash that killed all 37 members of the school's football team on Nov. 14, 1970, by turning off a memorial fountain on campus until the following spring.
In 1970, Steve Hensley was a student at Marshall. Today, as the university's dean of student affairs, Hensley has had to deal with three student suicides over the past four years - Black's being the third and the first involving a student-athlete. Experience hasn't made the process much easier. "I rehearsed a good while before I called the family, and when Mrs. Black picked up the phone, everything I had rehearsed seemed stilted and inappropriate, and I just sort of talked from the heart," Hensley recalls. "It was so difficult for me to say and for her to hear that I think we had an understanding. I told her as a parent that it's a call I would never want to get, and so it was one I didn't want to make."
Hensley established a mutual understanding with reporters, too, pointing out that whatever they wrote would likely be read by the Black family. The university had to consider both the family's right to privacy and the public's right to know what happened. Rumors quickly spread across campus and beyond. The Huntington paper broke with its own policy and published the cause of death as suicide, a decision Hensley endorses. "Sometimes the truth is better than rumors," he says. "We had a responsibility to provide accurate information within the bounds of good taste and human compassion."
Managing the aftermath of sudden death is a succession of delicate balances, and no two situations are alike. Nothing in their professional lives can sufficiently prepare athletic officials for their first experience of tragic loss, Yukelson says, adding that they must prepare nonetheless. "Most administrators think it will never happen at their university," he says. "But we all need something in place to get the process rolling."
An athletic department's response to sudden death may well serve to lend much-needed perspective to the role of athletics in life, Yukelson adds. "Sport is important, but it's really not that important. It's only a track meet. It's only a golf tournament. Life is what's important. Lessons learned through sport carry over into life, and now you're talking about the core values of what an athletic department should be about."