Whenever Louisiana State University's football schedule produces a marquee Southeastern Conference matchup, at least 100,000 people roll into Baton Rouge to make the scene — the invasion beginning Thursday and lasting all weekend. Tiger Stadium (capacity: 91,600) has managed to squeeze no more than 92,141 fans through its gates (vs. Auburn in 2001), meaning that on most fall Saturdays, upwards of 10,000 fans descend on Death Valley only to park their vehicles and party — the time-honored autumn ritual known nationwide as tailgating. Once there, according to research commissioned by the LSU athletic department, the average tailgater logs 10 hours behind his or her wheels. "Our fans come the earliest, stay the latest and make a real Mardi Gras out of the football game," says LSU athletic director Skip Bertman.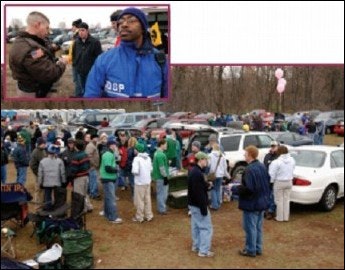 A colorful picture, for sure, but that many people in one place for one reason can be cause for concern. Even lower-profile programs, such as Division I-AA's University of Delaware, aren't immune from the potential problems game-day partying can create. Excessive tailgating during the Blue Hens' 1998 homecoming resulted in 23 cases of alcohol poisoning among individuals ranging in age from 18 to 31, according to athletic director Edgar Johnson. "We had all three ambulances in attendance for the football game picking up alcohol-poisoned tailgaters and taking them to the emergency room at the local hospital," Johnson recalls. "After the hospital received about 20 or 22, they called our public safety office and said, 'Stop sending us your drunks. You have effectively shut down the emergency room.' "
Along with the athletics governing board and the university president, Johnson saw that single episode as a warning. "We didn't have any tragedies, thank God," he says. "But we thought we had to create a different environment in which tailgating was taking place."
Delaware is one school among several that in recent years have tried to reconcile the game-day desires of students, alumni, non-tailgating ticket holders and campus safety personnel. As part of an overall crackdown on alcohol abuse, Holy Cross in 1999 instituted a policy that limited pregame tailgating to three hours prior to kickoff and banned kegs, beer balls and other "common-source, large quantities of alcohol." No game-time tailgating is allowed, nor can fans regroup around their tables and grills after the game. After arriving at the University of Kansas in 2001, then-athletic director Al Bohl made good on a promise to lift a ban on alcoholic beverages outside Memorial Stadium, and 10 designated areas for drinking were established. However, in keeping with a policy restricting alcohol consumption to university-sponsored fundraising events, fans in these areas were asked to ante up a donation toward the marching band or some other KU campus organization. Tailgaters at Georgia Southern, meanwhile, have until 30 minutes after kickoff to either enter the stadium or leave university property, according to a policy implemented last season.
Delaware, too, has abolished game-time partying, but without the 30-minute grace period. Kickoff for homecoming has been moved up one hour to noon, further limiting the time frame in which fans may imbibe on school grounds. Post-game parties are allowed until 5:30 p.m., says Johnson, "but that intervening three hours that we call a football game allows fans to sober up and metabolize the alcohol in their system."
Has Johnson's so-called "Get Your Tail into the Game" campaign - which involved banners, mailings, newspaper ads, and sticker and T-shirt giveaways - worked? Johnson says at least two, but not more than three, fans were hospitalized with alcohol-related injuries during the homecoming game last October. The year prior, there were none. "There is a marked dropoff," he says, "so we feel much more secure about what goes on in our parking lot during the games."
But Johnson also admits that he's not in the parking lot during games. Victoria Melcher, a Delaware senior during the 2000 season, wrote a letter to the editor of The Review student newspaper claiming that during the fourth quarter of a game played that September she witnessed fans drinking wine behind a black Jaguar in full view of university police. "The tailgating policy itself is not unfair," Melcher wrote. "But the university should either enforce it universally or not at all."
Johnson doesn't doubt Melcher's account, but he stops short of acknowledging a policy-enforcement double standard. He says officials early on favored education over oppression. "She's probably talking about our VIP parking lots," he says, adding such lots require a $275-per-season pass. "We do universally enforce it, but the VIPs aren't the ones who are drunk. They're not the ones who are creating any problem for us. You go where the largest number of people are causing the greatest problem."
Enforcement resources are also a concern at Notre Dame, despite the fact that, unlike many college campuses, the bulk of football parking is clustered close to the football stadium. With as many as 20,000 fans entering campus property on any given Saturday with no ticket or intention of entering the stadium, UND officials have in recent years bolstered their campus police force of 25 uniformed officers with game-day help from the Indiana State Excise Police, not to mention the City of South Bend police and St. Joseph County sheriff's deputies. Prior to last season, UND students weren't allowed to host any tailgate party that included the serving of alcohol, a situation Bill Kirk, associate vice president for residence life, says was "virtually unenforceable."
In 2002, policy revisions relaxed the prohibition, allowing students of legal drinking age to register an alcohol party in advance and host it within a designated area. "I think the students recognize that we're trusting them, and they behaved great last year," says Kirk, pointing out that the lot generated only one underage-drinking citation all season. In such a case, both the offender and the party's host face university disciplinary measures, the least severe of which is the denial for the latter of any future tailgate permits. "If they can't host a responsible gathering, then why would we trust them to do so again?" Kirk says. "We have no problem if a student who's not of age is in that area, as long as he or she is not consuming and is behaving the way that we expect our students to behave."
LSU's Bertman concedes that the Mardi Gras atmosphere surrounding Tiger home games, most of which kick off at 7 p.m., creates a fair share of alcohol-related problems for his school. But of more pressing concern is the toll tailgating takes on university grounds. Specifically, arborists at LSU estimate that each of seven fall Saturdays have the potential to cause thousands of dollars worth of damage to campus landscaping, including flower beds, sprinkler heads and oak trees. The oaks, which number in the hundreds, carry an estimated value to the university of $38 million, according to Bertman, who introduced a tailgating policy last season that prohibits off-street parking. By pulling their cars under the oak trees for shaded tailgate parties, fans were essentially hastening the destruction of the trees' root systems.
Concrete bollards blocking access to these spots were installed as part of a half million-dollar pledge by the athletic department to preserve LSU's natural assets over the coming years. "We needed to set a tone to make sure that our assets were protected," Bertman says. "The athletic department gives about $6.5 million a year to the university, but $500,000 of it is earmarked for the environmental movement."
The movement met some resistance among the hundred or so tailgaters who for years met under the same 75-year-old trees in the heart of campus. They can still picnic beneath the oaks; they just have to leave their vehicles behind. "Some have to park a little farther away, and they have to carry their equipment," says Bertman. "For that, I'm sorry, because tailgating is a very important part of our athletic program."
Johnson and Kirk, meanwhile, make no apologies for the stance their schools have taken against all-day tailgate binges. The game-time party ban at Delaware resulted in roughly a dozen season-ticket cancellations in 1999, while season-ticket sales have increased during each of the four succeeding years to a record 9,000-plus. Average regular-season game attendance, which never topped 20,000 prior to the policy, now does so annually. "We're trying to make the ballgame and the surrounding areas accommodating to people," says Johnson. "We're trying to make sure that the football game is the event, that it's a fun time, that it's family- and patron-friendly."
"We're not hosting a bar," says Kirk, whose school last year joined the growing number that clear their lots at kickoff. "People come for the game, and if they want to have a drink and a sandwich before and after, we'll accommodate that. But we're not a place where we open up our campus to folks just coming to party."