Anti-hazing crusader urges NCAA leadership to take the same legislative hard line with hazing as it has with American Indian mascots.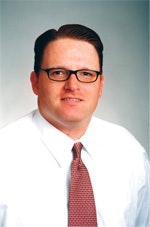 A former compliance specialist now speaks for nonconformists. William Schut, who served the athletics departments at the University of Nevada Las Vegas and the University at Albany, is the self-described "point person" for a group of collegiate athletics insiders-their identities kept secret due to conflict-of-interest concerns-who are intent on pushing the NCAA to deal directly with the ongoing issue of athletic team initiations. It's an issue that has become increasingly visible, thanks to web sites such as facebook.com, myspace.com and badjocks.com. Launched in May, Schut's own site (ncaahazing.com) includes photos of alleged hazing incidents and urges NCAA leadership to take the same legislative hard line with hazing as it has with American Indian mascots. The group's mission statement concludes: "Hazing kills, mascots do not." Paul Steinbach asked Schut, 37, to explain the mission in more detail.

Q: What impact has your site had so far?
A: We're getting tons of response-everyone from university presidents to parents of students who claim to have been hazed-as well as tons of other mail, which we expect, from people saying, "This isn't hazing."

Q: Has widespread Internet exposure of alleged hazing episodes helped the anti-hazing cause in anyway?
A: It has brought the topic to light, and it's a good thing that there's more dialogue about it. But what we're worried about is what recently happened at Harvard University. The Harvard women's soccer team banned students from using Facebook. We're worried that the dialogue is going to become, "Don't post photos or videos on the Internet anymore." It's already happening. Does that address the hazing issue in any way? No. It basically says, "Keep on hazing, just don't publicize it."

Q: Have you alerted the NCAA to your mission?
A: I have. The NCAA response is always the same: It's an institutional problem. That's why we're taking the NCAA and specifically Myles Brand to task. With the whole mascot issue, Brand changed the playing field. He clearly stated in writing that the NCAA can be an impetus for change, it can do something good, it can take a public position on something as serious as mascots [laughs] and change the nature of society. Myles Brand has the opportunity to take a public stance against hazing, and the minute he does, our site is going to disappear.

Q: Do you expect the NCAA to come around to your way of thinking any time soon?
A: No, it won't. The NCAA is going to leave it up to the member schools. And in a perfect world, it should be up to the schools. Nobody wants Big Brother telling schools what to do. But, on this issue, the schools are failing. They are member institutions, after all, and there should be some type of legislation stating that coaches would be somehow reprimanded if their student-athletes haze, and student-athletes who engage in hazing activity would sit out games. The NCAA has to be the catalyst for change. Until this problem is addressed from an authoritative standpoint, nothing is going to get done.
Log in to view the full article