Texas may be setting a life-saving precedent with its new AED mandate.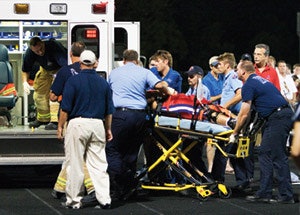 Steve Ramsey, the offensive line coach for Westlake High School in Austin, Texas, had just finished congratulating Matt Nader on a strategic second-quarter block against an A&M Consolidated High School defender when the 6-foot-6, 300-pound senior fell backward off the sideline bench. In front of 4,500 stunned fans at College Station's Tigerland Stadium that warm mid-September night, Nader lay with his eyeballs rolled back in his head, his lips blue and his cleat-clad feet disconcertingly propped up by the bench he'd been sitting on moments earlier. Later, a teammate's father who was on the scene told the Austin American-Statesman that Nader wore "the look of death."
After panic gave way to realization, Westlake athletic trainer Brad Hawkins retrieved an automated external defibrillator from the Chaparrals' splint kit. For four years, that AED had traveled with the team, unused. Now, cardiologist Paul Tucker, whose son was a place-kicker and free safety for Westlake, christened the device as he jolted life into Nader's heart - where the lower chambers had suddenly lost their ability to pump blood, the result of ventricular fibrillation.
Nader now has an internal defibrillator planted in his chest. He will never play football again, but that's okay. The University of Texas will still honor the scholarship it awarded Nader when he was one of the state's prep elite by allowing him to work as a student coach this fall. Perhaps more important, Nader now gives keynote addresses for regional branches of the American Heart Association and has become a certified CPR instructor. He also speaks for Medtronic, the company that produces the AED that saved his life. Nader's story commands an audience because he's still alive to tell it, and that happy ending is credited with playing a huge role in the Texas University Interscholastic League's decision last October to require all 1,310 of its member schools to house at least one AED by August 1 - the first state association in the country to issue such an edict. (The devices already appear to be widespread: A late-2006 UIL survey of its schools revealed that 856 had at least one defibrillator on campus, 546 had between two and five units, 51 had between six and 10, and four had 11 or more.)
"The philosophy had been that AEDs are a local issue, like steroids testing," says Charles Breithaupt, the UIL's director of athletics. "But before Matt Nader had his attack, we already had a proposal in place to require AEDs."
Recognizing Texas' sense of urgency, the National Federation of State High School Associations' Sports Medicine Advisory Committee was expected to continue its longtime discussion of the topic at its mid-April meeting, possibly recommending that more states follow the Lone Star State's lead. Indeed, many state associations already encourage AEDs in schools (although almost half of all associations are still without the oversight of a sports medicine advisory committee). "Some states have taken the initiative and gone forward, and we commend them for it," says Bob Colgate, the federation's assistant director who oversees sports-medicine issues. "Schools are seeing the impact of AEDs."
According to the National Conference of State Legislatures, no fewer than 10 states already have laws on the books requiring schools to own at least one defibrillator. New York became the first state to pass such a bill, when then-Gov. George Pataki signed legislation in 2002 requiring all public elementary and secondary schools to purchase portable AEDs. The bill flew through the Legislature after a freshman lacrosse player from Northport High School died when a ball struck his chest between heart contractions and sent the 14-year-old into cardiac arrest (see "Matters of the Heart," Jan. 2003, p. 28). Since then, AEDs have been used to resuscitate not only athletes, but spectators, officials and attendees of non-athletic events at New York schools.
"When the Legislature passed that law, it surprised a lot of people, including me," says Lloyd Mott, assistant director and coordinator of safety and research for the New York State Public High School Athletic Association, which at the time was in the process of evaluating the need for and practicality of AEDs in schools. "The problem was that it was done so rapidly. It was an unfunded mandate that required compliance within a matter of months. The amazing thing is, to the best of my knowledge, every one of our member schools - and all of the New York City schools and private schools - found a way to comply."
The greater challenge now, says Mott (also a member of the National Federation's Sports Medicine Advisory Committee) is making sure that school administrators remember to maintain defibrillator batteries and follow manufacturers' recommendations regarding care and upkeep.
Breithaupt cites related concerns. "Another thing we did is require training of coaches and athletic directors to recognize when to use AEDs and how to call 911," he says. "That sounds silly, but we had some cases where 911 was called and the caller didn't give the 911 operator enough information or stay on the line long enough. So the ambulances didn't arrive as quickly as they should have."
He also stresses the importance of convenient placement of and access to AEDs, pointing to an incident last October in which the available coaches did not have keys to unlock the trainer's office, where a defibrillator was stored. Sixteen-year-old Taylor High School cross-country runner Jhonathan Bruda died on the track - one of four deaths (at least three of them heart-related) involving young Houston-area athletes in the three weeks following Nader's Sept. 15 resuscitation.
Katy Independent School District officials subsequently purchased wall-mounted AED cabinets for hallways instead of locking them in a room, and two of the school's three AEDs were moved to more accessible locations. "When the trainer is in her office, it stays there," district spokeswoman Kris Taylor told the Houston Chronicle last fall, referring to one of the defibrillators. "When she is not in the office and not at a game or practice, the AED is now kept in a group coaches' office in the field house, to which all coaches have access."
Although the UIL mandated AEDs in schools before the Texas Legislature could pass a similar law, versions of four different state bills were pending as of this writing - including Senate Bill 25, which would require an AED to be available at all high school sporting events and practices. Its passage would take the UIL's edict to another level, essentially requiring one defibrillator for every team, meaning that some schools would need to purchase 25 or more additional AEDs.
"That is problematic," Breithaupt says, adding that a combination of booster club fund-raising, community donations, schools' general budgets and AED manufacturers' rebates typically absorb an AED's average cost of $1,500. "This bill could be a multimillion-dollar proposal. Most softball team budgets are lower than the cost of an AED. If you require an AED at every softball practice, you might not be able to afford a junior varsity softball team. We certainly approve of the acknowledgement that AEDs need to be available, but we also need to be reasonable. There's a limit to what schools can do, and there comes a point in time when you have to say, 'We're doing as much as we can.' I think our schools can say that now."