Proactive urban forest management strategies can spare departments the tragic toll of park wildfires.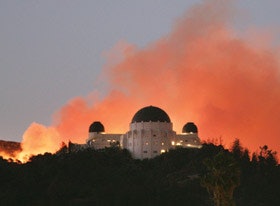 Thick black smoke rising from Griffith Park's narrow, parched canyons choked out distant views of the famous Hollywood sign propped above the park's 4,200-acre expanse. For two days, Angelenos watched helplessly as an 820-acre expanse of their beloved urban getaway - home to such landmarks as the Griffith Observatory and the Los Angeles Zoo - was engulfed in flames.
The May wildfire that destroyed 20 percent of Griffith Park, among the United States' largest city parks, was not its first, but it was perhaps the most devastating. Scorched were two popular panoramic lookouts, along with several miles of hiking trails. Broad hillsides once home to native chaparral and live oak trees were left barren. Thousands of toyon, laurel sumac and blue-flowering lupine plants were reduced to ash. "It's difficult to see," veteran park ranger William Ramirez told the Los Angeles Times. "It looks naked." "This is where we all played as kids, and it's gone," said Los Angeles city councilman Tom LaBonge, as he surveyed the damage with a Times reporter. "It's like a Hollywood set, if you were making a movie about what it looked like at the end of the world."
In the fire's aftermath, city officials were quick to announce plans to restore Griffith Park's lush landscape with an outlay of $50 million, which would go toward repairing damaged park facilities and replanting and stabilizing slopes to prevent future mudslides. While Los Angeles is faced with doling out millions to recover from a major park wildfire (not to mention the immense cost already borne by the city in fighting the blaze), one municipality located 1,000 miles to the east is spending a fraction of that amount in efforts to prevent such a disaster.
The Forestry Division of Colorado Springs' Department of Parks, Recreation & Cultural Services is in the midst of implementing a four-year forestry management plan that aims to, among other things, help mitigate wildfire risk in the city's 1,600-acre North Cheyenne Cañon Park - a natural area not unlike Los Angeles' Griffith Park and many other drought-susceptible urban parks in western North America.
Colorado Springs' wildfire mitigation work primarily involves large-scale tree cutting and brush clearing to create a wide buffer zone along North Cheyenne Cañon Park's eastern edge. Last summer, the Forestry Division prepared 27 acres of parkland at a cost of $45,000. "Think about this: Last year, the U.S. Forest Service spent $1.2 billion fighting wildfires. That's a lot of money. With just one percent of that money, we could thin every bit of property the city owns," says Dennis Will, a Colorado Springs city forester. "When people tell me, 'Dennis, we can't afford to do this,' I say, 'We can't afford not to do it.' Eighty percent of the topography in North Cheyenne Cañon has a slope greater than 30 percent. If we had a fire in our canyon, it would be catastrophic. It would take the park hundreds of years to recover."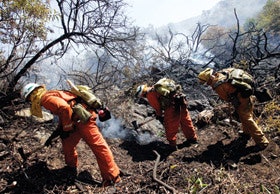 Before the management plan was written, it was clear to everyone in Colorado Springs that its urban forests are a priority. After all, the city had spent years acquiring more than 13,000 acres of open space. But officials needed to be reminded that their work wasn't quite through. "Everybody was very high on acquiring the land, but that's only half the story," says Will. "It's just like building a park playground - you have to maintain it, too."
The task of persuading Colorado Springs officials to act proactively went hand in hand with an equally daunting challenge: finding the money to pay for the maintenance project. Leveraging funds it received from three small state and federal grants, the parks department turned to the city agency that would first be called into action should a wildfire break out. "We had a pot of money and City Fire had a pot of money," says Will. "So they shared some of their money with us and we shared some of our expertise and equipment with them."
Together, the two departments have dispatched work crews to North Cheyenne Cañon Park to tackle roughly 800 acres of forested area most susceptible to fire - although priority spots are also determined by topography restraints. Flatter areas can be cleared fairly quickly for as little as $800 an acre. But clearing vegetation on steeper terrain requires many more man-hours of work, boosting the cost to as much as $3,000 an acre. Depending on a targeted area's accessibility, four- to seven-person crews alternately use light and heavy equipment that includes handsaws and chainsaws, chipper trucks and vans, and a ferocious-looking 12-foot-long drum masticator nicknamed the Bullhog. Loose brush is fed into the toothed end of the four-foot-diameter drum, where it's ground into mulch. The mulched wood is then spread over the cleared area, creating a firebreak 100 to 300 feet wide to buffer hundreds of homes adjacent to the park's eastern and southern borders.
At a pace of roughly half an acre a day, last summer the parks and fire departments were able to clear a total of 50 acres. (Removed were all dead scrub oak and 20 percent of live coniferous trees, reducing coverage from about 130 trees per acre to 40 or 50 trees per acre.) Will is optimistic that he can treat another 50 acres this year and, before long, finish the entire park - thanks, in large part, to the guarantee of funds from a one-tenth-of-one-percent sales tax Colorado Springs citizens first approved in 1997 and renewed in 2003 to create and maintain trails, open space and parks (the funding program is called TOPS, for short). "We're getting ready to hire four people to act as a wildland timber stand improvement crew that will be utilized solely in these TOPS-funded parks," he says, noting the public's increased focus on urban forest management after the 2002 Hayman Fire torched 138,000 acres just 25 miles northwest of Colorado Springs - causing nearly $40 million in damage, destroying 133 homes and killing five firefighters in the process. "This city is entering a new era. The Hayman came along and made people sit up and say, 'Hey, maybe we should be doing something.' "
While parks administrators can do much to spare themselves the anguish of a catastrophic loss due to wildfire - if not completely eliminate the risk - sometimes even the best of human intentions can do nothing to stop Mother Nature from having her way. "I think we have to be careful when we say this property is completely safe from a wildfire," says Will. "As we saw in the [2005 and 2006] grass fires down in Texas, those were as equally devastating as woods fires. We really can't say we're going to protect ourselves just because we've removed the trees and shrubs. There will always be flammable material."
Still, any effort to prevent park wildfires is better than none. "It can be excruciatingly slow to acquire funding and change people's minds, but we're just getting in the ball game and we're off to a good start," says Will. "You need to have the willpower to do it - to be willing to hire the workers, buy the equipment and go through the public process. Tell people what you're going to do, how you're going to do it and why you're going to do it. In the end, your efforts are going to be extremely rewarding."