Adequately insuring all parties involved in recreational and amateur sports isn't getting any easier, but it's also not as complicated as you might think.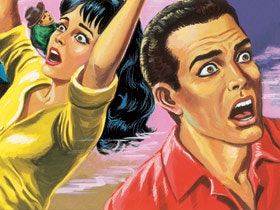 It seems unfathomable in today's litigious society, but according to insurance companies, some sports administrators continue to forego insurance coverage for their programs and participants. And those administrators whose recreational leagues and amateur athletic organizations are insured may not actually spend a lot of time with an insurance broker discussing available coverage options.
"I think people don't quite realize what's involved," says Lori Windolf Crispo, senior executive vice president of the sports division of Bollinger Inc., an insurance provider based in Short Hills, N.J. "They say, 'Oh, I'll just get a liability policy because I need a certificate of insurance to use a particular field,' or 'I'll just go to my local agent and get something in place.' Nobody wants to deal with insurance. They just want to get it taken care of with the least involvement possible - and sometimes that's part of the problem."
Knowing what types of insurance to purchase isn't so much of a problem at the collegiate level, where the National Collegiate Athletic Association, National Association of Intercollegiate Athletics and National Junior College Athletic Association have administrators in place to oversee insurance programs for all of their sports participants, providing athletes both medical insurance and catastrophic accident insurance (which covers major-injury expenses up to a predetermined dollar amount and for a specific period of time).
Even at the interscholastic level, where the National Federation of State High School Associations leaves insurance decisions up to individual states, there are established procedures in place for purchasing athlete medical insurance. The decision to mandate catastrophic accident insurance also is a state issue. "We don't recommend having it or not having it," says Tim Flannery, an assistant director with the NFHS. "Our states are well aware that it exists, and it's up to them to choose whether they want it. I think what happens is that if a kid is catastrophically injured, a state then begins to think about looking into that type of coverage. It's just like everything else: They wait for a crisis before they act."
Such shortsightedness is understandable but dangerous - especially for municipalities and amateur sports organizations, says John Sadler, an attorney and president of Sadler Sports & Recreation Insurance, a Columbia, S.C.-based provider. Insurance decisions often are left to administrators who have no background in the subject or passed down by default to parent volunteers. Considering that many of those programs involve significantly more participants than some high school or college programs, it's a daunting responsibility.
"The problem with volunteer-run organizations is that the typical moms or dads who are in charge of insurance-buying decisions are only there for a limited amount of time before their child moves on," Sadler says. "They only have so much time to devote, and they want to spend that time primarily on the game itself."
Relying solely on a municipality's basic liability insurance is a mistake, according to Sadler. In fact, many general liability policies don't cover lawsuits resulting from athletics participation. Nor should organizations expect volunteers' personal insurance policies to protect against all possibilities. Most coach-certification policies, for example, only cover incidents that happen in the line of coaching duties - not lawsuits stemming from injuries to spectators or to players on team outings. Plus, those policies usually don't protect leagues. And while waivers are strongly recommended, they won't always hold up in court and should never be depended on in lieu of general liability insurance, according to Sadler. "Lawsuits arising from sports activity tend to be infrequent," he says. "But when they happen, they have a high potential to be severe in terms of the dollars that are paid out."
Large national governing bodies often purchase the proper insurance for their member organizations and build associated costs into membership fees. Other NGBs offer their member organizations the option to buy their own insurance and then provide proof of coverage. That leaves them and unaffiliated groups on their own to choose among a plethora of coverage options that likely will include:
Maximum medical limits that typically begin at $25,000 and escalate into the millions of dollars.
Accident medical coverage that's either primary (which pays regardless of whether the injured party has existing insurance) or excess (which kicks in only for medical bills not covered by an insured's existing coverage).
Deductibles that commonly range from $0 to $500 per claim.
Coverage plans that either protect only players and coaches or also include volunteers and officials.
Policies that either provide year-round coverage or offer coverage only for those months during which games are played.
"There can be two organizations that are identical and have far different insurance products," says Lou Valentic, chief marketing officer for Fort Wayne, Ind.-based K&K Insurance, which provides sports, leisure and entertainment insurance. "One might have $25,000 of excess medical coverage, and one might have $100,000 of primary medical coverage. One may have a $1,000 deductible, and one might have a $2,500 deductible."
Athlete insurance is a challenge at all levels of athletics, simply because of the costs involved to keep pace with rising medical costs. "In many organizations, that cost has to be passed on to individuals," Valentic continues. "Any organization will say, 'Sure, we'd love to provide higher limits of accident insurance for our kids.' And as an insurance company, we'd love to have catastrophic insurance across all of sports, but the truth of the matter is, it's just not financially possible."
One money-saving insurance solution for small organizations, Sadler says, is to join a buying group that can collectively negotiate lower prices and better coverages. Another suggestion is raising the deductible on an accident policy, which could lower the premium by as much as 25 percent.
Athlete medical insurance and general liability insurance go "hand in hand," says Valentic, adding that accident insurance acts as a lawsuit deterrent. "If the injured party feels that his or her injury has been taken care of properly, with respect to medical care and expenses, there is less likelihood that a liability or negligence claim will result," he says.
Of course, that rationale doesn't always mirror reality. Insurance agents can rattle off dozens of lawsuits in which sports organizations were tapped for hundreds of thousands of dollars in losses, and not just from injury claims: A player in South Carolina drowning while at a team picnic. A youth football coach in California scolding and humiliating a player before forcing him to quit the team. A West Virginia football league discriminating against a team because of its racial composition. The president of a baseball organization in Florida pilfering money from league funds. The list goes on and on.
"What we see in sports are a lot of really wacky claims that nobody can predict or risk-manage beforehand," says Crispo. "They're not necessarily part of the game, so they're things you can't budget for." Those types of claims include a spectator who suffered a dislocated elbow after being struck by a tent toppled by strong winds, a young girl who was hit by a car during a team fund-raising activity and a two-year-old boy who wandered off during a youth soccer game held at a college field and suffered severe burns from a steam pipe at a campus construction site.
Whether a sports organization is in the process of purchasing insurance coverage for the first time or re-evaluating its needs, administrators should consider all five of the following types of policies, preferably from a provider with experience in the sports and recreation markets:
General Liability Insurance. This insurance protects against participant or spectator injury and property damage resulting from negligence by the league or organization. This includes, for example, an on-field collision or food poisoning from the concessions stand. The policy provides attorney's fees (which can easily reach more than $50,000, Sadler says) and pays the costs associated with a settlement or jury verdict. Covered individuals include the organization and its directors, officers and volunteers.
Accident Insurance. This insurance pays medical bills on behalf of injured participants and minimizes the threat of a lawsuit from the injured party. Sadler cautions against assuming most people have their own medical insurance coverage, claiming that one in four children does not. If medical bills are left unpaid, lawyers might go after the organization or league.
Directors and Officers Liability Insurance. A misnomer for the sports and recreation industry, this type of insurance originally protected directors and officers of large corporations served with shareholder lawsuits because of perceived wrongdoing. From a sports and recreation perspective, directors and officers liability insurance protects against incidents not covered by general liability insurance - including discrimination, eligibility issues, wrongful termination and suspension, as well as any other failure to follow an organization's own rules and bylaws in administrative decisions. Like general liability, this policy provides an attorney and pays the costs associated with a settlement or jury verdict.
Crime Insurance. This coverage protects against financial losses resulting from crimes such as embezzlement, theft and forgery.
Equipment Insurance. This insurance covers loss of uniforms, playing and concessions equipment, scoreboards and other property to fire, severe weather, theft or vandalism.
Additional types of insurance coverage to consider include automobile and sexual-abuse liability. Automobile coverage for hired and non-owned vehicles protects an organization when individuals driving on the organization's behalf (volunteer coaches and parents, for example) are involved in an accident. That said, there is disagreement among insurance providers about the role a driver's personal insurance policy plays in cases like these, so it's best to consider a variety of coverage options.
Sexual-abuse liability insurance, meanwhile, protects organizations in such dicey situations resulting from coach-player, parent-player and player-player incidents and goes beyond the scope of background checks - which only red-flag potentially dangerous individuals if they have a prior record of abusing children. Bollinger, for one, has received an increasing number of inquiries about this type of policy in recent years and builds the coverage into its general liability plans.
Insurance coverage costs vary greatly, providers say, making it difficult to speak in terms of average expenses. Leagues and organizations can purchase annual supplemental coverage such as directors and officers liability, plus crime and equipment insurance, for approximately $750. The costs, however, could be higher for larger organizations. Keep in mind that insurance rates are based on how many members an organization is insuring and how often practices and games are held. An annual policy is always better, according to Crispo, even if an organization only sponsors games two months out of the year. "There is activity circulating around league operations that goes on all year," she says, referring to member solicitation and tryouts. "And it doesn't cost much more to have an annual policy than it does to have a two-month policy."
For proof of how insurance policies can influence the operation of sports and recreation activities, consider the bench-clearing brawl that occurred three years ago in a men's softball game run by the Dumont (N.J.) Recreation Commission. An illegal fastball was the suspected culprit in the melee, which left one player hospitalized with a concussion and swollen jaw. The incident led to the formation of the commission's first-ever rules committee and the cancellation of the remainder of the season - serious repercussions that could have been worse. But thanks to an insurance policy that covered every player in the borough's sports leagues, the borough was able to pick up Martin's medical bills that were not paid for by his own health-insurance company.
More recently, administrators in the Martin County (Fla.) Parks and Recreation Department banned bounce houses, petting zoos and pony rides at private parties in county parks because its insurance carrier claims participants in those activities are at risk for injuries and the spread of disease. "I know it's a drastic change in our policy," parks and recreation director Richard Blankenship told The Palm Beach Post last November, citing nationwide reports of neck and back injuries sustained in bounce houses. "But it's very clear they're not going to cover those things. Insurance companies are getting really stringent about what they will and won't cover."
Such restrictions, coupled with financial considerations and the it-won't-happen-here mentality, might be why some sports and recreation organizations bypass insurance altogether.
"People want to turn a blind eye to the need for insurance," Crispo says. "I've been standing on the sidelines watching my daughter play soccer when there's thunder and lightning, and nobody's calling the game. I've waved and tried to get the ref's attention, but everybody just wants to finish the game. I think that's human nature; people think nothing will happen."
"The number of uninsured organizations will decrease over time, as more and more field owners and tournament hosts require teams and leagues to provide evidence of insurance before they're allowed to access facilities," Sadler adds, predicting nevertheless that there always will be clusters of sports administrators willing to gamble with the livelihood of their own organizations and the trust of their participants by skimping on insurance. "If they knew what I knew, they would never do that."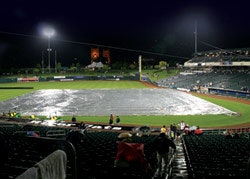 Rain Check Dan Vistica has lived in Northern California for a quarter-century and considers himself a fairly reliable barometer of Sacramento weather patterns. "My body and bones are pretty good predictors by this point, so I kind of know what's coming," says the senior vice president and chief financial officer of the Sacramento River Cats, the Oakland A's triple-A affiliate.
Still, Vistica can't rely on his meteorological intuition alone to mitigate the financial risk posed by rained-out ballgames. That's why the River Cats have been taking out rain insurance on preseason exhibition games with Major League Baseball teams for all but one season since the organization formerly known as the Canadians moved from Vancouver, B.C., to Sacramento's Raley Field in 2000. "The gates are significant enough for us during preseason games that it's not worth it to not have the insurance," says Vistica, who must purchase a policy on any given game at least 14 days in advance. "It feels like a roll of the dice sometimes. I start to track the forecast about three weeks out. In Northern California, in April, you can have some pretty big weather swings between what is forecast versus what is reality over a two-week period. But I'll pull the trigger and purchase insurance for a Saturday night if the advanced sales are good. I want to protect us in case we have a postponement."
Since 2001, three River Cats games have been postponed due to rain; Vistica didn't insure any of them. Of the 10 games he has insured, at between $5,000 and $10,000 a pop - all but one of them exhibitions involving two Major League teams or one MLB team against the River Cats - the organizaton ended up not needing the coverage. "That's the way insurance works sometimes," says Vistica, who typically takes out two policies per game: one covering the hours leading up to the first pitch and one for the actual game. "My position is that if I've got a guaranteed payment to one or both of the participating teams, and the game gets canceled before it's official under Major League Baseball rules, we're going to incur some serious operating costs - including guarantees and ticket refunds. Instead of making money, we're going to be paying out of pocket."
Weather insurance seems to make at least some sense, especially for Minor League teams like the River Cats that rely on revenue from Major League exhibitions played at a high-risk time of the season. Not everyone, however, agrees. An official with at least one of the River Cats' Pacific Coast League rivals has blasted the cost-ineffectiveness of rain insurance because of its randomness, arguing that weather's unpredictability is simply part of baseball.
That's true, but why worry, ask insurance companies that specialize in weather-related coverage. All-Weather Insurance Agency, the Sudbury, Mass.-based firm used by the River Cats, offers rain, snow, temperature and wind coverage for games, fairs, festivals, air shows, concerts, motion picture and television filming, corporate functions and other outdoor events. Policies can be structured to protect single or multiple-day events, and premium rates vary greatly based on terms of coverage and years of historical weather data for a given locale.
Vistica, who assisted the Pacific Coast League's triple-A Portland Beavers in purchasing rain insurance in 2006, treats each game-day policy differently, customizing it based on advanced-ticket sales, guaranteed-payment amounts, fixed costs and other factors. "It surprises me that there aren't more instances of clubs taking out insurance like this," he says. "I don't see any reason not to consider it."