Eleven states now mandate defibrillators in health clubs, but plenty of resistance remains within industry ranks.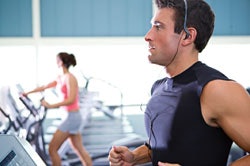 Planet Fitness in Weymouth, Mass., could have waited. It had a full year to comply with Kayla's Law - the legislation inspired by Kayla Richards, who died on a treadmill at a Planet Fitness in Plymouth, and signed by then Gov. Mitt Romney on Jan. 3, 2007. Instead, the club secured an automated external defibrillator by summer. It was there, mounted on a pole close to the cardio equipment, when 36-year-old Greg Pike collapsed while exercising on an elliptical trainer.
Paul Basile was there, too. A retired firefighter, Basile had opened Planet Fitness at 5 o'clock that morning, and after hearing screams that a member was down, he grabbed the AED and attached its leads to Pike's chest. The device told Basile and Linda Natale, a nurse who happened to be working out near Pike, that the man's heart had no rhythm. "Continue CPR," said the AED, and Basile and Natale did. By the time paramedics arrived, Pike's heart had been revived to the point where a shock returned its rhythm to normal. He regained color in his face and began breathing on his own.
"The machine told us exactly what to do," says Basile, who performed chest compressions and mouth-to-mouth resuscitation on Pike. "I wanted to shock him, because he had no heartbeat, but the machine said, 'No shock recommended.' If that thing weren't there, would the outcome have been the same? I don't know. I think the machine helped, and I think these machines are a lifesaver for so many people. I just can't understand why they didn't make the law years ago."
Massachusetts is one of 11 states (Arkansas, California, Illinois, Indiana, Louisiana, Michigan, New Jersey, New York, Oregon and Rhode Island are the others) that have mandated the installation of AEDs in certain, if not all, health clubs. Some believe the devices will one day be as commonplace as fire extinguishers, an opinion that's backed by industry trends. In March 2002, a joint statement by the American Heart Association and the American College of Sports Medicine urged fitness clubs to install AEDs and train staff to use them. Then, in September 2006, the ACSM released its third edition of standards and guidelines for health and fitness facilities, requiring that facilities have a public-access defibrillation program.
But there exists plenty of resistance within club industry ranks - from independent entrepreneurs all the way up to the International Health, Racquet & Sportsclub Association. "They're a good thing for the big clubs, but at the small personal training facilities the odds [of needing them] are greatly minimized," Gil Yurly, whose two California gyms failed to meet that state's mandated AED deadline last July, told The Orange County Register. In fact, only 12 of roughly 200 health clubs in Orange County had registered AED purchases in time, according to the paper. Individual AED units typically range in price from $1,500 to $2,000 - or about half the cost of a single elliptical trainer, as ACSM guidelines editor Stephen Tharrett points out in Family Practice News, an independent newspaper for physicians. But that's enough of a deterrent for the gym owner "who's still looking to get over the top," according to Yurly, whose lone surviving club, Holy Spirit Gym in Costa Mesa, still did not have an AED when AB inquired in late January.
IHRSA has for years maintained that "clubs should look into an AED, but it's not supporting mandatory AEDs," says Helen Durkin, the association's executive vice president for public policy. "You don't want to set standards that create significant legal liability issues without knowing that they actually can be met by the club industry. That's why one of the things that IHRSA works very hard on when we work with state legislators is to make sure that clubs aren't liable for non-use - not malicious non-use - but having an AED and having someone panic, and not be able to administer it."
Described by Basile as "idiot proof," and indeed designed to be just that, AEDs gather heart rhythm data through leads attached to the victim's chest. The machine will not allow a patient to be shocked in cases of a normal rhythm or no rhythm at all - a so-called "flat line." "Shocking in that case will not help," says cardiologist Steven Van Kamp, an expert on the effects of exercise on the heart. "Most cardiac arrests related to exercise are ventricular fibrillation, a fine quivering of the lower chambers of the heart. For that, a shock is the treatment of choice. That shock causes the heart muscle to depolarize all at once, and the heart's own pacemaker function can then start up again."
Having the shock option on-site can be the difference between life and death, Van Kamp adds. "Out of all cardiac arrests, resuscitation rates are very low - on the order of 5, maybe 10 percent," he says. "With AEDs, they're up around 50 to 75 percent, depending on how AED treatment is administered and whether CPR is done along with it."
Neither an AED nor CPR was there for Alessio Tringali, a 49-year-old Fort Lauderdale, Fla., man who died while working out at an Oakland Park health club in April 2003. It took a jury two hours of deliberation to award $619,650 to the victim's family in what is believed to be the first verdict to hold a health club liable for not having an AED. LA Fitness, which has appealed, now has AEDs in most of its clubs, according to the Tringali family's attorney, Russell Adler, who sees the case as having nationwide implications. In fact, a second LA Fitness case he is involved with may hinge on the pending decision in the first one. "AEDs are a really hot topic among health clubs, especially now that LA Fitness suddenly has them," he says. "And it's a good thing. It's going to save lives."
Durkin says she doesn't know how many of IHRSA's 8,500 member clubs worldwide have AEDs since "we don't survey that question." "They don't want to talk about it," Adler says of IHRSA. "They don't want to back or impose any standards that would cost their members money. They are in a delicate position. That's why they have never come out and said, 'We're going to require that our members put defibrillators in their clubs.' "
Adler is one who eagerly makes the fire-extinguisher analogy. "Look, this is an emerging standard," he says. "It's a public safety issue. AEDs are becoming more and more commonplace."
"I just see it as an item that every club needs to have, because literally two months after we got it, we needed it," says Joe Tominsky, manager of the Weymouth Planet Fitness. Press clippings telling the story of Greg Pike, who now has his own internal defibrillator to compensate for an electrical disorder he didn't even know he had, still paper a pole outside Tominsky's office for all prospective club members to see. Here's where recruitment meets the ultimate in retention. "We saved his life, and now he's 100 percent," Tominsky says. "He's back in here working out."