Abusive student sections are drawing attention from outside the arena.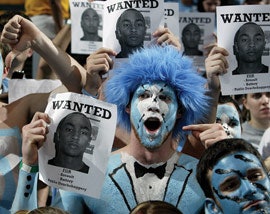 Two conference rivals. A national TV audience. The intriguing subplot of a coveted recruit reneging on his commitment to one school to play for the other. The Feb. 7 men's basketball game between the University of Illinois and the visiting Indiana Hoosiers - star freshman guard Eric Gordon among them - had it all. But it proved to be a volatile mix. Thirty minutes prior to tip-off, Illinois students chanted "F--- you, Gordon!" Then, late in the game (which Indiana won in double overtime), one of the Illini faithful hit Gordon's mother in the head with a cup of ice, despite the fact that a private security detail had accompanied the Gordon family to the game.
Kent Brown, Illinois' assistant athletics director for public relations, isn't kidding when he calls Assembly Hall - site of 60 consecutive sellouts - one of the toughest places to play in the country. "We're very proud of the enthusiastic support that our crowds have given us," Brown says. "Are we proud that somebody threw ice or chanted obscenities? Absolutely not. But we do feel that was more of an anomaly than a common occurrence."
Such behavior among student cheering sections became all too common to college athletics this academic year. UCLA's Kevin Love endured pre-game death threats and homophobic chants as he took the floor for a Jan. 23 basketball game at Oregon, where his father still ranks sixth on the Ducks' all-time scoring list. The elder Love and other family members weathered obscenity-laced taunts, gestures and signage throughout the game (a UCLA victory). After the University of Memphis snatched its 25th straight victory of the season Feb. 16 at upset-minded Alabama-Birmingham, UAB students rained cups, water bottles and pompons onto Tigers players as they left the court. At Baylor University, one game was interrupted and another prematurely ended with 1.8 seconds left after fans threw soda bottles and other debris onto the home court, prompting athletic director Ian McCaw to make an online plea to fans - particularly BU students - to "represent the athletics program and university in a first-class manner at all times."
But the madness wasn't limited to basketball. During a Sept. 7 football game against visiting Navy, Rutgers students dropped verbal F-bombs on Midshipmen on the field and those in uniform in the stands. "This is how you treat people who may die for this country?" Annapolis graduate Bill Squires, who attended the game, asked Newark Star-Ledger columnist and Rutgers grad Mark Dilonno, himself a Navy veteran. "It was the most classless thing I've seen."
Over the past five-plus years, the NCAA has made repeated attempts to get a handle on a phenomenon that appears increasingly out of control. The association's Sportsmanship and Fan Behavior Summit in February 2003 was followed in 2006 by separate sportsmanship and crowd-control gatherings. NCAA president Myles Brand has addressed the issue in state-of-the-association speeches and podcasts. In March, the association's Committee on Sportsmanship and Ethical Conduct, which offers institutions and conference offices an online toolkit for developing on-campus sportsmanship initiatives, surveyed fans via phone in an attempt to better focus its efforts. "What rights do fans have once they purchase that ticket? They can cheer and boo, but what is over the top? That's the question that we're trying to address," says NCAA vice president for education services Robert Vowels.
"Fans are pushing the envelope as far as they can, and they'll keep pushing until someone says, 'Okay, that's too far,' " says Murray State University professor Daniel Wann, a fan behavior expert who has presented at NCAA meetings. "The reality is the athletic departments want wins, and the home field advantage is a function of the fans. Unfortunately, I think schools sometimes look the other way more than they should."
Today's student sections are seen as bankable assets, complete with marketable nicknames. At Oregon, students form the Pit Crew. At Illinois, they're the Orange Krush, a members-only group with its own preferred-seating plan and community-outreach mission (see "Charity Stripes," May 2005, p. 24). Brown contends that the Krush at large wasn't the problem against Indiana. "We have a close relationship with the Orange Krush, and we made it clear to them before that game that we would not tolerate obscenities, we would not tolerate actions that were detrimental, and that if something happened they would lose their Orange Krush member privileges," he says. "It's our understanding that the obscenities came from the students who were not Orange Krush members. We're certainly not proud of that either, but what we were most disappointed in was that our own fans didn't point out who threw ice at the Indiana section."
Wann is a proponent of video technology as an identification tool and deterrent. "It doesn't take that many cameras to film close enough to see who did what," he says. "If a fan cares enough about an event to throw something, then he or she probably is a repeat fan. That person is going to be coming back for the next game, and then you just don't let him or her in. You hope eventually the word gets out that if you do that you're going to get caught."
Targeting individuals with taunts is nothing new; it's just that modern technology has made the practice a lot easier. "With the Internet, it seems like you can dig up whatever you want. And if you can find out about it, people evidently are willing to chant about it," Wann says. "Sometimes it's cute and inventive, and sometimes it's vulgar and abusive."
To its credit, the Big Ten Conference has had in place since 2003 a policy that explicitly discourages student sections from singling out opposing players with inappropriate chants. Under the policy's penalty structure, student-sponsored sections cited with a third offense can be subjected to termination at the discretion of the conference commissioner.
"There's so much more access to information about people, and it does become personal," says Vowels, a former commissioner of the Southwestern Athletic Conference. "It's just a different world out there."
Some coaches whose players have been on the receiving end of such abuse have voiced indifference. University of Southern California men's basketball coach Tim Floyd had this to say after one of his players was hit in the foot by a water bottle tossed from the Arizona student section as time ran out on a 12-point Trojan win Feb. 28: "We are not upset about it or bothered by it. This is one of the great environments in basketball." And here's Memphis coach John Calipari, on UAB fans' treatment of his players: "Students do that. They were into it. You think they're going to kiss you on the lips?"
For his part, Oregon coach Ernie Kent confronted his team's fans two days after the UCLA game, as the Ducks prepared to tip off against USC. "He took the microphone and addressed the crowd, reiterating that we can have an effective home court advantage without being derogatory," says Dave Williford, Oregon's assistant athletic director for media services. That little bit of behavior coaching went a long way. "All the games after that were exemplary," Williford adds. "There was not a problem at all."
"You have to buy in as an athletic department that you're not going to sell your soul for the home court advantage, that you're not going to go to any length - including the point at which the other team's players, fans and family members fear for their safety - to gain that," says Wann, who admits he won't take his sons to certain Murray State men's basketball games. "And this is the Ohio Valley Conference. This isn't the ACC."
While the NCAA remains committed to fostering greater respect among students for the college game and the competitive environment, Vowels still expects an enduring battle against bad behavior. "Is it going to go away completely? I doubt it," he says. "But can we manage it better? Yes."