Asthma does not have to slow athletes down.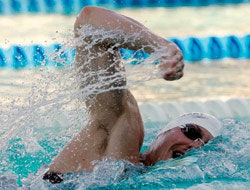 In July, officials with the Milwaukee-based American Academy of Allergy, Asthma & Immunology were expected to release new guidelines defining the basic principles of proper diagnosis and treatment of asthma. "Athletes with allergies and asthma can become champions if they are diagnosed early and follow their treatment," says Luis Delgado, a professor at Portugal's University of Porto and chair of the Bronchoconstriction, Asthma and Allergy in Sports & Exercise summit held earlier this year in Spain.
But American College of Sports Medicine researchers last year discovered effective treatment of a different kind. Doctors determined that asthmatic kids who improve their cardiopulmonary fitness can decrease their daily doses of inhaled steroids. "Children who experience breathing restrictions caused by asthma sometimes fear inducing breathlessness by exercise, which can cause physical deconditioning over time," says Celso Carvalho, one of the study's authors. "This is where we often see patients with asthma having lower fitness levels. Physical training, properly supervised, is not only a possibility but also a management strategy for their symptoms."
In a greater attempt to raise awareness about the dangers of asthma attacks, Harvey Miller, an asthma specialist in Islip N.Y., is pushing for widespread placement of nebulizers at sporting events. The portable devices administer albuterol or other steroids to asthmatics in mist form. Because most asthmatics (including high school and college student-athletes) already carry inhalers, nebulizers typically are reserved only for serious asthma attacks.
Miller has told reporters that his idea of equipping facilities with nebulizers stems from the 2001 death of Northwestern University football player Rashidi Wheeler, who collapsed and died on a practice field after suffering an asthma attack during a preseason conditioning drill. Miller claims an inhaler canister, which dispenses lower steroid doses than a nebulizer, could not have provided enough albuterol to save Wheeler's life.
At the high school level, New York law currently allows nebulizers to be placed only in facilities with a physician or nurse on staff. Richard Nicklas, a member of the AAAAI, told New York's Newsday that Miller's proposal has merit, "but it seems like it would be overkill for many patients with asthma." He also says the use of nebulizers cannot fairly be compared to that of AEDs (which have become more common in athletic facilities in recent years), as albuterol doses must be calibrated for each patient - a task that could easily complicate matters in an emergency situation.
According to the AAAAI, which has not studied the use of nebulizers in public places, asthma afflicts approximately 20 million Americans, including an estimated 20 percent of all world-class athletes. U.S. swimmer Peter Vanderkaay, who set a new American record in the 400-meter freestyle in May, is one of them. "When I first started swimming at a high level, I realized that a lot of athletes have asthma, and it's something they deal with on a day-to-day basis," Vanderkaay, who was diagnosed with asthma around the age of 10, told ASTHMyths.com, a web site to which he contributes that was specifically developed to help people separate fact from fiction regarding the condition. "Having an understanding of what asthma control means for you is important."