A synthetic turf toxicity scare has field owners concerned and manufacturers scrambling to clean up their image.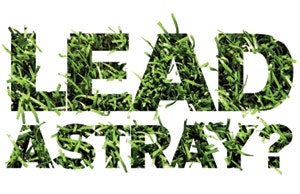 The initial discovery was, like so many others in the area of science, an accident. Officials with the Environmental Protection Agency and the New Jersey Department of Health and Senior Services investigating a scrap yard last fall in the Ironbound district of Newark, N.J., became concerned about children playing on a synthetic turf field in an adjacent park. Tests of the field showing elevated levels of lead at first led EPA officials to believe that heavy metals were leeching from the scrap yard, and the field was quickly closed to the public.
However, more advanced testing determined that the 10-year-old nylon field itself was the source of the lead - more specifically, lead chromate pigments used for colorfastness in the amount of around 4,000 milligrams per kilogram, a number that varied depending on the color of the turf fibers tested. Subsequent testing conducted in April and May by the NJDHSS detected the presence of lead in all 12 of the fields randomly selected around the state (as well as in samples of nylon products ordered online), with attention quickly focusing on two that, like the Ironbound field, were older and made of nylon, and showed similarly high lead levels. By June, those three fields and another New Jersey nylon field that had shown similar lead levels in a private test had been replaced with polyethylene surfaces. The 10 fields that had shown only trace levels of lead in NJDHSS tests were all made from this material.
But that was not the end of the story. As the news out of New Jersey became more widely distributed, more testing around the country found more fields with elevated levels of lead - and more concern among field owners, and potential field owners, that synthetic turf is unsafe. Subsequently, a number of fields in New Jersey and elsewhere were closed to the public, pending the result of the testing. In Montville, N.J., for example, children under the age of 7 were barred from Camp Dawson's fields, in spite of lead levels of just 852 milligrams per kilogram (the fields are a blend of nylon and polyethylene). That prohibition ended May 13, after two more rounds of tests led local officials to determine that the lead found in the turf did not pose a threat to public health. In New York, the nylon field at Cicero-North Syracuse High School's Bragman Stadium was closed after testing indicated lead levels similar to those found in the nylon New Jersey fields, while a field at Liverpool High School that was already closed due to a drainage issue got a similar prognosis that has put its future in doubt.
It wasn't until spring that the synthetic turf industry began to comment directly on the turf-lead connection. Since April, however, it has made every effort to get ahead of the news curve. With the Consumer Product Safety Commission about to embark on an extensive, summertime, coast-to-coast round of turf testing, manufacturers hastened to remind the public that, as even NJDHSS Commissioner Heather Howard conceded back in April, "Available evidence suggests that there are no acute health risks due to use of artificial turf fields, and risks due to chronic and repeated exposure are unlikely."
Why the continued confusion? For starters, the same public statement by Howard included this dire-sounding warning: "This is a potential consumer safety issue with national implications, since these turf products are widely distributed." Beyond that, consider the discrepancies in press releases issued from interested parties immediately after the NJDHSS released its June 3 test results. "Further laboratory testing," the state agency announced, stoking field owners' worst fears, "has shown that lead can be dissolved from artificial turf fibers and turf field dust under conditions that simulate the human digestive process, leaving the lead available for the body to absorb." State epidemiologist and deputy commissioner Dr. Eddy Bresnitz reiterated the NJDHSS's position that field owners should consider limiting access to synthetic turf fields that contain elevated levels of lead, that field operators should water the turf before and after use to limit dust, and that field users should wash their hands and bathe after playing, and remove clothes inside out and wash them separately. The NJDHSS also announced that it had "sent the CPSC and the federal Centers for Disease Control and Prevention a follow-up letter outlining the latest test results," and "urged [the CPSC] to continue its turf investigation and to determine the appropriate measures to protect public health nationally." (On June 18, the CDC posted a health advisory on its web site recommending the testing of any nylon or nylon-blend field showing either worn or faded turf blades, or containing visible dust.)
You would never have known any of this had you read "New Jersey Test Results Confirm that AstroTurf® Fields Are Safe," a press release issued on June 5 by GeneralSports Venue, the exclusive U.S. licensee of AstroTurf branded products. (It should be noted that while AstroTurf brands have been the only nylon fields so far to flunk the lead test, the CPSC's tests are expected to shine a harsh light on other brands, as well.) And if you read the local papers, you got what amounted to a split decision - from "Lead in Artificial Turf May Pose Risks" (The Record of Bergen County, N.J., June 4) to "No Serious Threat Seen in Tests on 'Lead' Turf" (Jersey Journal, June 5).
Bresnitz says that, in fact, both newspaper headlines are demonstrably accurate. "The tests show that there is some risk of absorbing lead from dust or really tiny fibers within the turf," he says. "But because of the limited amount of time that people play on a field, we think that overall, the risk of lead poisoning from exposure to a field is probably quite low."
The response from the synthetic turf industry, Bresnitz says, is another matter. For example, at a May 6 news conference called by the Synthetic Turf Council (an industry trade group), synthetic turf manufacturers insisted that NJDHSS's usage and maintenance precautions were unnecessary, calling the toxicity scare "overhyped." AstroTurf general manager Lou Ziebold produced the day's most memorable photo opportunity when he dumped bags of synthetic turf onto the floor to illustrate the huge amount of material - 23 pounds of turf fiber - he and industry-hired experts said a 50-pound child would have to swallow before he or she would be at risk from lead chromate. "You might say they were protecting their turf," Bresnitz says.
The turf ingestion gambit later became the basis for GSV's claim of safety in its June 5 press release. The company's 23-pound figure had been arrived at by assuming a level of lead bioavailability - the ability of the human body to absorb the lead - of 50 percent, whereas the test results of turf fibers cited bioavailability levels of between 2.5 and 11 percent. Therefore, GSV noted, a child would have to eat "closer to 100 pounds of synthetic turf" to reach the threshold for lead poisoning. "This is better than we expected," was Ziebold's response. "The NJDHSS testing not only supports our position that AstroTurf poses no realistic health hazard, but concludes that the level of bioavailability is nearly five times lower than we conservatively estimated."
Bresnitz counters that while the bioavailability level of turf fibers topped out at 11 percent, samples of dust taken from the fields showed figures of around 90 percent.
"Nobody expects anybody to be eating fibers, even inadvertently," Bresnitz says. "I'm more worried about ingestion and inhalation of the dust. Lead-contaminated dust is easy to ingest; you're all sweaty and you get it on your hands and clothes, and then you wipe your hands on your mouth. The manufacturers are putting their spin on it, and I understand what they're doing, but they're conveniently not saying anything about the dust, which is a much more likely way to be exposed to lead."
The STC and its member manufacturers' representatives have had their differences with the NJDHSS from the very beginning. It started, possibly, with the way Ironbound's lead level of 4,000 milligrams per kilogram was widely (and, it happens, correctly) reported to be 10 times the amount of lead that is considered acceptable under the state's residential soil standard for the cleanup of contaminated properties. This, the STC believes, is a fundamental misapplication of the data.
"The standard they used as a basis of comparison is for the amount of soluble lead that is acceptable in the environment, which has nothing to do with what they were testing," STC president Rick Doyle told AB in May, before the more extensive testing was completed. "It didn't take into account the bioavailability of the lead chromate, which is the ability of that lead to leach out into the environment or be absorbed by the body. The lead chromate in synthetic turf is insoluble, encapsulated, it doesn't leach out, and there's no science out there, none that I'm aware of, that suggests otherwise."
Obviously, the NJDHSS believes that its most recent tests do suggest otherwise. But Jon Pritchett, CEO of GeneralSports Venue, maintains that the issue is not that there is lead in turf, but that the likelihood of anyone being harmed by the small amount of lead in turf is minimal.
"There should always be concern about safety and the presence of lead in products," Pritchett says. "But other than doing something extremely out of the ordinary - like eat a ton of turf, or shave the turf or put it in a blender - there isn't a way that you can put your health at risk by playing on synthetic turf as it relates to lead poisoning. Under normal use, we don't think any of the data supports a hypothesis other than what we've said, which is that there is lead chromate in the product, and you can't ingest or inhale enough of it for it to cause a problem, and circumstances have to be so unusual for you to do it that it's an unrealistic concern. It's absurdly unrealistic."
Further, Pritchett believes that the manner in which dust is collected for testing doesn't match a real-world scenario in which dust moves from turf to field user. "You can abrade turf fibers and create dust, but under normal conditions you're not going to be abrading the fibers," he says.
But the NJDHSS denies that the collection process created the dust. "We used a low-flow, micro-vacuum sampling technique, which is ASTM International's method of collection," says Glenn Pulliam, an occupational health consultant with the NJDHSS's Hazardous Site Health Evaluation Program. "The technique is the same used on household carpets; it mimics what can potentially be picked up by a child's hands. We could see loose, green dust small enough to be inhaled in the Ironbound field and in the College of New Jersey field. At this point, we're assuming that the dust comes from years of use - general wear and tear, and some kind of ultraviolet degradation possibly occurring in the material. One of the unknowns is how long it takes to create the dust."
"I'm just not aware of any fields turning to dust on their own without being abraded, unless you have a field that is beyond its life and needs to be replaced," Pritchett says. "I wouldn't disagree that if you created dust and inhaled that dust, the lead chromate would be bioavailable. It may be a good reason not to keep a field for 15 years."
What Pritchett would really like to know is why, if the dust is potentially harmful, no measurable amount of lead was found "in the materials, in the ambient air or in the masks" worn by the EPA's air quality engineers who removed the turf from the Ironbound park. "They said, basically, that no special precautions needed to be made," he says.
"That's an easy one to answer," says Pulliam. "They were using dust-suppression techniques, such as watering down the field to prevent dust from becoming airborne. From a hazardous site removal standpoint, that's what you want to do."
Lead exposure doesn't occur in isolation, and New Jersey's lead problem is among the worst in the United States, primarily because of residual lead paint in some of the country's oldest housing stock. (It may have been coincidental, but on June 5, the same day that the GSV press release hit the Business Wire, a column written by Ronald Chen, New Jersey's public advocate, appeared in the Asbury Park Press under the title "Lead Paint Still Causing Children's Health Problems in State.") This means that a child from a home showing lead contamination who played on a field showing even a small amount of lead would be at greater risk than a child who lives in another community. "Every little bit of exposure contributes to the overall body burden," Bresnitz says. "We don't tolerate lead-contaminated paint anymore; we banned it 30 years ago. We've banned importation of toys with lead-contaminated paint. We've taken lead out of gasoline. The point of all this is, here we have a consumer product that for no really good reason has lead in it. As far as we can tell, the polyethylene fields didn't have lead levels that were a concern, so we know there's product out there that doesn't have that kind of lead in it."
Unfortunately for the industry, the crumb rubber used in modern infill turf systems featuring polyethylene fibers is the subject of a similar safety debate. Several studies in Europe and a few in North America have suggested that certain types of crumb rubber release toxins that might cause health problems and be poisonous to plants, although there have been no studies linking specific human ailments with the use of synthetic turf. The New York and New Jersey Legislatures last fall called for moratoriums on the installation of synthetic turf fields that use crumb rubber until further scientific studies can be conducted, and a bill before the Connecticut Legislature asks the state to appropriate $250,000 to the state Department of Environmental Protection to study the safety of crumb rubber. And on May 2, the EPA announced its national investigation of turf infill, with its focus on whether heavy-metal components of rubber, such as lead, zinc and arsenic, could possibly cause harm if inhaled by players as vaporized gas or if washed into groundwater.
That said, at the moment manufacturers of polyethylene infill systems are benefiting greatly from nylon turf manufacturers' woes, so this latter group is finding itself publicly proclaiming their products' safety while privately ramping up efforts to limit or even remove the lead chromate from their formulations. At the STC's May 6 press conference, Michael Dennis, GSV's chairman, followed up his statement that "synthetic turf sports fields, including the nylon version brought into question, are completely safe and pose no risk to children or athletes" with news that GSV was working to create "heavy-metal-free or lead-free" products, adding, "I believe we'll evolve to ... absolute absence of heavy metals." Stephen Noe, president and CEO of Sportexe Construction Services, this spring posted a note on the company's web site saying that it would discontinue manufacture of its "few colors ... produced using low levels of lead chromate-based pigments. ... We intend to substitute alternative colors based on non-heavy-metal-based pigments. ... Although we do not see a health risk in the current products, we believe that this is the best decision for all of our constituents."
"These concerns are why all of us in the industry went back to the supply chain and various pigment and yarn manufacturers and said, 'Hey, what can we do here to make sure we're reducing as much as possible the amounts of lead chromate, or reducing them totally?' " says Pritchett. "That had been ongoing, and this accelerated the process of getting new products developed, tested and to market. So there's some good that probably came from this."