Security officers are increasingly using stun guns to maintain order at sporting events, but are they taking crowd control too far?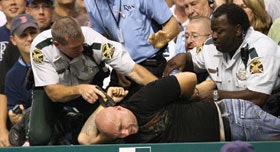 Eyewitnesses insist they saw a woman sitting innocently in a stadium aisle, unable to reach her seat in an overcrowded row as an Oct. 11 football game began at the University of Wisconsin. Police reports paint a picture of a woman kicking and screaming as she was about to be handcuffed, ejected and cited for violating Camp Randall Stadium policy regarding aisle blockage. That's when things really got out of control - or were, in fact, controlled - depending on whose interpretation of events one chooses to embrace.
The decision by UW police to use an electronic incapacitating device on Margaret Hiebing, a 54-year-old season-ticket holder and Badger athletics booster, came as a shock to those seated nearby and touched off a charged debate as to whether the use of force was appropriate to the situation. "It was pretty frightening," Brent Perzentka, one of more than two-dozen fans who signed a statement condemning what they considered to be an overly aggressive security response, told Madison ABC affiliate WKOW. "Most of us in the section were pleading with the officer and then the responding officers to stop. She didn't do anything wrong."
Stun guns (often referred to as Tasers, after the most popular brand on the market) have become nearly as common as actual guns among law enforcement officials, and their application in stadium and arena crowd control has drawn increased fire. Some critics claim that the devices, designed as a non-lethal option alongside the standard baton and pepper spray, are deployed too often in knee-jerk fashion. Others claim that a Taser's 50,000-volt jolt of electricity used to temporarily incapacitate the muscle function of human beings is sufficient, given the right circumstances, to kill them.
According to a three-year U.S. Department of Justice study, stun guns were involved in less than one-half of one percent of arrests that resulted in custody deaths in 2003. By 2005, the proportion was nearly 3.5 percent. That year, University of California, San Francisco cardiologist Zian Tseng told the San Francisco Chronicle, "There are vulnerable periods in the cardiac cycle, when shocks can cause dangerous arrhythmias."
Lethal or not, the sensation is enough to give anyone pause. And that's the point. "It feels like a thousand needles going through your body, and you absolutely have no control," admits Florida State University deputy chief of police Lisa Sprague, the current president of the International Association of Campus Law Enforcement Administrators. "You stiffen up and you fall down. You stop whatever it is that you were doing."
Like her 62 fellow sworn officers on the FSU force, the majority of whom work Seminole football games with help from Tallahassee and state police, Sprague has been "tased" as part of standard officer training. In addition, FSU officers follow their department's stun-gun policy as part of a use-of-force matrix, and adhere to state statutes regarding stun-gun deployment. "We have had a good experience here with Tasers," Sprague says, though she is unable to recall a single episode related to an FSU football game. "We have significantly cut down on injuries to suspects and officers. In fact, it's my experience that when you take out a Taser and show you're ready to use it, more often than not, people will stop whatever it is that they're doing and comply."
Such was the case at a September MLB playoff game at Tropicana Field in St. Petersburg, Fla., where an intoxicated Boston Red Sox fan bolted for the roof of the Tampa Bay Rays dugout. There, St. Petersburg Police officer Patrick McGovern drew his Taser, warned the fan he would use it and managed to help subdue the suspect without having to fire the device. That McGovern had pointed the Taser at the fan's head, a violation of department policy, was later determined by internal review to be unintentional.
It's when people don't comply that officers must make snap judgments regarding the threat posed by the size and number of suspects, and whether they too are somehow armed. But does the existence of the device on a utility belt make it too easy for police and security officers to apply what some have termed "street justice" to situations that could be defused with mere diplomacy? Amnesty International thinks so, as does Stop Taser Abuse Today, which launched www.stoptasers.org last year. The question often posed by stun-gun advocates is "What would you have us use - guns or less-lethal weapons?" Gan Golan, an MIT graduate who focused his Master's thesis on the increasing use of the latter, told the Pittsburgh City Paper in November 2007, adding, "Police are still using their lethal weapons when they should be using their less-lethal weapons, and they are using their less-lethal weapons when they should be using nothing at all."
In March, a Tampa Bay Buccaneers fan filed a federal lawsuit against the Tampa Sports Authority, the City of Temple Terrace and two of its police officers based on a game-day altercation in 2004. Season-ticket holders Rickie Manus and his wife, an attorney, had joined a dispute between security and a third fan over the display of an American flag, at which point Manus allegedly was wrestled to the ground and electronically incapacitated, despite having identified himself as an off-duty law enforcement official. The lawsuit claims that Manus, a badge-carrying U.S. Customs and Immigration Enforcement agent, suffered multiple injuries as a result of his manhandling, including neck compressions that required surgery.
Dozens of University of Utah fans hoping to rush the Sun Devil Stadium field after the 2005 Fiesta Bowl in Tucson, Ariz., were zapped by security as they pressed against a six-foot-high fence. The Arizona State University police department referred to its use-of-force policy to justify the measures, despite the fact that only two of the estimated 24 fans targeted with Tasers were reported to be involved in physical altercations with officers - the department's own criteria for electronic incapacitation. University of Utah police chief Scott Folsom, whose Taser-armed department provides security at Ute home games, attended the Fiesta Bowl and posited a different approach to the post-game melee. "If you had a person who was seriously disruptive in that crowd, you might use a Taser to bring that person into custody so you could deal with them," Folsom told The Salt Lake Tribune. "You certainly wouldn't tase people indiscriminately, hoping to move an entire crowd back."
What UW Police were trying to accomplish with regard to Margaret Hiebing remained, as of this writing, under review. In the aftermath, UW athletics officials indicated that Hiebing, who reportedly had not been drinking that day, would not lose her season tickets. Moreover, the Dane County district attorney chose not to prosecute charges of disorderly conduct and resisting arrest against her.
Despite whatever PR damage the university suffered in this case, Sprague still recommends Tasers as a sensible crowd-control tool. "Have a clear-cut policy and train officers to use other interventions," she says. "But if they don't work, and you're looking at a situation where you have to gain control of a person or are fearful of being hurt, my recommendation would be to use Tasers. If you don't have a Taser, you have a gun. That's your next level."