A reconditioning company is charged with failure to test refurbished football helmets.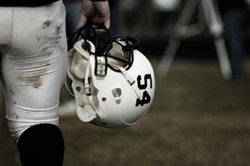 For several years, a helmet reconditioning company allowed thousands of youth, high school and college football players to take the field wearing refurbished headgear that may not have been tested for safety. In December, David Drill, former president of Circle System Group Inc. in Easton, Pa., pleaded guilty in U.S. District Court in Newark, N.J., to participating in fraudulent business practices that included failure to test helmets in accordance with procedures established by the National Operating Committee on Standards for Athletic Equipment.

Circle System Group - acquired in 2005 by Schutt Holdings Inc., which has since stopped using the Circle name and which acting U.S. attorney Ralph Marra Jr. says "cooperated fully in the investigation" - was a member of the National Athletic Equipment Reconditioners Association and therefore required to refurbish athletic helmets according to NOCSAE protocol. That meant conducting impact tests on a "statistically relevant sample" of all helmets, typically at least two percent. Circle was allowed to place stickers on helmets indicating NOCSAE approval in return for paying NOCSAE and NAERA fees for each helmet the company reconditioned.

After Schutt Sports was notified of the investigation in 2007, the company decided to gather all its reconditioning services under the Schutt name, as well as restructure Circle System's business operations by replacing management and instituting new operating procedures, according to Glenn Beckmann, Schutt's marketing and communications manager. "The problem did not involve improper or faulty testing," he says. "There is no evidence whatsoever that the helmet preparation, conditioning environments, impact attenuation tests, and affixation of labels and warnings were improper. The problem at Circle System involved not testing enough helmets to satisfy the governing standard."

Drill, who served as Circle's president from 1988 to 2007, has admitted that the company tested fewer than two percent of its helmets and underreported the number it reconditioned in order to pay lower fees. Drill also said Circle submitted fake price quotes under the guise of its competitors, intentionally double-billed clients and bribed purchasing officials with golf clubs and other gifts. He faces five years in prison, as well as a $250,000 fine for one count of conspiracy to commit mail fraud.

Separate investigations conducted by the U.S. Department of Justice and Schutt did not uncover any helmets that had been reconditioned improperly, Beckmann says, adding that standard operating procedure at Schutt is to test twice as many helmets as required by NOCSAE standards. But Department of Justice officials encourage former Circle System customers who think they might have received unsafe helmets to contact the Federal Bureau of Investigation at circlevictim@ic.fbi.gov.