No football season in memory has begun with as much emphasis on helmet safety at nearly all levels of the game as the 2012 campaign. Pop Warner Football has banned head-to-head hits.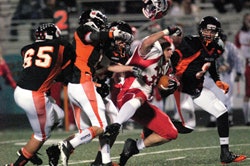 A new high school and college rule requires any player who loses his helmet on the field when the ball is live to sit out the next play. And NFL leaders are in talks with the U.S. Army to possibly equip players' helmets with the kind of blast sensors used in soldiers' helmets in an attempt to gather new data on head injuries.
Each of these moves addresses the evolving role helmets are playing in the war on concussions. The implication of the new rule developed by the National Federation of State High School Associations and the NCAA is that players are becoming separated from their helmets at an alarming rate because not enough of them know how to properly fasten their helmets. Models designed to minimize blows to the head won't work if they're not fitted correctly and worn properly.
That message is even more important for younger players, as evidenced by USA Football's Protection Tour, which in late July attracted more than 1,500 participants to four NFL stadiums in cooperation with the respective local pro team, helmet manufacturer Riddell and insurance company Chartis. The events stressed, among other things, the importance of proper helmet care and fitting, and even included custom fittings.
While much of the helmet-safety focus remains on football and hockey, recent discussions about the possibility of introducing helmets to sports not typically associated with protective headgear are driving change at the grassroots level and national governing bodies alike. Additionally, new technology is altering the way coaches, players and parents think about helmets and how they protect athletes' heads.
But, as noted helmet expert Kevin Guskiewicz, founding director of the Matthew Gfeller Sport-Related Traumatic Brain Injury Research Center at the University of North Carolina at Chapel Hill says, helmets can only do so much. "Helmets are not designed to prevent concussion," he told attendees of a Marietta, Ohio, sports concussion symposium in July. "Companies are building good helmets that can prevent structural head injuries, but concussion is a functional, not a structural, injury."
"Even with our push for improved safety equipment, it is vital that parents, coaches and players understand that there is no such thing as a concussion-proof helmet," Inez Tenenbaum, chairman of the U.S. Consumer Product Safety Commission, said in May. "The best answer is safer and smarter play."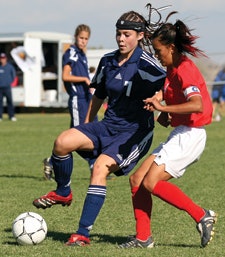 That explains the rule changes implemented at practically all levels of football that prohibit headfirst tackles and result in stiffer penalties for violent hits in hockey. Nevertheless, an 11-year study by the MedStar Health Research Institute in Baltimore, Md., published last year in the American Journal of Sports Medicine, reported that concussions in high school sports are increasing at a 15 percent annual rate; football tops the list of sports with the highest rates, and girls' soccer is a distant second among the 12 sports studied.
Concerns about female soccer players (who suffer 68 percent more concussions than their male counterparts, according to the Journal of Athletic Training) prompted Strath Haven High School officials in Wallingford, Pa., to outfit their girls' soccer team this fall in open-crown headgear similar to that worn by wrestlers. Looking like an oversized headband, it boasts shock-absorbing padding to protect players from head-to-head and elbow-to-head contact. "Aside from the fashion issue, the girls are supportive and their parents are very supportive," principal Mary Jo Yannacone told the Wallingford-Swarthmore School Board in June, adding that the Lady Panthers will be the first school in their league to don the headgear.
Although individual female soccer players have worn similar headgear, it's rare for entire teams to make it mandatory. Girls from the Texas Spirit North 98 Soccer Club wore their headgear at an overseas tournament in Denmark and Sweden this summer, and one member of the Texas Spirit North 97 squad (the numbers represent the year players were born) says she notices a difference if she plays without the open-crown helmet. "When I started wearing it, I still got my headaches," Makenna Johnson told Dallas/Fort Worth's WFAA-TV. "But after a while, the headaches started going away and I actually took it back off, and the headaches started coming back."
Concussions in female lacrosse players (who are permitted to wear only soft, padded helmets while their male counterparts use hard shells) also are under scrutiny. Brown University orthopedics professor Joseph "Trey" Crisco launched a study in late July to determine whether helmets, and what kind, help shield female lacrosse players from concussions caused by stick-to-head contact. Funded by US Lacrosse and the National Operating Committee on Standards for Athletic Equipment, the study involves crash-test dummies equipped with sensors to measure the impact of hits doled out by area lacrosse players the professor invites to his lab. "They'll be whacking on the top of the 'head' and the side of the 'head,' " Crisco told New York's Newsday shortly before his study began. "They'll use the top, the shaft and the middle of the stick so we can determine the severity of stick checks."
Proponents of helmets for girls and women claim it's nearly impossible to keep the ball and sticks off heads, while others fear helmets would make the game too physical. Crisco says it will be several months before his report is ready for public consumption, but Ann Kitt Carpenetti, managing director of game administration for US Lacrosse, told Newsday she hopes Crisco's research will establish a standard for helmet protection in girls' and women's lacrosse. "I would not say that helmet use is inevitable," she said. "I would say that what's inevitable is that there will be a standard, hopefully by next year."


As Guskiewicz acknowledges, helmets can prove to be a significant deterrent to concussions but won't necessarily prevent them - even though the major football helmet manufacturers have made significant improvements. But that hasn't stopped companies from developing new technologies, accessories or even entire new helmet types they claim dissipate sudden jolts and reduce the G-force on brains.
Last year, ForceCap Technologies in Toronto tested a patent-pending air-filled sack inside hockey helmets. "Just like an airbag in a car, if you bump someone in front of you, it doesn't go off, but if you have a real impact, it does," ForceCap president Jeff Archbold told The Toronto Star (although a current status report on testing isn't available). If a hockey player gets knocked hard enough to deploy the bladder, player and coach both know the hit is worthy of attention from a trainer or doctor, Archbold said.
Another Toronto company, Impact Machine Design, developed a redesigned hockey helmet called the Vault - inspired at least in part by a 14th century Italian armet, which completely encloses the head. A patent was pending last year. "It's a concept for a better fit and a face guard that doesn't come into contact with the jaw," product designer and senior partner Morgan Matthews told The Star in 2011. "Every helmet with a face guard relies on the chin to diffuse energy. No matter where you get hit, it goes to the chin or jaw, and that's one of the most vulnerable places." Today, Matthews says the Vault isn't ready for release yet, but Impact Machine Design is conducting tests on foam technology with the assistance of the U.S. military.
It's been more than a decade since five biomechanical specialists from the Royal Institute of Technology in Stockholm, Sweden, created the patented Multi-Directional Impact Protection System, or MIPS. But its impact is just starting to be felt. MIPS utilizes a low-friction layer between the outer and inner shells of a helmet to absorb much of the energy generated by both unilateral and oblique blows to the head. In computer modeling simulations and experimental tests, the MIPS Brain Protection System has been found to reduce rotational acceleration of the brain by up to 50 percent compared to conventional helmets, the company says. MIPS currently provides helmets to the snow, cycling and equestrian markets and is in conversations with NFL and NHL officials to bring the technology to those leagues.
Unequal Technologies in Philadelphia is taking helmet protection a step further by advocating the use of military-grade Kevlar - a high-strength material found in everything from racing tires to frying pans to bulletproof vests - in sports helmets and body padding. Patented EXO CRT (Concussion Reduction Technology) supplemental helmet pads reduce the possibility of head injuries by complementing the existing padding for extra protection in helmets. So far, more than 20 NFL and NHL teams have added Kevlar gear to their equipment, and at least two dozen pros are using CRT pads in their helmets; Unequal Technologies' CEO Rob Vito plans to target youth sports leagues and players next. But as Wired.com's Sean Conboy reported in July, no leading sports organization has yet to independently test the effects of Kevlar in athletic equipment, and neurologists familiar with sports-related concussions warn there is no scientific evidence Kevlar can reduce the risk of head trauma. In fact, they fear the helmet pads could make the problem worse by masking symptoms.
Battle Sports Science has directed its focus off the helmet and onto an accessory item. The Omaha, Neb.-based company developed the Impact Indicator, a chinstrap featuring a patent-pending microsensor that triggers a small flashing-red light when the athlete has sustained a hit capable of causing a concussion. The company says the strap helps lower the risks of long-term damage by detecting danger early and preventing players from staying in the game too long - even if they're not experiencing concussion-like symptoms at the time.
According to researchers at Ohio's Cleveland Clinic, the entire concept of the helmet could be in need of reassessment. An online study published last November by the Journal of Neurosurgery: Spine compared head injury risks associated with two early 20th-century leatherhead helmets with those of 11 top-of-the-line 21st-century polycarbonate helmets. In their biomechanics lab, Cleveland Clinic researchers conducted impact tests by crashing helmets together at severities on par with 95 percent of on-field collisions in collegiate and high school football games (75 G-forces or less). Their conclusion: Old-fashioned "leatherheads" are often as effective as - and sometimes better than - modern football helmets at protecting against injuries during routine, game-like collisions. The point of the study was not to advocate a return to leather helmets, according to lead researcher Adam Bartsch, director of the clinic's Head, Neck and Spine Research Laboratory, but rather to test the notion that modern helmets must be more protective than older helmets simply because "newer must be better."
"I think we'd be wise to take a step back and ask a fundamental question," Bartsch told Wired.com's Conboy. "Let's imagine that today we don't have any football helmets and we have to design one from scratch. How can we take an egg and throw it against the wall and design a protective enclosure that not only protects the shell from cracking but also protects the yolk from being scrambled? That's an engineering problem that I don't think is solved by the current polycarbonate hard shell with interior padding."


Regardless of the changes eventually made to athletics headgear, if any organization is going to lead the way in drawing attention to the strengths and weaknesses of the modern-day helmet, it will be the National Football League. On the first Saturday in August, at a youth football clinic in northern Ohio, NFL commissioner Roger Goodell -- in the area for the Hall of Fame induction ceremony that night in nearby Canton - warned more than 100 young players not to use their helmets as weapons. "They're there to protect you," he told them.
Later, Goodell stressed to reporters that player safety remains one of his overriding concerns (the NFL began suspending players for dangerous and flagrant hits in 2010) and that the league's recent changes are trickling down to younger players. "That's one of the reasons we're so focused on making sure we do things right at the NFL level in every aspect, whether it's on the field or off the field," he said.
To that end, the league - along with the NFL Players Association, the NCAA, NOCSAE, USA Football, the National Athletic Equipment Reconditioners Association, three major helmet manufacturers and other organizations - is participating in the Youth Football Helmet Replacement Partnership's pilot program. Overseen by the CPSC, the effort will work to replace, free of charge, up to 13,000 youth football helmets that are at least 10 years old with new helmets to beneficiary leagues in underserved communities in Ohio, the San Francisco Bay area, the Gulf Coast and New York City, while also providing coaches with the latest concussion protection, assessment and management information, including details about the importance of helmet reconditioning.
NAERA announced last year it will no longer accept helmets for reconditioning or recertification that are more than 10 years old, as the stiffening of foam and the degrading of a helmet's polycarbonate shell over time could theoretically leave a player more susceptible to concussions.
Rather than have their league's football helmets refurbished, officials from the South River Youth Athletics Program in Edgewater, Md., which isn't one of the communities targeted by the partnership, recently spent $20,000 on new Riddell helmets that will provide players from ages 4 to 14 with air-filled pads that can be inflated with a pump - one at the back of the head and two on each side of the chin. The expense was a stretch for the nonprofit organization, but SRYA assistant football commissioner Charlie Garofolo is not complaining. "As soon as we started realizing the technology was out there, we knew we were going to get [the helmets]," Garofolo told the online Edgewater-Davidsonville Patch. "You don't worry about the cost. You find a way."