The Wall Street Journal had an unusual take on the concussion debate last week: "Retire the Football Helmet," as the headline read. The argument put forth by Reed Albergotti and Shirley S. Wang is a provocative one that has been voiced off and on for some time. Helmets create a sense of invincibility that encourages athletes to collide with greater force and use the hard surface of their helmet to inflict the maximum amount of ass-whupping - "Helloooo, Brian Dawkins!" - on opposing players.
For proof that bare heads don't necessarily mean broken skulls, simply travel Down Under. Australian Rules Footballplayers eschew head protection, kick some serious butt on the field (as with rugby, tampons are de rigueur in the first-aid kit for dealing with frequent broken noses), and are 25 percent less likely to sustain a head injury than NFL players.
Would the game suffer? It would be different, anyway - the league's ultimate Throwback Jersey statement. Do fans want to see the game return to the more genteel era of Notre Dame's Four Horsemen?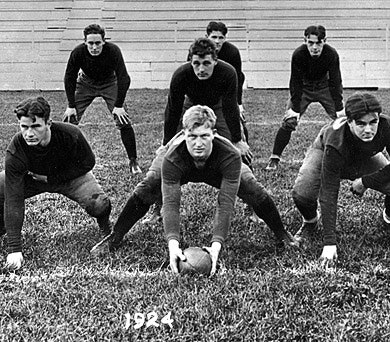 Silly question. Several generations of fans have grown up expecting the Greatest Show on Turf, and they pay a lot of money on season tickets. What's probably a better idea was advanced by Julian Bailes, a neurosurgeon who has conducted brain research for the NFL Players Association. Bailes suggested one rule change and made one general recommendation for coaches: Don't allow linemen to go into a three-point stance before plays (thus preventing the initial head-to-head hit in the trenches), and forbid head contact during practices (concussions are cumulative). And then, of course, officials could remove players from games or even serve players with multiple-game suspensions for helmet-to-helmet hits - rules are supposedly already in place to deal with headhunters, but the fines are a joke now that players make millions.
Whatever the NFL does or doesn't do, the National Hockey League will be paying close attention. With blindside hits and concussions in ascension in the second-tier first-tier professional league, there's some talk of going to lower-tech helmets in the NHL, too - even though simply putting an end to the mindless, away-from-the-play hand-to-hand combat of that sport would probably solve the problem.
Sure, players will still get concussions from hitting the ground while being legally tackled or sliding into the boards on a clean check, but they'll suffer far fewer head injuries with one simple change. The lowest-tech piece of equipment in all of sports is the whistle - if sports-team owners and referees would just use one, athletes could keep their helmets. Just a thought.