By all accounts, Declan Sullivan loved his job as a student videographer for the University of Notre Dame football program. But he also recognized the risks. Before going to work Oct. 27, a day that saw extreme high winds whip through South Bend, the 20-year-old tweeted, "I guess I've lived long enough." Once aloft in a 50-foot scissor lift, with wind gusts exceeding 50 miles per hour, genuine panic ensued. "This is terrifying," Sullivan typed.
Less than an hour later, the lift blew over into a street bordering the practice field, killing Sullivan and shaking the collegiate sports video community to its very foundation. The next day, University of Nebraska video director Mike Nobler gathered together his student staffers, who upon reading the news felt nervous about returning to work. "There's no way I'm going up in a lift again," Nobler says, relaying a common initial student reaction. However, Nobler successfully reaffirmed Nebraska's unwritten policy that puts control of scissor lifts at the student operator's discretion. "If they're up there and they're terrified, they just come down halfway," Nobler says. "They all feel really comfortable with it."
"Our video guys were obviously pretty shaken up about the accident, but at the same time, they were back up there at practice" the next day, says Jarrett Yehlen, facilities manager at the University of Minnesota, which replaced scissor lifts with four 40-foot anchored observation towers on its practice fields in 1997 (with one relocated and reinstalled in 2002). "They breathe a little easier going up into a permanent fixture, rather than an aerial lift."
That same day, Yehlen called in his campus's Occupational Safety and Health Administration experts to examine the towers. "I just wanted to make sure we're compliant and in front of any NCAA legislation that's going to come out, because honestly I'd hate to have to change something."
Some see the potential for sweeping change in the wake of the Notre Dame tragedy. "I honestly believe that there will be positive change from this," says David Hougland, director of sports broadcasting at Texas Tech University. "I don't necessarily know if it will come from the NCAA, but it may come from university presidents agreeing as a whole that scissor lifts are not to be permitted at practice. You build a tower, something that's secured to the ground, and you shoot from the tower."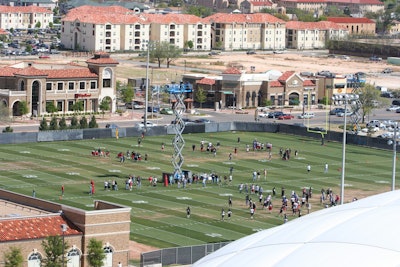 For now, Texas Tech is the rare institution that has a written policy regarding scissor lift use. Since Sullivan's fatal accident, Big 12 rival Oklahoma has asked permission to adopt the policy and to circulate it among other schools, according to Hougland, who instituted the policy in 2001. "The purpose of the policy is to assure the students, the parents of the students and the administration that safety comes first," he says. "Students are in complete control of that lift. If they ever fear that their safety or their lives are in jeopardy, they have the utmost right to bring that lift down - no questions asked."
Tech, located in perpetually windy west Texas, has since 2006 required its videographers in lifts to wear safety harnesses, and since August the student assigned to the tallest lift (50 feet) has carried a handheld wind meter to keep his five coworkers updated on gust speeds via two-way radio. Winds exceeding 20 miles per hour will prompt the entire crew to at least lower their lifts to 20 feet, if not return them to ground level. Most scissor lifts, which are designed primarily for construction use, come with posted warnings against deploying the equipment in wind speeds in excess of 25 mph. "Where we come into it is to find middle ground, knowing that 15 feet off the ground, winds gusting at 20 miles an hour are going to move the lift a little bit, but it's not going to fall over," says Hougland, adding that if winds exceed 40 mph, the lifts don't go up at all. "Practice can go on," he says. "We're just not going to shoot it."
A tornado watch prompted the Nebraska football coaching staff to move indoors a September practice already in progress. The collapse of a temporary goalpost helped punctuate the decision. Says assistant video director Matt Schilling, "I got on the radio immediately, 'Guys, we're going in. Don't worry about packing up right away. I'll help you pack up. Just come straight down.' We then moved them inside and resumed practice." It was one of several instances in Lincoln this season that a relocation took place mid-practice due to weather, according to Nobler.
Holding practice indoors to avoid windy conditions, as Notre Dame had done the day before Sullivan's death, may not be seen by coaches as an ideal alternative, however. The height of Texas Tech's indoor practice facility, for instance, doesn't allow for adequate camera angles. "We don't even try to shoot inside, because it's not useful," Hougland says. "I'm not going to fault the football coaches for wanting to practice outside in high winds. You may play in it, so go ahead and practice in it. You still have to use good judgment in protecting the people who are working for you. The players, managers and training staff aren't going to get hurt, because they're not up in the air. Somebody on a 40-foot scissor lift? Now you're playing with fire."
In the high-stakes game of college football, video coordinators can be subjected to top-down pressure to get footage, regardless of weather conditions. In 16 years of shooting sports video, Hougland has had to stand his ground with coaches over safety, most recently with former Tech coach Mike Leach. "With his staff it was, 'I don't care,' " Hougland says. "Finally, it took me saying, 'Then you will be the one who will call the students' parents when they are injured or die from that lift falling over.' And that's when it finally clicked, 'Okay, what do you want to do?' They understood. But coaches want the film. In their mind, they need that film to show the players the rights and wrongs that they do during the day."
Notre Dame officials must now rewind what happened on the practice field Oct. 27 and correct mistakes that cost a student his life. University police and OSHA investigations were under way in South Bend as of this writing, with plenty of questions to be answered. Was the lift parked on concrete or natural grass? Why did Sullivan feel compelled to communicate his fears online, but not to superiors on the ground? Did he even have the means to do so? Whose decision was it to send him up in the first place? "There's a lot to learn here, and we will learn it all in an expeditious manner," stated Notre Dame athletic director Jack Swarbrick in a university press release dated Oct. 28. Swarbrick has since indicated that he will not ask for Irish coach Brian Kelly's resignation. The university's potential liability damages have been estimated in the tens of millions of dollars.
In hindsight, the tragedy seems so avoidable. A day earlier, a University of Tennessee at Chattanooga videographer expressed unease with using a 20-foot lift in 30-mph gusts to his crew chief, who relayed these concerns to the head football coach. The lift never went up.
Nor did the Notre Dame lift collapse come without foreshadowing. Fifteen years ago, two James Madison University students suffered serious back injuries when the aerial platform they were using to shoot practice was toppled by a wind gust. Then, in 2000, Colorado State student videographer Shane Ballew suffered multiple broken ribs, two punctured lungs and liver damage when his 30-foot hydraulic lift fell over in high winds. "When it happened to me there were a lot of e-mails, a lot of stories that went out to different video directors to let them know that, 'Hey, this is a danger that everyone faces,' " Ballew told NBC affiliate KUSA-TV in Denver. "Sometimes time can make you forget things, and I think as time passed, people forgot that this can be a dangerous job."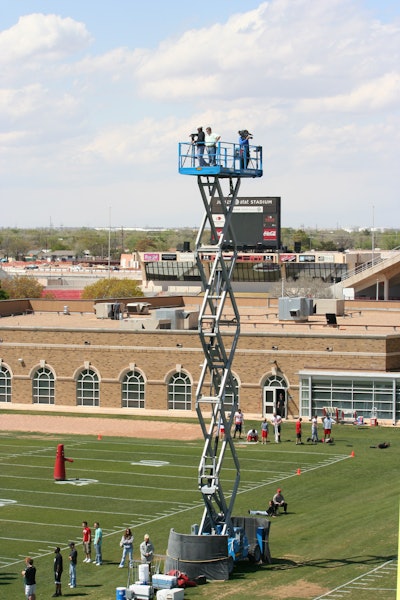 Lift safety has been a topic of discussion at past meetings of the Collegiate Sports Video Association. According to current CSVA president Erik Kunttu, director of football video operations at Syracuse University, which employs four scissor lifts on its football practice fields, "It will be revisited" when the membership gathers again next May in Dallas.
"I'm saddened," says Hougland, a CSVA member. "What happened in South Bend should never have happened. You can say it was just one gust of wind. It doesn't matter. The kid was tweeting he was terrified. He was tweeting before he ever got up there about the high winds. Somebody there should have said something. Somebody should have watched out for him."