No one anticipated — no one could have anticipated — what happened on that day," recalls Boston Police Commissioner William Evans. An avid runner with more than 40 marathons under his belt, including last year's Boston Marathon, Evans has been preparing harder for this year's Boston Marathon than any other race he's run. But unlike previous years, his morning runs with a member of the Boston Athletic Association aren't meant as training for his participation in the race; they are meant as preparation for his more daunting task of protecting the race.
"I don't think there's been a morning since November that we haven't talked about different issues and what's going to happen," admits Evans. "Planning has been intensive."
All eyes will be on Boston April 21st, Patriots Day, when the most important marathon in U.S. history will be held. After last year's bombings, Boston law enforcement and event planners have had to reexamine all aspects of safety and security in anticipation of this year's race, which will boast 36,000 runners (up from 25,000 last year) and potentially more than two million spectators (more than double the traditional average). The stakes have never been higher, but Evans, and the City of Boston, vow to be ready.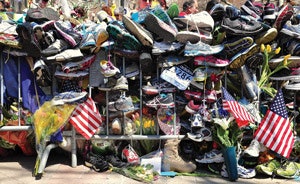 BOSTON STRONGER
Despite rigorous planning and training, it is virtually impossible to prepare for every possible scenario, as last year's events proved. "At the finish line, we always anticipated that if someone wanted to do something, they would do it more with the elite runners finishing," says Evans. "No one anticipated someone doing something almost four hours into the race."
The lesson learned: "You can never let your guard down, no matter when it is in the race. We'll have to be on our toes for the entire six and a half hours."
That includes both uniformed and plain-clothes police officers who will be dispersed throughout the 26.2-mile course, strategically situated both in front of the crowds, as well as behind them. The increased presence behind the crowds is one of multiple key security changes this year.
"When you have officers on the route, it's very important that they work behind the crowd as opposed to just being behind the barriers," says Evans. "Everyone wants to be in front watching the runners. It's very important that we have sufficient personnel behind the crowd."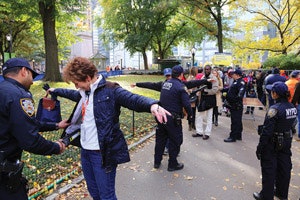 Not surprisingly, another new security measure this year will be a backpack policy. Spectators with backpacks could be subject to a random search along the course. Athletes taking buses to the course will not be allowed to bring a backpack; only a fanny pack or a belt for energy supplements is allowed.
Technology will also play a prominent role in this year's marathon as the Boston Police Department will be utilizing more security cameras, along with social media — a key communications vehicle last year.
"Social media was very helpful last year. It allowed us to communicate with the public in real time, as well as manage some of that aggressive worldwide media coverage," Evans says. During the bombing aftermath, Evans adds, the BPD's Twitter followers jumped from 53,000 to 304,000. This year, he plans to utilize BPD's various social platforms to not only put out warnings but to make other safety announcements, including notifying families when they can come to watch the race and what items will and won't be allowed.
"The difficulty that comes with open-access events is the vulnerability for something to happen is greater because it's harder to manage the preparedness there," says Lou Marciani, director of the National Center for Spectator Sports Safety and Security (NCS4) at the University of Southern Mississippi.
The Boston Marathon bombings not only deeply impacted Boston, but the nation as a whole. Event managers and security leaders at numerous other open-access endurance events watched in shock as safety and security — as previously known it — was forever altered.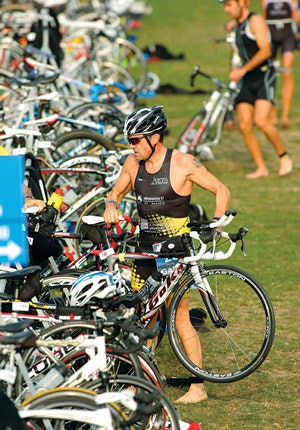 A WAVE OF PRECAUTIONS
John Bertsch, police commissioner on the Big Island in Hawaii, manages public safety and emergency management for the Ironman Triathlon World Championships in Kona. He recalls how the incident at the Boston Marathon hit home despite home being more than 5,000 miles from Boston. "When Boston happened, it became very real for all of us who handle public safety or event management," he says. "That door got opened, and it was no longer 'that won't happen in my area.' "
Bertsch's responsibility — protecting a race that is 140.6 miles long (2.4 mile swim, 112 mile bike ride and 26.2 mile run) — is nothing short of Herculean. His nearest backup resource is Honolulu, 200 miles away — by water. Moreover, Kona's 4,000 square miles are serviced by a mere 15 ambulances, only eight of which will be made available to Bertsch on race day (regular service calls don't stop just because there is a race). Ironman therefore must rent and equip eight additional medical vans staffed with volunteer doctors, paramedics, nurses and firefighters to handle just the event's EMS needs. With so many variables, not to mention his event involves both land and sea, Bertsch partially attributes the success of the Ironman to strong multiple agency relationships and effective use of technology.
We have a race operations center that is open to a representative from every agency. They have a chair at the table that has full video, recording and screen access so everyone in the room is seeing what everyone else is seeing," says Bertsch. "That becomes key because then there's no misinformation and miscommunication." Bertsch also utilizes portable high-definition cameras that tie into local police department video feeds and traffic feeds. There is also the live feed he can tap into from NBC's helicopter coverage.
Marciani, a 30-year sports administration veteran, agrees on the importance of technology. "We're only as good as the technology coming forward, and we haven't seen the impact of those better technologies coming forward yet," he says.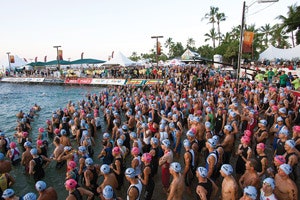 Since launching NCS4 in 2006, Marciani has seen dramatic safety and security changes due to several initiatives by the government. And despite significant improvements made in a post 9/11 world to improve safety and security, especially in emergency response, Marciani sees room for proactive improvement. "There's a little complacency on the preparedness side. We need to continue to train our people at the highest level and implement extensive table-top exercises to practice the what-if scenarios," he says.
Wade Morehead, executive director for the Houston Marathon, has practiced a variety of table-top exercises in collaboration with the state's Office of Emergency Management, the Houston Police Department, the U.S. Department of Homeland Security and the Mayor's Office of Special Events, to name a few. These table-tops were meant to identify threats and discuss how to handle a variety of situations. "What Boston did was make all of those table-top exercises real," says Morehead.
As a result of Boston, Morehead implemented a perimeter around downtown, the celebration and the finish line. A bag check and stroller check is conducted at the four points to enter the downtown finish line area and post-race party. "At our start line, we implemented an entry point process where bibs are confirmed and checked, and confirmed people were coming in without bags into the corral areas," Morehead says. "The footprint of our zone around the starting line increased about a city block, and more agencies were prominent for a longer period of the day." And like the Ironman, Morehead also implemented a unified command center with representatives from key agencies present.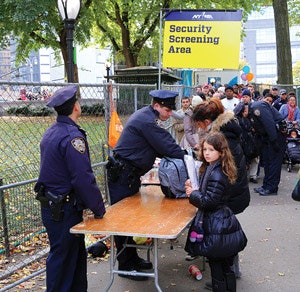 Regardless of steps taken to protect open-air events, due to their sheer size, they will be considered soft targets with numerous vulnerabilities that could be penetrated and exploited, making protecting these types of events especially challenging.
"Open-air endurance events offer a potential mass casualty situation, and open-air event managers are doing everything they can now to engage their public safety counterparts, making sure they are as informed and aware of their events as possible," says Morehead. "Whether it's a parade or festival or running race, the preparedness to react is as key as anything."
"My advice to event planners is to work very heavily on event preparedness," says Marciani, adding that awareness must proliferate beyond security personnel — before and after an event. "If you think about Boston, the spectators and local businesses played a key role in the investigation process with photos and videos. Crowdsourcing will become even more important down the road."
---
This article originally appeared in the April 2014 issue of Athletic Business under the headline, "On the Safe Side."