Editor's note: This story originally appeared in Sports Venue Safety, a new supplement to Athletic Business. View the entire Sports Venue Safety digital issue here.
During my time as an athletic director for Racine (Wis.) Unified School District and serving as president of Safe Sport Zone, I've trained thousands of school administrators in afterschool event security, which means I've seen more negative fan behavior at high school athletic events than most people. Anger issues are at the root of this behavior, and studies show that 90 percent of the problems in the stands are caused by adults — specifically, parents of the participating student-athletes. That means that a small yet vocal segment of parents are adversely impacting the interscholastic experience for not only players, coaches and fans, but game officials, as well.
Bob Parker, a 36-year officiating veteran, recently told High School Today, "More than three-fourths of the NASO [National Association of Sports Officials] survey respondents listed poor sportsmanship by parents as the single biggest reason officials quit." The reality is that we are only a few years away from not having enough officials for youth and high school games. Officials aren't the only ones quitting. Coaches are also quitting in greater numbers, citing the irrational demands placed on them by players' parents.
How did this all happen?
To find the answer, we need to take a look inside the minds of those parents who are often engaged in the dysfunctional practice of believing their sons and daughters have what it takes to earn a full college athletics scholarship. As the child progresses from youth sports to middle school sports and eventually high school varsity athletics, the parent's presence becomes larger and manifests itself in many ways, including taunting and bullying in the stands.
---
Nearly every high school sports fan, player and coach has disagreed with an official's call at one time or another, and that's not the problem. When the fanatic (and I use that term in the worst sense possible) begins to display actual anger over a call, then the trouble begins.
There should be no tolerance for this type of behavior, yet while many schools correctly punish players and coaches who engage in unsportsmanlike conduct on the field, some are loath to address unacceptable behavior from adults in the stands.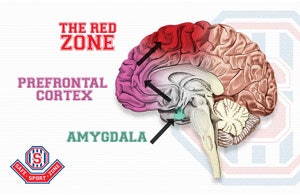 ANGER MANAGEMENT
What do we know about anger? Well, something always causes it. In other words, nobody just snaps. A process takes place within the brain — specifically, the amygdala — that stirs anger. The amygdala is located at the brain's base deep in the temporal lobes and is part of the central nervous system where all emotions develop. From there, emotions move to the cortex and the frontal lobe where reasoning, judgment and planning actually take place.
The frontal lobe isn't fully formed, on average, until age 29. That explains why some teenagers and young adults have anger issues. Many parents might possess more fully developed frontal lobes than others, and research even suggests that some people's frontal lobes never fully develop.
If the frontal lobe does not process and diffuse anger coming from the amygdala, that individual's behavior, sooner or later, will enter the "red zone," a state of mind in which reasoning and judgment don't exist. If even one or two fans enter that red zone during a game, things can quickly spiral out of control.
THE FOUR MAGIC WORDS
One of the security tasks of administrators overseeing high school athletic events must be to identify anger and intervene before it enters the red zone. I believe in working an event, not simply watching it. Working means scanning an assigned area every 30 seconds — looking for, thinking about and anticipating unusual behavior and/or offensive or obnoxious language. Once a potential problem spectator has been identified, the event supervisor should be informed and that fan should be monitored.
Do not attempt to correct the negative behavior during a game. For now, just diffuse it. In such an emotional environment in which anxieties can run high, educating fans and modifying behavior on the spot simply doesn't work. Once the anger has subsided, school administrators should schedule a conversation with that particular parent about the role sportsmanship plays at school activities, as well as expected fan behavior at events.
If it becomes necessary to intervene with an irate fan during an event, I recommend using the technique of diffusing anger while initiating a dialogue. Say these four magic words, and watch his or her behavior change: "Can I help you?"
The question will throw off the angry fan and make him or her realize that a line has been crossed. This technique encourages respect while forcing the fan to respond. If you approach the person and lower your voice instead of yelling from several rows away, you're likely to achieve a diffusion success rate of 60 percent or higher. If, on the other hand, you attempt to correct the behavior, the strategy could backfire and escalate into a potential red-zone situation.
Most important, remember that all dialogue with problem fans during an event should be delivered in the form of a question.
TRAINED AND PROFESSIONAL
The best athletics security supervisors I've seen over the years are females who work as school counselors during the day. They're trained to lower their voices when dealing with upset individuals, and they realize instinctively that supervising with an equal dose of anger has no place in tense situations.
I know it's difficult to practice nonjudgmental behavior, but the more you can separate the person from the behavior — and handle that behavior in a timely, low-profile manner — the more likely you are to reduce the number of negative incidents and upset fans at your games. Ultimately, your trained response will train your fans about what is and is not acceptable.
---
Jay Hammes, CMAA, is president and founder of Safe Sport Zone, and is the recently retired head athletic director for the Racine (Wis.) Unified School District.