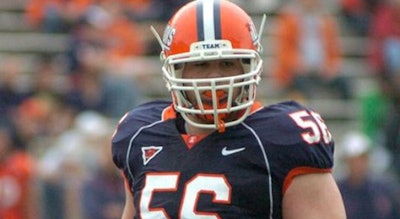 A college football player at Winona State University collapsed and died Monday night while participating in a voluntary workout at the school's practice field.
Shawn Afryl, 22, had transferred to the Division II school in southeastern Minnesota after beginning his career at the University of Illinois. According to the Minneapolis Star Tribune, Winona State officials had not been told a cause of death, however, Afryl's ex-high school coach, Curtis Tate, told the Chicago Tribune Afryl died from cardiac arrest. Tate spent Tuesday with Afryl's family.
Winona State associate head coach Cameron Keller said no coaches were present at the workout due to NCAA rules. However, the program's strength and conditioning coaches were present and administered CPR until paramedics arrived. According to Keller, the strength and conditioning coaches are trained in CPR.
While temperatures reached 90 degrees on Monday in Winona, heat is not thought to have played a factor in Afryl's death. The 6-foot-3, 310-pound offensive lineman collapsed shortly after the start of the evening workout.
Afryl, from Skokie, Ill. had recently transferred to Winona State and was enrolled as a Social Studies - Teaching major. Afryl's mother has set up a website for donations for his burial payments which has already raised nearly $30,000. On the site she writes: "His goal was to become a teacher of history and coach in a high school setting. My heart is aching..the pain is devastating. He had the biggest heart in the world, and was a leader with kindness of soul. He was, and is, my hero. "