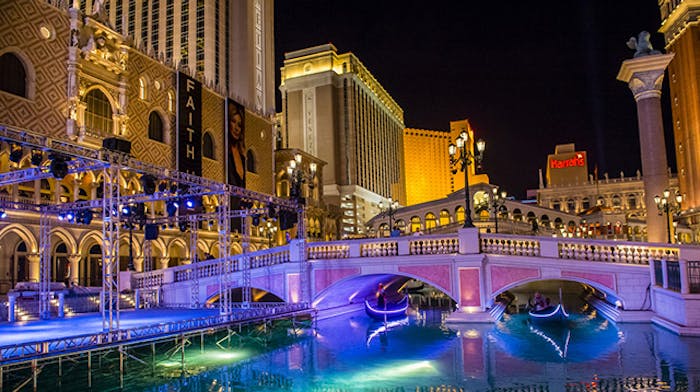 Being a first-time ISC West attendee, I had been warned to prepare for a "monster." Boasting more than 1,000 exhibitors and close to 30,000 attendees, ISC West is the largest security tradeshow in the United States, and last week, I went toe-to-toe with the "monster" in Las Vegas. Yes, in a town built on gambling and taking risks, I was going to a show built on mitigating or eliminating risk. 
It was a surprisingly cool Wednesday morning when I arrived at the Sands Expo at the Venetian Hotel. The goal was to maximize my time learning as much as I could about the innovative technologies impacting or having the potential to impact sports security across all levels. This was also going to serve as Gameday Security's coming out party, so to speak, as this was my first opportunity to meet face-to-face with security providers and integrators since it launched four months ago. Two days and approximately 25 meetings later, to put it simply, mission accomplished.
First, the award winners. MorphoWAVE from Safran Morpho earned top honors for Best New Product at the Security Industry Association's 2015 New Product Showcase, which included 110 entries from 88 companies this year. MorphoWAVE is the industry's first biometric access solution featuring high-speed touchless fingerprint matching. To be identified, users simply wave a hand over the sensor, and because the sensor is touchless, the surface remains clean throughout repeated scans. It reportedly reads wet and dry fingerprints without difficulty, which translates into fast and accurate capture and matching rates. Meanwhile, IC Realtime's IC720 360x360 video surveillance camera was the Judges' Choice Award selection.
The real winners, however, were the attendees. Here's a quick look at some of the exciting new products I viewed at ISC West:
SpotterRF manufactures surveillance radar devices that detect unmanned aircraft systems up to several hundred meters away from the moment the UAS is launched, allowing facility operators and security leaders to go after the operator directly rather than focus on the device itself. This is a new approach to thwarting the rapidly growing issue surrounding how venues and events protect against a UAS. 
I was also fortunate to demo a few exiting access control products, as well. EyeLock's iris identity authentication technology takes a video image of your iris, maps its characteristics to a highly encrypted code, and then matches the eye to the code to grant access. Using video instead of static capture allows the technology to identify iris characteristics quickly and accurately, even when the user is in motion, at a distance, or wearing glasses, contact lenses or even sunglasses.
Last year's New Product Showcase winner, FST Biometrics, is bringing mobility to the secured access experience, debuting its new mobile and portable access control products at ISC. IMID Mobile is a smartphone application that delivers the company's IMID technology to personal devices, while IMID Rapid provides an end-to-end portable solution to quickly secure access to contained areas. 
The talk on the show floor was 4K high definition security cameras, something Avigilon playfully called "so 2012" in its press conference as it introduced the industry's first single-sensor 7K (30 megapixel) security camera. The 7K HD Pro camera simultaneously provides maximum scene coverage while minimizing bandwidth and storage consumption.
This is just a small sample of the exciting technology that was on display at this year's incredibly busy ISC West. Look for more in-depth coverage in the Summer issue of Gameday Security, where we'll be taking a special look at some of the best video surveillance and access control products available on the market today.