The emotional zeal that grips fans is a hallmark of sports culture, driving both high-energy celebrations and violent altercations — and everything in between. Fan behavior has always been a top issue for sports security professionals, but as the sports environment has evolved, it's been joined by a host of other threats. The events of 9/11 proved a wakeup call across the country, prompting individual sports venues to take a closer look at their security policies and driving league- and organization-wide reforms.
In 2006, sparked by a grant from the Mississippi Office of Homeland Security, The University of Southern Mississippi established the National Center for Spectator Sports Safety and Security to conduct research and establish best practices, encouraging athletic organizations to more proactively ensure safety and security at their facilities.
Looking back over the past 40 years, we can see how various high-profile incidents have highlighted the range of security threats posed to sports venues, and how the sports security industry has evolved in response.

1989: Hillsborough Disaster
A semifinal soccer match between Liverpool and Nottingham Forest turned into the worst disaster in British sports history, with 96 lives lost and hundreds more people injured. More than 10,000 fans with tickets to four standing terrace areas flowed through just seven turnstile entrances, creating congestion as fans entered the stadium. Two of the four standing sections quickly reached capacity, but still more fans pushed in, causing spectators in the front to be pressed against steel fencing separating the areas from the field. Some fans were crushed when barriers began to give way, while others attempted to climb fences to escape the cramming.
Investigations into the cause of the incident weren't completed until 2016, when a jury concluded that fans were not to blame for the incident but rather poor crowd management, breakdowns in communication, defects in the stadium construction and a delayed emergency response.
---
RELATED: Raiders Fan Kathy Samoun Discusses Spectator Safety
---
1993: Camp Randall Crush
Following a 13-10 football victory over Michigan, University of Wisconsin students began to storm the field at Camp Randall Stadium, causing a fence to collapse and students to be trampled. In all, 73 students were injured — six of them critically. The following season, security changes were made as part of a $113 million stadium upgrade that included stronger fences, as well as staircases and space at the bottom of student sections to allow students to filter out. In addition, the athletics department added a command center to its press box and new video surveillance equipment to monitor fan behavior in the stands.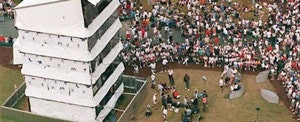 1996: Atlanta Summer Olympics
In 1996, Eric Rudolph, later referred to as the Olympic Park Bomber, placed a backpack with a bomb in Centennial Olympic Park, killing one person and injuring more than 100 others. The park had been the only Olympic space open to the public. Immediately after the incident, security and surveillance was doubled and bags had to be checked before entering the park. Four years later, the Games in Sydney considered banning the public from all parts of the Olympic grounds.
---
RELATED: How to Keep Sports Venue Parking Lots Safe and Secure
---
2001: 9/11
Five months after two planes were crashed into the World Trade Center, the 2002 Salt Lake City Winter Olympics saw a dramatic increase in military and law enforcement personnel — from 6,500 to 10,100 — for the international event. Security upgrades also included a new bag-screening system at the Salt Lake City Airport and non-stop combat air patrol over the state.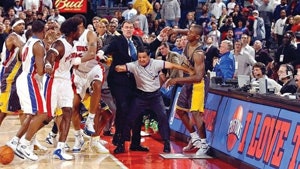 2004: Malice at the Palace
A fight between players during the final minutes of a mid-November Pacers-Pistons game at The Palace of Auburn Hills, Mich., quickly got out of hand, leading to the most infamous brawl in NBA history. After the fight between players was broken up, a fan threw a drink from the stands and hit Pacers player Ron Artest, prompting him to enter the crowd and sparking a new fight between players and fans. Nine players were suspended and five fans faced criminal charges.
Three months after the incident, the NBA instituted new league-wide security policies, including a limit on the size of and number of alcoholic beverages a fan could purchase at a time and prohibiting alcohol sales after the third quarter. In addition, teams were required to put at least three security guards between fans and players. The incident also served as an impetus for the implementation of a league-wide Fan Code of Conduct Policy in 2005. The NFL followed with its own league-wide policy in 2008.
---
RELATED: Enemy at the Gates
---
2005: University of Oklahoma Bombing
During a 2005 Oklahoma Sooners football game, student Joe Hinrichs set off a bomb in an open plaza less than 200 yards from the 82,112-capacity Gaylord Family Oklahoma Memorial Stadium. Only the bomber was killed, but the incident sparked the university's first emergency drill in 2007. More than 500 students participated in the drill, which simulated a gas-line rupture and included help from the Department of Homeland Security and the Federal Emergency Management Agency, along with local law enforcement. It was the first drill of its kind at the collegiate level.
---
RELATED: Parking Lot Beating Gives Dodgers Another Black Eye
---
2011: Dodgers Stadium Parking Lot Attack
A visiting San Francisco Giants fan was badly beaten by two Dodgers fans in the parking lot following a game on Opening Day of the 2011 season. The victim suffered brain damage and permanent injuries, prompting his family to sue both the attackers and the Dodgers organization. A jury found the Dodgers organization negligent and ordered it to pay $13.9 million, plus ongoing medical care for the victim, Bryan Stow. In response, the Dodgers stepped up the security presence in their parking lots, and professional sports venues across the country began looking at their own procedures.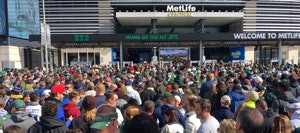 2013: MLB's Metal Detector Mandate As a proactive measure, Major League Baseball mandated that all ballparks implement walkthrough metal detector screening prior to the start of the 2015 season. Similar mandates followed in the NHL (2015) and NFL (2016).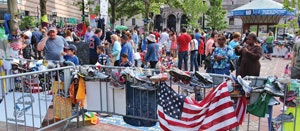 2013: Boston Marathon Bombing
After two bombs exploded near the Boston Marathon finish line in 2013, killing three people and injuring more than 200 other participants and spectators, Boston Marathon officials announced a number of changes to the race's security for 2014. Beyond an increase in law enforcement personnel that year, backpacks, glass containers and bulky clothes were discouraged at the marathon, and spectators were encouraged to carry all personal items in clear plastic bags. Prompted by the marathon bombing, the NFL also enacted new bag policies for the 2013-14 season that limited the size and type of bags that would be permitted into stadiums.
---
RELATED: Rethinking Sports Security in Wake of Boston Bombings
---

2015: Stade de France Bombing
More than 100 people died during a night of coordinated terrorist attacks in Paris, but the number might have been in the thousands if not for improved security protocols that kept a 20-year-old suicide bomber from gaining entry into a soccer game at Stade de France that day. Salim Toorabally was the private security guard working the event who noticed the suspect's suspicious behavior and denied him entry. The bomber instead detonated his device outside the stadium, wounding bystanders but causing no deaths other than his own.
---
RELATED: Stadium Security Professionals Urged to Remain Diligent
---
2017: Pipeline Protesters at U.S. Bank
To protest the Dakota Access Pipeline, three men sneaked rope, carabiners and a 40-foot banner into a Vikings game during the team's inaugural season at U.S. Bank Stadium and hung the banner from a truss. All three had tickets and passed through visual screening and metal detectors before entering.
The incident was blamed on a design flaw in the stadium and considered a "non-traditional" risk, prompting the stadium authority to increase security in the area of the incident and also require fans to take off their coats before entering the stadium.
---
This article originally appeared in the April 2017 issue of Athletic Business with the title "The evolution of sports venue security." Athletic Business is a free magazine for professionals in the athletic, fitness and recreation industry. Click here to subscribe.