After covering the wireless communications industry for 10 years, I've seen a lot of empty promises made on half-baked technology. The so-called mobile wallet, as pushed by Google, Apple and others, has been touted as the next big thing since 2009, but the majority of retail transactions are still made using plastic cards pulled from good old-fashioned leather wallets. Surprisingly, dependence on a smartphone is probably the one thing keeping the digital wallet from really gaining traction with consumers, which is precisely why biometrics hold such promise as a solution for ticketing and access control at sports venues: a device isn't necessary.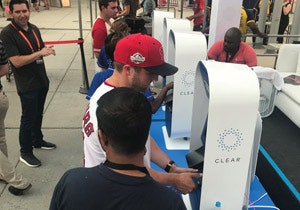 CLEAR, a company that offers a secure identity platform that leverages biometrics to validate a person's identity, just announced a partnership with Major League Baseball. CLEAR had initially established itself with a paid service at airports, using iris recognition to get travelers through those brutal security lines a little faster. Now, the company is taking its offering — and in turn its users — to the front of the queue at places like Yankee Stadium and AT&T Park, home of the San Francisco Giants.
"The major principles behind everything we do are speed, security and safety and how do we marry those things together when we're trying to roll these new experiences out," says Ed O'Brien, head of CLEAR's sports division.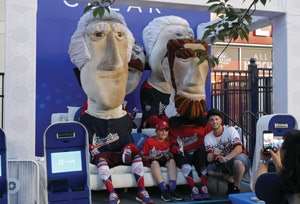 MLB will use fingerprints instead of iris scanning in its CLEAR lanes, a system O'Brien says will not only expedite the process of entering the stadium but also provide insight into the crowd at hand. He says that CLEAR allows MLB teams access to previously scarce anonymized data, such as fan demographics. "Stadiums really don't know who's coming into their venue from any perspective," O'Brien says. "I mean, they have some idea from those using mobile but that's minimal. When people are coming in through CLEAR, you know exactly who's coming in. We don't share information at the individual level with the teams, but they do get aggregate-level data, such as the total number of people coming into the venue, as well as something like the demographic breakdown — how many men and women, and that kind of thing."
An expedited line also has its advantages for operators concerned with security. "We're moving people through our line faster, and obviously from a security perspective, the more people you have backed up outside your venue, that's potentially a soft target," O'Brien notes. "It reduces that congestion outside, which can cause a number of security and operational concerns."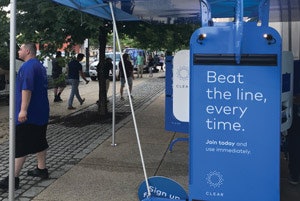 The intriguing thing about a solution such as CLEAR is that it marks the beginning of a secure identity profile that can be used anywhere the service is offered — at the airport, at the ballpark and throughout the game-day experience. In terms of features, the company is just getting started, with an age validation and payment pilot planned for the state of Washington. O'Brien explains, "You'd be able to go up, order your beers at a game and instead of first showing your ID, then showing some form of payment, you would simply put your fingerprints down, and within a second it validates that you're over 21 and that you have a credit card on file. It charges the card and all the concessions worker has to do is serve you and then you move on."
While biometrics are indeed a frictionless tool for access control, they also represent the opening of a Pandora's Box of sorts in that fingerprints, iris scans and facial recognition are incredibly sensitive data to hand over to a third party. CLEAR is doing the work to ensure it can protect the data it keeps by getting the proper certifications from the relevant agencies in terms of privacy and security, and the company doesn't share or sell any of the customer data it has on file. O'Brien hopes that due diligence with respect to data protection will allow CLEAR to get in on the ground level and establish trust with its customers from day one. "People aren't going to want to give their biometrics to 10 companies or 12 companies or 15 companies," O'Brien says. "So having a trusted brand that can then partner with other entities and help them out with this space is of the utmost importance."
If consumers buy into biometrics it could fundamentally change how we gain access to facilities and pay for goods in a way that the smartphone-tethered mobile wallet never will. A fingerprint or iris scan linked to a cloud-based identity profile, which is then linked to everything from your club membership to your rewards cards and bank account, would essentially eliminate the need for any type of wallet. It's not too much of a leap to imagine fitness clubs and rec centers some day partnering with a third-party provider like CLEAR in an effort to provide patrons with fast and secure access control to their facilities.
---
This article originally appeared in the September 2018 issue of Athletic Business with the title "Biometrics for access control and ticketing." Athletic Business is a free magazine for professionals in the athletic, fitness and recreation industry. Click here to subscribe.