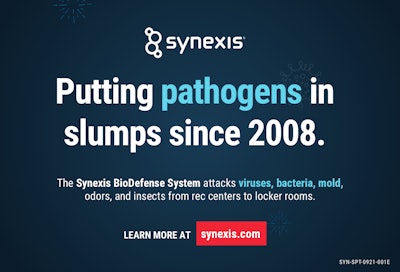 This content was provided by Synexis. What is sponsored content?
Athletes have always faced the issue of viruses, bacteria and even odor. But now more than ever, the search is on for an innovative solution.
Nick Kenney, head athletic trainer for the Kansas City Royals, knows this concern well. Living and training in the Midwest, eliminating seasonal allergens has long been a focus of his.
But with the world experiencing new health challenges, coaches and athletic directors are looking at cleanliness with a new perspective.
Whether it's a high school gymnasium or big-league ballpark, all sports facilities can be hotspots for bacteria. "You can try to clean well," Kenney says. "But there are certain areas where it's almost impossible to keep up."
A look at the latest options
Manual cleaning of facilities is labor intensive and time consuming, and often doesn't address airborne contamination.
"It's really tough in weight room situations," Kenney says. "Really tough, because there's multiple places people touch. If you want to try to have somebody stay on top of that, and have a full-functioning weight room, basically you won't have someone coaching, they'll just be cleaning."
Some facilities use UV Light to try to eliminate bacteria. But at direct exposure, UV light is toxic to people. It can be used to clean empty rooms but needs to be carefully monitored by someone. And even then, the reach of light to surfaces is limited.
Other facilities use Hydrogen Peroxide Vapor, which is also toxic upon direct exposure, and, in high concentrations, can degrade certain plastics.
Then there's Dry Hydrogen Peroxide (DHPTM), which is different.
Meet the innovation of Synexis®, the pioneer in microbial reduction.
Synexis is the sole developer of Dry Hydrogen Peroxide technology that creates the gas form of Hydrogen Peroxide from the combination of ambient oxygen and humidity. This unique molecule (DHP) can reduce the presence of viruses, bacteria, mold, odors and insects from the air and surfaces — and since it's a gas, it reaches the toughest, most out-of-reach areas. It provides a supplement to manual cleaning with commercial use disinfectant products.
Whereas certain forms of UV Light cannot be used in the presence of people, Synexis-made DHP allows for spaces to remain occupied while the gas flows through the room, without disturbing any team's normal activities.
Additionally, the DHP from Synexis exists at concentrations well below those naturally maintained inside the lungs. So, it's safe.*
"I think it creates a level of calm," Kenney says. "It makes people appreciate the fact that you've thought about them."
"Synexis is our security blanket"
While every organization is different, the goals of providing a clean and comfortable work environment are the same in any enterprise.
"Synexis is our security blanket," Kenney says. He and his organization initially chose Synexis to help them keep their facilities clean, after consulting with their medical director, team physician and an infectious disease specialist.
It's a BioDefense system Kenney doesn't want his players to train without. "We've purchased the Spheres, and we travel with them. We're taking what we believe in on the road with us. We have it in our HVAC systems in Kansas City, and now we have two units that we're traveling with to take it into our visiting club houses and weight rooms."
Regardless of the situation or sizing, Synexis has flexible deployment options for every facility.
Contact Synexis for a site assessment at Synexis.com
*OSHA Guidance on Occupational Chemical Exposure Limits