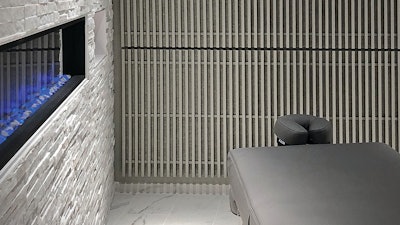 Concern for the health and wellbeing of student-athletes predates COVID-19, but nothing has proven more challenging to academic and athletic preparation than the pandemic. During the 2020-21 school year and beyond, online classes and curtailed or canceled competition schedules taxed athletes mentally like nothing they'd ever experienced.
"That was 400-plus days of adapting about every 90 days to a very different set of circumstances as things evolved," says Dave Ellis, the University of Nebraska's performance nutrition director, who continued feeding the student-athletes on campus even as the world around them shut down. "We learned along the way that people were under a tremendous amount of distress, and what we did for them with the food was a grounding force. It was a stabilizing force. It took one part of the equation that could have been really chaotic and happenstance and stabilized it."
Ellis, a registered dietitian and pioneer in the field of sports nutrition, admits that even he strayed from the norms of his profession under the circumstances. "I probably did a little more comfort feeding than I normally do," he says, "because people needed it."
What does he mean by comfort feeding? "I bought a $25,000 pressure frier so that I could make healthier fried foods. That's a perfect example," Ellis says. "It has about a third less fat than a normal basket-fried product. Looks great. Tastes great. And I did it on purpose. I proudly tried to figure out how to be a better food frier."
AB looked at two Big Ten Conference schools and their approaches to two of the biggest factors influencing student-athletes' health maintenance — relaxation and refueling.
Spa-like for Spartans
Few health maintenance practices are as undervalued and overlooked as sleep, particularly among college students. Add the rigors of Division I athletic competition to the equation, and mere relaxation can be a luxury.
In 2019, Michigan State University converted a storage space adjacent to its women's basketball team locker room into a spa-like place of escape. The 500-square-foot relaxation room surrounds occupants with neutral stone, slatted wood ceilings, strategic lighting and a linear wall-mounted fireplace. Amenities include two sensory-deprivation pods, a four-person infrared sauna and a traditional massage table.
Just as important is what was left out of the space — namely, any reference to Spartan branding or school colors, as well as other, more clinical technologies, according to Matt Taylor, a principal and design lead at Detroit-based architecture firm Rossetti. "They had asked us originally if we would investigate putting cryotherapy into this space, and after reviewing it with [MSU women's basketball coach] Suzy Merchant and the deputy athletic director, we quickly realized together that it's really not going to be a relaxing space if you put something as clinical as a cryo chamber in there," Taylor says. "Focusing more on student-athletes mind and spirit and body was kind of where this space really went."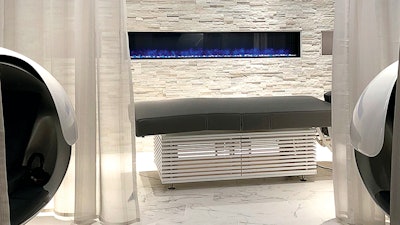 Rossetti, which has come to specialize in college and professional sports performance and training centers, moved one locker to create an almost imperceptible portal into this other world. Says Taylor, "A lot of times athletic departments are really direct about putting in all kinds of logos and letting you know what school you're at, but this one was really more about creating a cocoon, if you will, for the student-athletes that kind of took their mind away from being on the team and the everyday stress that they have to endure from a full-time job — really two full-time jobs."
Not only is the space secluded (though accessible to the men's team through a separate entrance from a common area), Rossetti designed a system of tracks and movable drapes that allows the room to be partitioned for added privacy. The firm also created retractable light fixtures that athletes can use to help combat depression. "Stuff that we learned working with the coaching staff — and it seems obvious now — but it's a winter sport, and here in Michigan we all see the sun about six hours a day. With the team and the players spending so much time underground and in training spaces, they don't have a ton of opportunity for natural light," Taylor says. "Studies have proven that light deprivation essentially creates a form of depression, so one of the big things was trying to include full-spectrum lights in the space. They call this type of light a happy light, because it's meant to combat that seasonal depression. Again, we wanted it to not feel like a procedural room but more like a spa, so we created custom armature so these things could be folded up against a wall and out of sight. But they work in conjunction. We combined the nap area with those happy lights so you could use them at the same time, so essentially you're getting two for one — two different types of recovery."
Manufactured by Metronaps, the pods position users in a zero-gravity posture, with the option to swivel into place a hood that blocks out surrounding stimuli. "It's amazing," Taylor says. "It really does sort of make you feel like you're defying gravity a little bit. You are kind of floating. It's meant to relieve the pressure points that we would typically have either in a bed or a chair. And when you spin the shroud over the top of it, the way it muffles the sounds around you, it almost feels like magic, because all of a sudden you're in this really quiet space. It's kind of like a really quiet space within a quiet space. It's very, very relaxing."
This year, Rossetti will unveil a professional team's film room in which each chair in the seating gallery has massage capability. "This goes to a lot of other themes, and one of those themes might be efficiency of players' time," Taylor says. "Even when they're watching film, can they also be recuperating and rejuvenating? Obviously, those chairs are more expensive than a standard fixed chair, but anytime you have a student-athlete or a pro athlete, their time is so critical that you want to maximize the value of that."
Regardless of the level of competition, the stressors can be the same. Stress-reduction technologies can take many forms and be applied in a variety of settings.
"It's almost becoming ubiquitous," Taylor says. "Every project we're doing — collegiate and professional, on different types of scale — have some kind of feature. Some D-II schools actually include some of these technologies. Even if it's just the room that they can provide in the future, it's a big part of the program."
Feeding the Cornhuskers
Pandemic or not, Nebraska has established itself among an elite handful of schools when it comes to meeting student-athletes' nutritional needs. Ellis oversees 13 full-time-equivalent culinary experts and nine dietary FTEs. His student staffers have gone on to careers in other Division I athletic departments and the U.S. Olympic Training Center.
The entirely self-operated $4 million enterprise currently resides under the west stands of Memorial Stadium. Upon entering, athletes are greeted by what Ellis calls an immune-health kitchen — in essence a smoothie station with blenders and access to fresh fruit, yogurt, collagen, almond milk, juices and various NCAA-permissible protein powders. It's strategically located next to the salad bar in case student-athletes want to throw vegetables into the mix.
"On any given day, whatever happens to make it into the salad buffet is an option for the creative souls who want to go there. And they do," Ellis says. "It's amazing the cocktails of produce that these athletes create. And whether they're adding juice or kombucha or almond milk or lactose-free milk or regular milk to these smoothies, the sky's the limit. I even catch some of them putting cold-brewed coffee in them. They're pretty creative. I love that."
Putting that creativity — and control — into the hands of student-athletes is entirely by design. Upon arriving in Lincoln, Ellis invested in two double-sided, state-of-the-art serveries capable of expediting the buffet feeding of an entire football roster, but just as important are $12,000 double-decker pizza ovens that allow Huskers to construct pizzas from scratch and bake them in two and a half minutes, or create their own toasted deli sandwiches. Next to that station is a life-skills kitchen, where athletes can saute and season vegetables for placement over noodles or rice, or cook their own eggs.
"They've got to be able to be creative and do their own thing, and if along the way I'm building their life skills — watching a kid break his first egg or watching somebody cook something proudly and take a picture of it and send it home to their parents because they never cooked anything in their life until they got here — that's a big deal," Ellis says. "I think that came in pretty handy during the pandemic: for athletes to be able to not have to look to the drive-thru to solve all their problems."
Beyond the pandemic, an ongoing concern at Nebraska, where Ellis feeds 650 student-athletes representing 24 sports and up to 350 staff members on a daily basis, is boredom. This means offering menu variety and assembly options to an audience that's quite diverse — not just culturally, but in terms of age and depth-chart status, weight gain or loss goals, food allergies and potential eating disorders. "This goes to the mental health aspect," he says. "If they get bored with food, they may turn away from what you're trying to do nutrition-wise big picture."
Student-athletes are not on an island at each front-of-house food station, either. Sports RDs or RDs in training are there to "coach the athlete in a cogent manner toward decisions that are best for their goals," as Ellis puts it — perhaps one of the greatest comforts of all. "There's just a lot of opportunity for people to build plates that are palatable to them," he says. "People are pretty quirky when it comes to things like whether the foods are touching each other. Textures beyond flavor and smell. The look. They have all kinds of unique idiosyncrasies that go on, so some of them can be a little over the top to the point of neurosis, but you learn to roll with it. You learn to roll with whatever keeps people engaged and coming in. I think beyond the quality of what we do, it's the people. It's the fact that I've got people in the front of the house that they know. We know them. They know us."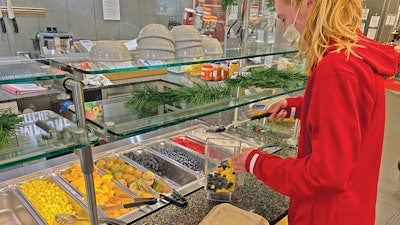 Caring for the health and wellbeing of athletes has truly expanded beyond the concept of injury recovery to a more proactive approach. Says Taylor, "It's really more about mental health than the physical side of things, but they're so intertwined that it's overall holistic wellness for the student-athlete."
Nebraska's nutrition operation will soon move into a long-awaited $155 million football facility, the construction of which has been delayed by the pandemic. Square footage for feeding will nearly double, from 12,000 to 20,000, allowing Ellis to design for ideal quantities and locations of everything from sinks to ice machines. But more space and the latest technologies only go so far. "I will tell you nothing replaces the human computer yet," he says. "AI is cool, but it isn't going to replace our ability to read people, the nuances of what's going on with them. You can never undervalue those relationships, those exposures with your athletes, those touchpoints that allow you to have the pulse on your athletes and your team in general.
"You find where the gaps are. You find out how many people would rather sleep than drink or eat, and show up horribly ill-equipped to survive the grind of practice, much less perform at a very high level. Of course, the quality of work that's going on at any given practice directly translates to what's going to happen on game day. And the sooner you can identify people who are not getting enough sleep, coming in already prefatigued from dehydration and under-fueling, and you can start to help them connect the dots and rectify some of those bad habits, then that's a big deal. Their resilience to do quality work goes up. Their vulnerability for injury along the way goes down. And you start to form life skills, habits, that become something they can put to their advantage the rest of their athletic careers — and even after their athletic years are over."