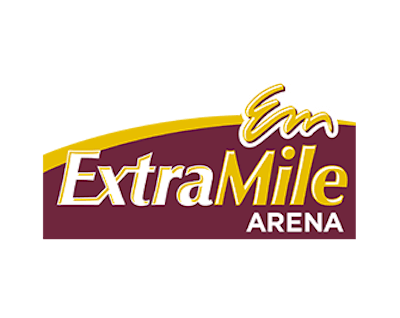 A court-storming at Boise's ExtraMile Arena on Tuesday has drawn criticism for the manner in which security officials appeared to approach their responsibilities.
As Jordan Kaye of the Idaho Press described it, "The clock wound down at ExtraMile Arena. Boise State's first outright conference championship in 34 years was seconds away. A bunch of students who weren't alive for that 1988 title crept closer to the court, filling the stairways in preparation for the first court storming of the season.
"There was a thin line of security blocking the court, standing a few feet apart and holding a rope about as thin as an IPhone cable. Most schools around the country have similar precautions during big games. The stadium staff is responsible for making sure the refs and opposing teams can exit the court safely.
"But the Nevada squad and the trio of officials were safe when a few security guards started tackling and body-slamming excited students trying to celebrate with maybe the best basketball team in school history."
Some students broke through the line or found gaps in it, while others were pushed back by security in a stand-off, even as Boise State players chanted for their inclusion in the celebration after the Broncos' 73-67 victory.
"It was crazy," said Alek Rea, president of the BSU student section, ironically called The Corral. "They were kind of going selective, it seemed. … The people they thought they could get to and push back, they did."
"I saw a few people, at least, get taken to the ground or pulled out or at least some sort of security getting involved and trying to keep them off the court," BSU freshman Nathan Creasey said. "There were a bunch of people stopped while trying to get past."
Videos making the social media showed what Kaye described as "some impulsive security guards using vulgar tactics. On one video, a security guard runs behind a co-ed and brings her to the ground like she was a running back breaking into the open. On another, a security guard in a blue vest wraps his arms around the waist of a young girl running. He picks her up like a child, spins her around and throws her behind the line."
"Like literally dropped. ... She wasn't gently put down," said BSU student Calen Wiechert, who was standing just inches away. "It was insane to watch."
It never should have come to that.
As the Idaho Press reported, ExtraMile Arena, which is not operated by the BSU athletic department despite its campus location, formulated a containment plan on Jan. 9. It states, "If someone attempts to gain access, staff clearly state; 'this is a restricted area and you cannot go past this point.' If they choose to disregard this direction, staff do not go hands on. Security Supervisors or BPD (Boise Police Department) will manage those individuals."
The Arena issued a statement on Wednesday that read, in part, "We failed to implement the postgame security plan that was developed in advance of the game in consultation with the athletic department. Security staff were instructed to allow students to celebrate on the court following a victory while providing a safe exit for the opposing team and game officials. No students were to be physically restricted."
The statement also mentioned a third-party investigator would conduct a review of the physical altercations.
Boise State athletic director Jeramiah Dickey tweeted: "The attention that was rightfully deserved for an amazing accomplishment by our coaches and student-athletes, in front of the largest ExtraMile Arena crowd in more than a decade, was unnecessarily shifted to a post game situation that should never have happened."
The Broncos will close out the regular season at Colorado State on Saturday. They'll play in the Mountain West Tournament in Las Vegas next week and somewhere else for the NCAA Tournament the week after. The Boise State University Twitter account, possibly alluding to Selection Sunday festivities, said on Wednesday it will "work with athletics on finding a special way for our students to celebrate the Men's Basketball team's Mountain West Championship," the Idaho Press reported.