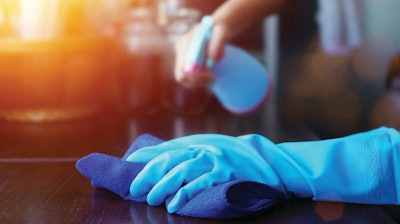 Large-scale live sporting events were among the worst- and fastest-hit businesses in the wake of the COVID-19 pandemic. Nearly every major sporting event was canceled, moved or postponed in 2020 – and even today, with the Centers for Disease Control and Prevention reporting 76 percent of Americans are fully vaccinated, fan concern over facility cleanliness remains high.
It's clear that consumer expectations of businesses have changed forever when it comes to cleanliness. With a number of major international sporting events on the horizon, such as the 2022 FIFA World Cup and the World Baseball Classic in 2023, protecting against the spread of illness-causing germs is central to helping keep both fans and staff safe, as well as continuing to increase their confidence outside of the home. As of October 2021, around 80 percent of Americans remained concerned about germs while away from home, and only 9 percent indicated that they were comfortable attending a sporting event in the next six months.
Against this backdrop, the sports industry can look to one recent live event for a blueprint of hygiene best practices for large, in-person gatherings: the UN Climate Change Conference, or COP26, which was one of the largest physical international events to be held since the beginning of the pandemic.
The protocols put in place at COP26 offer an example of an efficient, effective and risk-based approach to hygiene intervention. Known as targeted hygiene, this science-led approach can enable sports venue operators to understand how fans and staff interact with surfaces within a physical space. They can then identify the right disinfection products and prioritize zones based on high-touch, high-traffic areas. Using signage and other communications, venues can also address fans' concerns around germs by communicating to them effectively and transparently about the science-based protocols they have implemented, thus building trust in the venue.
A skillfully developed set of protocols and hand hygiene interventions were implemented at COP26, and they significantly helped reduce the spread of illness-causing germs across 50,000 hotspots in a conference space larger than 48 football fields.
This approach is replicable in a large sports event environment, and venue operators seeking to set best practices in targeted hygiene should consider the following takeaways from Reckitt's work at COP26.
Here are five guidelines for implementing targeted hygiene in sports venues:
1. Target your approach, identify hotspots
Rather than simply creating hygiene theater and carrying out unnecessary – and sometimes ineffective – large-scale disinfection, venues should implement targeted hygiene protocols that are informed by science to help break the chain of infection.
At COP26, 60 high-risk surfaces were identified across 12 types of locations, including entrances and exits, restrooms, meeting rooms, plenary areas, exhibition areas, front-of-house areas, crew spaces and more. The team then conducted a risk assessment to determine the frequency of cleaning required, and developed tailored approaches for each type of surface, with targeted hygiene interventions on railings, elevator buttons, electronic equipment, phones, door handles, catering spaces and more. Furthermore, because hand hygiene at the right times and places is another important element of targeted hygiene, the team placed high importance on determining placement for sanitizing stations and hygiene messaging.
Reckitt also provided training courses and materials for cleaning staff, so they understood the science behind each area's targeted hygiene protocols and how to implement them.
2. Consider timing and frequency
Once cleaning and disinfection protocols are established for high-contact touch points in a venue, the critical element to reducing the potential for germ transmission is the timing and frequency of cleaning and disinfection.
For example, if concourse traffic within a venue is at its highest during halftime, cleaning and disinfection of hotspots in this area should happen immediately before and afterward. Likewise, small, irregular surfaces such as elevator button panels may be more difficult to clean than smooth polished surfaces and will need more frequent attention from cleaning teams throughout game day. In hospitality areas, tables need clearing, cleaning and disinfecting after each use.

3. Use trusted products
As part of their best practices, sports venues should use regulated products approved for surface disinfection. At COP26, organizers used disinfecting solutions, including antibacterial hand sanitizer gel, soap at wash basins, and multipurpose disinfectant spray and cleansing surface wipes that are proven to inactivate SARS-CoV-2, the virus that causes COVID-19.

4. Perform regular verification of protocols
Once a targeted hygiene program has been implemented, it must be regularly tested for effectiveness and refined accordingly.
At COP26, environmental health officers – or EHOs – were deployed to verify the effectiveness of hygiene protocols. Using ATP analysis – a type of test that uses swabs to provide a rapid measurement of biological load on surfaces – the EHOs were able to assess the effectiveness of surface cleaning, provide on-site coaching and refine the protocols in real time.
Overall, more than 3,000 ATP swab tests were carried out on high-touch points after cleaning during the 12-day conference, and corrective action for recleaning surfaces and retraining staff was put into place immediately where necessary. Summary reports of the day's data were sent to the enforcement authorities to provide trust and confidence in the cleaning regimes.

5. Encourage healthy hygiene habits
To further bolster a targeted hygiene approach, sports venues can empower their staff and fans with top-up disinfection products in high-traffic areas. For example, disinfection products, such as wipes, can be made available via dispensers to provide extra confidence for fans in their seating areas, or for staff to wipe down frequently touched surfaces like elevator buttons or handrails.
At COP26, each delegate was provided a hygiene kit with a personal face covering, a pack of biodegradable disinfectant wipes, and a bottle of hand sanitizer that could be refilled at a hygiene service center. Cutting-edge behavioral science was also leveraged to encourage attendees to be mindful of hygiene as they moved around the conference.
Feedback from COP26 was that compliance with wearing face coverings was high. It is possible that contributory factors were the high quality of the face covering plus event branding, which helped create a sense of belonging and collective responsibility for hygiene – all part of the behavioral science that was applied.
At a time of heightened concern over germs, the key to success at major international sporting events such as the World Cup and World Baseball Classic — as well as regularly active home sports venues in the United States — is for fans and staff to feel safe and comfortable while enjoying the games they love.
As was demonstrated at COP26, a program of targeted, enhanced environmental hygiene protocols, carried out by trained custodians using appropriate products, pays dividends to help break the chain of transmission of infectious diseases – no matter the size of the venue.
By choosing a hygiene partner with the right combination of effective products and deep scientific expertise, sports venues can help turn the tide against the spread of illness-causing germs more effectively and let fans watch their favorite sports with confidence.