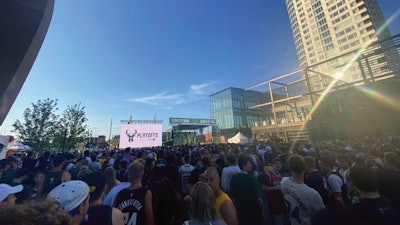 [Photo by Jack Knowlton]
Game 7 of the NBA's Eastern Conference semifinals didn't end the way the Milwaukee Bucks had planned. It didn't begin the way the Bucks had planned, either.
Two days earlier, multiple shootings near Fiserv Forum — where fans had gathered by the thousands both in the Bucks' home arena and its adjacent plaza to experience Game 6 — prompted team officials to cancel the outdoor watch party scheduled for the series' deciding game, as Milwaukee battled the Celtics in Boston.
The Bucks' season and their 2021 NBA title defense ended that day, but team ownership made it clear that outdoor watch parties would carry on next season. In fact, the organization had already begun to rein in the Deer District, which welcomed as many as 65,000 fans at a time during last season's championship run. Prior to this year's outright cancelation, a perimeter was established for the 2022 postseason, with separate entrances on opposite ends of the plaza for watch-party-goers and game-ticketed guests. Bags were banned, and crowds were capped at a mere 11,000 per game.
AB first examined watch parties in 2008, when they were largely indoor events for fans of teams playing on the road, and staffed much like a typical home game. We asked Jeff Spoerndle, vice president at crowd-management and temporary security services company BEST, which counts all the major professional sports leagues and the NCAA among its clients, to explain the unique security challenges presented by watch parties staged outdoors — an increasingly common phenomenon given the types of entertainment districts that are now part of many arena-development plans.
Here are measures to consider:


Pre-event sweep
Securing an outdoor space begins before the first guests arrive. It's the ideal time to mitigate potential vulnerabilities within the site.
"Are you doing a canine sweep? Are you making sure that all the nooks and crevices around the space are secure, and there's not something that was thrown into a trash can before the event?" asks Spoerndle.


Entrances and exits
Establishing a perimeter and point of entry, as opposed to a free-flowing festival approach, allows for screening of guests. Meanwhile, exits become critical in emergency situations.
"You're not going to be able to do an emergency evacuation through one exit," Spoerndle says. "You want to make sure that you're not only identifying the exits, but also clearly marking the exits, and then making sure that you're communicating to the crowd what the plan is in case of an emergency. 'This is where you would exit. This is how you get out.' "


Screening
A clear perimeter and entrance allow an organization to establish a vetting process and rules for entry. These may include compliance with a no-bag policy and walk-through or wanded metal detection.
"In today's times, you can't take a chance that somebody's going to have a weapon, whether it be a firearm or large knife or some other device that can do damage to the people in the space," Spoerndle says. "Making sure that you're setting up a footprint allows for proper metal detection for a large-scale crowd."


Capacity
"Crowd surges are a real concern at these events because if you're not controlling capacity, and you put 50,000 people into a space that's meant to accommodate 25,000 people, you may have some serious problems," Spoerndle says.
What makes outdoor watch parties different than a ticketed indoor event is the unpredictability of initial interest and interest throughout. Fans may make spontaneous decisions to show up to the party late or leave mid-game, depending on the perceived amount of enjoyment the game and the party are generating. For that reason, tracking how many people are coming and going is critical.
"As you're looking at your metal-detecting technology, there are options on the market where the metal detector or the screening device can be a counter for you, too. It creates an account of the people who pass through," Spoerndle says. "Then you have similar devices at the exit, so as people are going out, you can see how many people are leaving. If you know in the space that you want to allow 20,000 people, when you hit close to that capacity number, you know that you're going to have to shut entry down. But if you can see who's leaving, you can start readmitting again. Our company has done some work with the NFL for the Super Bowl Experience and the Draft Experience, which are festival-type environments. It's like an amusement park. So, it helps us understand how many people to let in so that we don't overfill the facility."


Visible security personnel
It's always a good idea to have uniformed staff and/or private security onsite to serve the role of gatekeepers and peacekeepers.
"You want staff in highly visible uniforms, strategically placed throughout the grounds so that they can get to somebody," says Spoerndle. "Sometimes when people get in the middle of that crowd, it's hard to get out. If you're looking at something as large as what they were doing in Milwaukee, you really have to set up zones, so that you can keep some walkways open in case of an emergency. Depending on the volume of people — and controlling capacity will help that greatly — making sure that you have ways for people to get in and out of an area is key.
"If you do hit capacity, then what?" Spoerndle continues. "You're going to turn people away, but you have to have proper staffing on hand to make sure that you're making people move, so that you don't just create a choke point right outside your entrances and you're not just pushing your problem right outside your secure perimeter."
When asked if the first fans denied entry to a party are at particular risk of becoming belligerent, Spoerndle adds, "In addition to your private security, you generally would have law enforcement on hand to assist with that."


Communication
Communication can go a long way toward maintaining order, as well.
"With how people follow their favorite teams on Twitter, Instagram and other social media channels, it's updating people: 'Hey, just so you know, our capacity for this party is X. If you want to be there, arrive early,' " Spoerndle says. "Then, if you think that you're heading toward capacity, start messaging that on social media to try and prevent people from coming down who you're not going to be able to permit. You can change the course of the event if you are properly communicating on social media as your guests are coming in. If a venue uses that technology to communicate where capacity is, that could really help at an outdoor event when you don't charge admission and it's just a free-flow thing."
Once fans are admitted, allowing them to communicate concerns directly to onsite security personnel or via their mobile device is another critical communication channel. "Inside a brick-and-mortar building, there are ways for people to text in a security concern. This would be no different. It's just taking it to the exteriors," says Spoerndle, adding the oft-repeated "If you see something, say something" mantra. "Really, you're giving them a mechanism to report, because in a lot of those areas there's no signage, there's no protocols, there's no procedures. Your best intel sometimes comes from the guest, so giving them a means to actually report concerns is very beneficial."

The unpredictability of outdoor watch parties makes them an undeniable security risk that a sports organization must balance against their potential reward.
"It's really hard to understand what to expect," Spoerndle says. "You could put all these things in place, and there'd be a hundred people that show. But you have to manage your risk profile to what you believe that scope of the event is going to be. Also, step back and understand that there's a cost associated with security implementation. Is it a good ROI? I think the days of just throwing up a screen and saying 'Come on down' are heading toward an end, here, from a safety and security standpoint."
Moreover, fan behaviors have evolved, according to Spoerndle.
"Fan behavior will mirror society," he says. "Right now in society we're seeing a trend where patience is not always exercised. People are looking for immediate gratification, and if something in the game doesn't go their way, you're seeing people — a small portion of the crowd — react in a way that is really not appropriate for a mass gathering. We train our associates to really be proactive in watching the crowd and watching behavior. This was always key, but it's really key now because you can watch the behavior of a guest, and in many cases, see that you may have a problem down the road if you don't deal with it early.
"We want people to come to these events, we want them to have fun, and we want to do everything we can to make sure that they're having a good memory — not only for themselves, but everybody else around them."