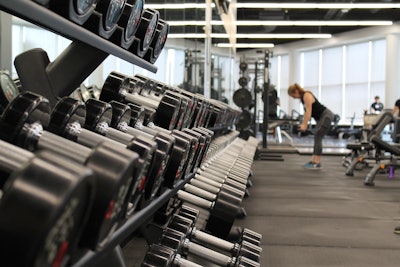 Photo Courtesy of Danielle Cerullo
As the government and health authorities mull an appropriate response to the growing number of monkeypox cases around the country, information on how the virus is spread has been hard to come by.
The virus is spread through bodily fluids, including sweat, which is especially concerning for those using fitness facilities. So can you contract monkeypox at the gym?
"Monkeypox is a particularly hardy virus ... and it is known to be able to survive in linens, clothing and on environmental surfaces, particularly in dark and cool conditions, for up to two weeks or even longer," Dr. Robert Bolan told Yahoo. "So, it's very important, I think, to pay attention to environmental surfaces like gym surfaces and, you know, workout benches and mats — things that are completely porous ... or partly porous" and to use disinfecting wipes or other household cleaners, which are effective when used correctly."
That said, the likelihood of contracting monkeypox is probably low.
Dr. Jessica Justman, associate professor of medicine in epidemiology at Columbia Mailman School of Public Health, told Yahoo that contracting the virus at the gym is "unlikely" for a variety of reasons, including that gym equipment, unlike linens, is "not very porous," which means it's easier to wipe the virus off.
Justman said the monkeypox virus is an "enveloped virus," meaning "each virus particle is coated with a fatty membrane, which is easily disrupted by detergents and other cleaning agents. Without an envelope, the virus is no longer infectious."
The monkeypox virus, however, is hardy and can live on surfaces up to 15 days.
The issue we face is understanding the survivability and transmission dynamics when it comes to porous items like linen and clothing," said Saskia Popescu, infectious disease epidemiologist and assistant professor with George Mason University's Schar School of Policy and Government biodefense program, noting the importance of awareness and proper cleaning and disinfection protocols.
"The top priority for health clubs is to provide a healthy and safe space for their members to be active and maintain their overall wellness," an IHRSA spokesperson said. "IHRSA urges health clubs to maintain a clean and safe environment at all times. We expect clubs to consistently wipe down equipment and surfaces and provide members and consumers with proper sanitation products to clean surfaces before and after use. A deep clean each night also helps to prevent the spread of viruses. It's standard practice to have hand sanitation stations available throughout the facility to eliminate any bacteria and germs. And, of course, regular hand washing is important for staff and members."
Monkeypox cases are rising exponentially in the U.S., with up to 4,639 on July 27 from 2,891 on July 22, according to the CDC.