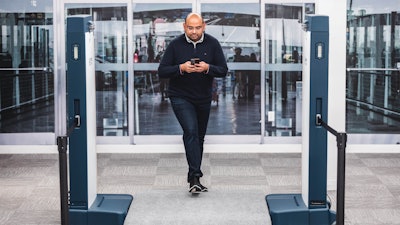 It used to be that a plastic gun was relatively harmless. They were called squirt guns, and the worst an assailant could do was soak the victim with water. Today, however, with the advent of at-home 3D printers, individuals with nefarious intentions can create easily concealable working plastic guns that shoot real ammunition and can cause injury and loss of life. Among the many concerns around these plastic weapons is that, for the most part, traditional metal detectors can't identify them should a bad actor attempt to bring them into a stadium, arena or other public gathering place.
That's why Liberty Defense Holdings has begun on-site beta testing of HEXWAVE™ with the Maryland Stadium Authority at the Camden Yards Sports Complex in Baltimore.
"Because HEXWAVE uses radio frequency/millimeter wave as its sensing technology, rather than the measurement of magnetic fields, it has the ability to identify both metal and non-metal threats," explains Liberty Defense CEO Bill Frain. "Further, because it is not solely collecting magnetic field signatures, it can collect significantly more data points as people move through the portal, making it possible to create a real-time 3D radar image that offers a comprehensive dataset that is then assessed by deep-learning algorithms to identify threats."
Frain says this means that it is not necessary for people to hand over their coats, cellphones, keys, or other benign items, allowing for a quick and seamless experience for fans. The technology is also modular, portable and can be used both indoors and outdoors.
According to Frain, the rise in 3D-printed guns was part of the reason for developing the technology. "The ability to detect a growing range of weapon and threat types — such as 3D-printed guns or liquid, plastic and powder explosives — is needed in the market today and important for maintaining the safety of public spaces," Frain says. "And because we use AI to identify threats, we can continue to add new novel threats to the database as they emerge."
Vernon J. Conaway Jr., vice president of safety and security at Maryland Stadium Authority, said in a news release that his organization is excited to be testing the technology. "The safety of our staff and guests is paramount, as well as ensuring they have a great experience," he says. "Though we are extremely confident in our current systems, our participation in this trial of HEXWAVE is about testing a next-generation security detection technology that could allow us to stay steps ahead of emerging threats."
Frain says Liberty Defense is seeing interest from schools and universities, as well as many other different market verticals, including malls, government buildings, ports of entry, places of worship, and more. The company will be initiating additional beta tests in several settings, including a large state university and major airports. Testing is planned to continue at these various sites through the remainder of 2022.
Here's a look at a few solutions from other tech companies innovating in the screening space:


CEIA
CEIA USA Ltd. recently announced OPENGATE™, which is characterized by an open structure that quickly provides automatic screening of people with purses, backpacks and luggage for detection of mass-casualty shooting weapons. The system weighs just 25 pounds and features a portable design that the company boasts installs in less than a minute. The system doesn't require any setting or assembly of mechanical and electrical parts, and there are no mechanical or electrical connections in its passageway, which means no cords or obstacles between its two pillars to step on or trip over.
Garrett Metal Detectors
Garrett produces a variety of handheld and walk-through metal detectors. Last year, the company introduced SmartScan, which is offered as either an add-on accessory for Garrett's new walk-through metal detectors, or it can be retrofitted into previously installed Garrett detectors. The SmartScan technology allows body temperature measurements (think infectious disease caution) to be taken simultaneously with metal detector security screening. Among the early users of this new technology is the City of Fort Worth, Texas, which installed the technology in walk-through metal detectors at Fort Worth City Hall and the adjacent A.D. Marshall Public Safety Building.
Evolv
Evolv Technology offers Evolv Express®, a walk-through screening solution that uses sensor technology and AI to identify weapons. The system also provides operations with data that inform staffing to improve stadium security posture and enable the busiest entrances to be properly managed and supported. When a potential threat is detected by the system, real-time image-aided alarms show guards where the potential threat is located on a person or in his or her bag. This greatly reduces the amount of physical contact required and allows guards to act quickly and efficiently.