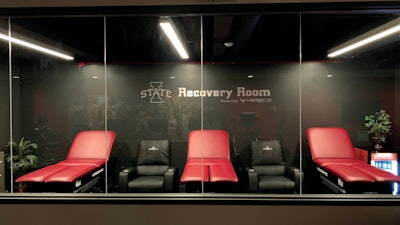 Photo courtesy of Iowa State Sports Medicine
Linden Perry's split-second attempt at self-protection instead sent her down a long and cautious road of recovery.
"I was in a preseason basketball practice and we were scrimmaging, and I got tangled up with one of my teammates," says Perry, a high school student-athlete in Gallatin, Tenn., who — worried about breaking her wrist with a national soccer tryout just days away — tried to control her fall by landing on her shoulder. "The shoulder hit first, but then sort of in a domino effect, I hit my head."
Perry, a freshman at the time, had received concussions playing sports before. She was a talented and determined young athlete, says her mother Carissa, playing basketball and club and school soccer. When she fell Nov. 8, Linden and her mother both approached the incident like previous sports spills. But in the next day's baseline concussion-screening test, she didn't pass — and it wasn't close. "She bombed it," Carissa Perry says — and then other debilitating symptoms were creeping in, changing her vision, balance and more.
"Our school and our athletic trainer, from the very second that we knew that she was hurt, they were very conservative with her. I bet she took that concussion test 30 times. They really were invested in her and her brain health, and were invested in making sure that she was okay."
Sports healthcare practitioners have myriad methods and tools at hand to help make sure athletes are okay, and to evaluate and treat them when they're not. "Checking those biomechanics and really managing their ability to return to play based on their health status in relation to that injury, that's what we're there for," says Kathy Dieringer, EdD, LAT, ATC and president of the National Athletic Trainers' Association.
From a new study showing promise for healing brain injuries with oxygen therapy, to vibration and compression therapies, to Himalayan salt lights, medical professionals share their experiences helping today's fatigued and injured athletes return to action.


'Miracle Gro' of the brain
Dr. Joseph Maroon, clinical professor of neurological surgery at the University of Pittsburgh Medical Center and the team neurosurgeon for the Pittsburgh Steelers, explains that in children, most head injuries come not from sports, but from falls: off bicycles, skateboards, swings, jungle gyms, etc. "But the concern is always the same," Maroon says. "The first responsibility is to rule out any life-threatening problem. And that means subdural hematoma, epidural hematoma and intracranial hemorrhage or bleed of some kind. Once that is ruled out, we're left with a child or young adult with a post-concussion syndrome."
Post-concussion syndrome is when the concussion symptoms last. People with PCS typically suffer headaches, dizziness and problems with concentration and memory, all symptoms Linden Perry was enduring after her jolt to the head. Instead of getting better, Linden's symptoms only grew worse. She lost her peripheral vision and depth perception. She lost sensation on the right side of her body. She couldn't walk a straight line, so she walked along walls. Linden had been in the gifted program at school, but now "she was reading at a second-grade level, because her eyes couldn't track on a page, couldn't track together," Carissa Perry says. "And she would have eye seizures and lose her place every couple of seconds. And over time, it really just amplified."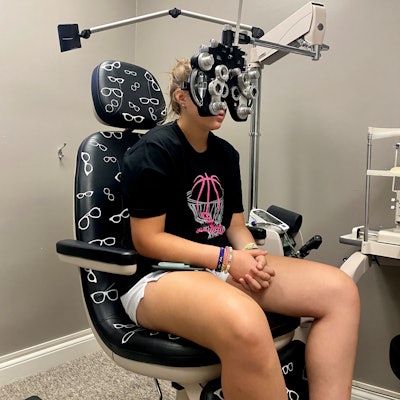 Perry took her daughter to all the specialists she could think of, or were suggested to her. "We went to a neurologist, neuro ophthalmologist, optometrist. We did vision therapy, vestibular therapy, acupuncture, chiropractic. You name it, we tried it," Carissa explains. But Linden was still suffering and none of the therapies were working.
Through family, Carissa says they were lucky to be referred to Maroon, who has been with the Steelers for 35 years. She said she sent him all the medical records and information on Linden he might need, but even so, she was surprised to get a call from him personally on a Saturday offering a new idea: hyperbaric oxygen treatment, or breathing pure oxygen while in a pressurized-air chamber.
HBOT has been well-established for conditions such as decompression sickness in scuba divers, carbon monoxide poisoning, or for stubborn wounds that don't heal. However, a new study published in September in the science, psychology and medicine journal Scientific Reports claims HBOT as an effective treatment to heal damaged brain tissue and relieve symptoms in children experiencing PCS — children like Linden Perry.
The study, "Hyperbaric oxygen therapy in children with post-concussion syndrome improves cognitive and behavioral function," suggests that HBOT improves quality of life in pediatric patients suffering from PCS at the chronic stage. Linden and her mother moved for three months to central Florida where Linden could receive HBOT at Aviv Clinic, which is connected to the study.
"If you get a splinter under your finger, it gets red hot, tender and swollen, right?" Maroon says. "Well, that's the body's innate immune system that activates to protect you. In a concussion, there's also an inflammatory process that goes on in the brain. Hyperbaric oxygen is an anti-inflammatory agent. It's approved for use with ulcers, diabetic ulcers, people with non-healing wounds. And there's a growth factor in the brain called BDNF, brain derived neurotrophic factor. It's the Miracle Gro of the brain. It literally makes new brain cells, improves and makes new synaptic connections, and you enhance neuroplasticity."
In each oxygen chamber session, called "dives," Linden's doctors had her doing cognitive exercises on an iPad in order to focus the therapy on the parts of her brain that were damaged.
It worked. After 60 dives, Linden graduated the Aviv Clinic HBOT program, returned to Tennessee, and eventually to school, too. Ten months after her basketball fall, her vision improved enough so that she was back to training all the time, a feeling she says is "phenomenal." For Linden's mother, she says it feels like she has her child back.
"From our parenting standpoint, I'll be honest with you, we weren't sure she'd ever play sports again," Carissa Perry says. "When I say it flipped her entire life, I mean it. It took away everything that defined who she was. So now, it's thrilling to see her be able to do the training sessions and the games and all those things. She left [therapy and returned] back to who she was before."
Maroon, 82 and a competitive triathlete, himself went through HBOT on his own time and using his own money. He published his personal case report in a paper in July in the journal Frontiers in Neurology. The results for Maroon after three months and 60 dives were "significant improvements in virtually all the parameters. You can't fake your blood flow, your MRI scan or your SPECT scan, or your telomere [indicators of aging] length, and the cardiopulmonary functions. I did a triathlon beforehand and afterward, and my cardiopulmonary function improved by nine-and-a-half percent measured on the treadmill. I dropped my time by that equivalent in the triathlon that I did after the treatment."


Tape, Sauna and Steam
Of course, there are recovery modes and tools that are much easier to obtain and implement than a large pure-oxygen chamber.
"I can remember when kinesio tape came out. When I first started seeing it — my athletes taped — I hadn't heard of it before," says NATA's Dieringer, who has more than 35 years of sports medicine experience. Previously, Dieringer worked in NCAA Division I and Division II, secondary schools and clinical settings, and had owned and managed three outpatient rehabilitation clinics in northern Texas. "I learned very early not to reject any of those techniques, until or unless I saw the research on it. And even then, there are some people who benefit from it. Being open and willing to try a technique that I didn't know or had not been well-versed in, but to learn about it and be able to safely use it on an athlete and see a good response, I think that's a part of being a really good healthcare provider. If the technique works, and it's safe, then we should be open and willing to use it. Kinesio tape is one of many that have come around since I've been practicing."
The elastic therapeutic tape is used to promote circulation in specific areas and help with inflammation, explains athletic trainer Jacob Thomas, who is also owner of Razor Sharp Fitness, a full-service health club in Racine, Wis. "The goal is that you wear this tape while playing a sport, performing a sport, working out, so you can continue to do your activities without stopping and still hopefully get some benefits from that increased blood flow of the tape," he says.
Razor Sharp Fitness has had a sports performance area and program, led by Thomas, since 2013. The 47,000-square-foot club also has personal training, basketball, group X, a whirlpool, a sauna and a steam room. He said the recovery options at his club that have had a noticeable uptick in interest are the latter two. "We've seen a massive increase in our sauna and steam room use. We put Himalayan salt lights in our saunas, and that has promoted some really fantastic recovery that I didn't necessarily expect: sleeping better and feeling better for their next workout. A lot of our trainers now prescribe to go in there for 10 minutes after workouts." He's considering adding a single station, red light and salt therapy sauna "because we have so much popularity in the ones that we have right now." The Himalayan salt is purported to have an effect on negative and positive ions in the environment, improving the air quality, and the warm light can promote tranquility. However, most of these benefits are considered unproven and anecdotal, according to the Cleveland Clinic.
"People are just using it as a recovery tool," Thomas says. "And they're coming back the next day feeling more refreshed and ready to go back to that intense energy level."
Compression, vibration, deprivation
At Iowa State University in Ames, there are hundreds of athletes coming through the sports medicine doors each year. Mark Coberley, MS, ATC, LAT, CSCS, PES, CES FNS, is associate athletics director for sports medicine at Iowa State, and has been with the department for 29 years.
"Each sport has its own unique set of injuries and conditions you typically see and deal with," Coberley says. "It'd be really hard to say what's the most common thing that walks in because on average, we'll see 450 athletes, and we're going to have somewhere in the neighborhood of 2,000 conditions." The conditions could be anything from a minor illness all the way to a major knee reconstruction, Coberley says, which is why the university offers a variety of treatment options.
"Everything from foam rolling to little electrical units to help the muscle recover. Some of our newest technologies are whole body cryotherapy and pneumatic compression, which looks like bags on their legs that squeeze their legs and kind of milk the legs, elevate the legs and for lack of better term, does kind of like a massage. We use a lot of that because it's mechanical, and we feel that's really effective."
There's also a saltwater sensory deprivation tank to ease muscle tension and anxiety. "There's no light, no sound, they actually lay in the salt water, and it's so salty that it's buoyant, you can't sink," he explains. "The goal is to get neurological shut down, get your mind to slow down, get your nerves to slow down, and typically people will fall asleep while they're in there. And it's a long session, 45 minutes to an hour.
Cyclone athletes also can utilize vibration therapy in the form of Power Plates — or whole-body vibration — or smaller, more localized vibration offered through Hyperice Hypervolt devices or Therabody Theraguns. Thomas explains percussive vibration therapy can provide a lot of relief to a particular problem area in a short amount of time.
"The ability to localize [recovery treatment] using those is phenomenal," Thomas says. "If I have a little tightness in my calf, all right, here's a pre-regimen, here's a post-regimen to do that's solely for your calf. And it can take as little as three minutes to do, total."
Coberley says that with any new technologies or techniques, you keep what works over time and move on from the rest. "Like everything in sports medicine, you have good theories behind some things, and you start to use it and you track to see if it's effective or not. If it is, you continue to use it and the evidence mounts. And if it's not, then you discontinue," he says.
"We have a large menu of recovery things that we're looking at. And depending on what the training cycle has been, and the time of the year, we've got some green, yellow and red recommendations on what to use. And then we just leave that to the athletes on what they may want to take from that."

If there's one thing that could have changed Linden Perry's brain recovery, her mother says, it's advance knowledge. "We hope it makes a difference to somebody somewhere. We'd never heard about post-concussion syndrome before. We'd never heard of most of this stuff," she says. "I wish I had known about the therapy sooner. I would have taken her two weeks in."